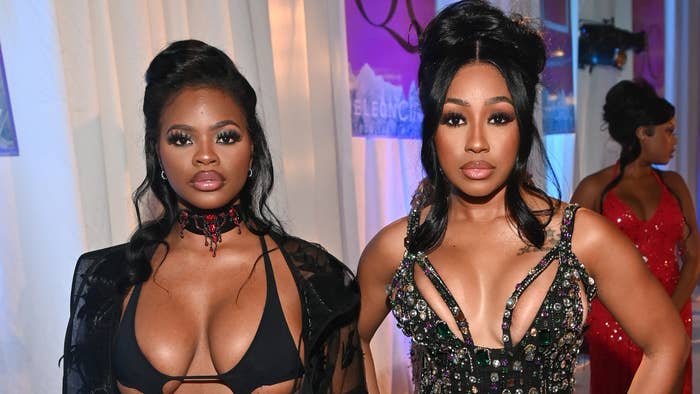 The City Girls, the hitmaking duo that consists of JT and Yung Miami, dropped their last album, City On Lock, back in June of 2020 but they're prepping a return with a new project that looks to prove their status in the game.
During the three years since their last project was released, the group took a step back and tended to their personal lives while branching out on their own. They didn't get too far away from the music, as they've kept their output going with a handful of singles and guest features.
But now, the Florida natives are ready to bring forth a new chapter of the City Girls that'll show their growth from entering the game in 2017 and dishing out hit records to becoming full-fledged stars.
"We've been working on new music, and I feel the problem was we were trying to put out the perfect song, but that turned into a project. We got a lot coming," JT told Complex in an exclusive interview.
With their forthcoming album, the City Girls went back to the drawing board to figure out how they could make another impact like the one they made with their debut mixtape, Period, in 2018. The solution they found was to take their time.
The City Girls brand of music is known for charismatic bass-heavy club bangers about sex, money, and partying with records such as "Act Up," "Twerk" featuring Cardi B, "Take Yo Man," and more. For this next chapter, fans are about to get a whole new wave in which the artists say they're not playing around.
"I felt like other projects, we was really just having fun. We wasn't in our head about it or overthinking it," Yung Miami told Complex. "We would just do songs and put 'em together. Now it's just like we think about these records and figure out what'll be great."
JT added: "It's just a perfection thing right now. I don't want to put out nothing corny. I feel like we've been here too long, and I don't even want to play how we used to. I want the music to be good and hit. It's still pussy rap like it'll be fun but much more elevated. It's elevated pussy rap."
"Elevated pussy rap" wouldn't have existed if the girls didn't take time off to recalibrate and come back stronger. They both learned valuable lessons that helped them understand their place in the hip-hop industry and the music business as a whole.
According to the rap duo, personal freedom and identity were two of the most important things they learned throughout their time off, and they're happy to have discovered that given how demanding the music industry is.
"We were just being free, honestly," JT said. "I feel like freedom is more important than money. Just feeling free, doing what I want to do... but it's like now it's time to get to it and really grind and stand on business."
Yung Miami continued: "I think just taking time to identify who we are and what could be better, just as an artist and making music and just when we're on stage, taking time to really identify things that we need to work on."
Fans can expect the City Girls to return right in time for the summer season and their new album will have 17-20 tracks of "elevated pussy rap" for fans to indulge in. And while they're hitting people with new music, JT and Yung Miami also want their new music to remind people the rap group has already hit legendary status.
"We're legends and I don't give a fuck what nobody says," said Yung Miami while JT added, "For real, who did it like the City Girls? Nobody. It ain't been two bitches to come in, have this personality, and give people the attitude. We came, and just talked about pussy and just being us. Ain't nobody got good pussy rap like City Girls."