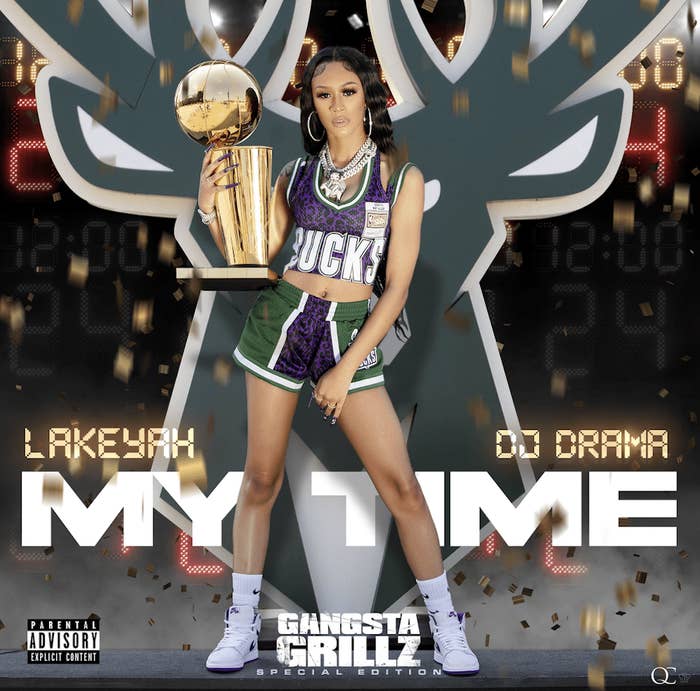 Quality Control's budding female MC Lakeyah has shared her new project My Time, a Gangsta Grillz mixtape that features DJ Drama. The release follows in the footsteps of her single "313-414," which dropped last week and featured Tee Grizzley. 
The project additionally features Tyga, Moneybagg Yo, Bankroll Freddie, and plenty of DJ Drama ad-libs. It comes alongside a music video for "313-414," which finds both Lakeyah and Grizzley trading verses as they flex their jewelry and lavish lifestyles.
The album cover features the rapper holding NBA's Larry O'Brien Trophy, which is both meant as a nod to her hometown team the Milwaukee Bucks, who recently won their first NBA Finals in 50 years, and her own championship aspirations. 
"When I signed it was straight to work," the XXL Freshman told the outlet last year. "I believe like, the first night me and P actually met, he said 'I want to see your recording process' and I've been recording ever since that night."
The rapper released her Quality Control debut In Due Time earlier this year, and has been locked in the studio ever since. "They'll see that this is about the grind," she told XXL. "I don't want people to try to box me into who I am. The details of my life, of who I really am, is going to come into my music and, you know, people are going to love me or hate me."
Listen to My Time below.