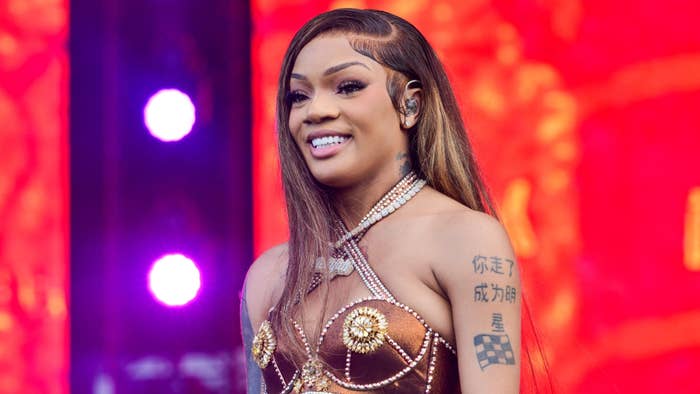 GloRilla has said it's important for women to be toxic in their 20s, arguing that it's important to just have fun for a little bit.
The Memphis rapper took to her Instagram Story to celebrate her young fans, and told them frankly that they need to stop taking life so seriously.
"Hey ladies, how are you?" she began, as reshared by Daily Loud. "I just wanna let you know: be toxic for the rest of your 20s. You only get one life, live your toxic 20s. You never get to be 20 years old, 21, 22, 23, 24, none of that ever again in your life. Be toxic, because don't get in your 30s thinking you can just go slashing tires and doing all this crazy shit, you too old for that now. You too mature, be toxic for the rest of your 20s."
She continued, "And if you're delusional, turn that shit up a notch. Enjoy the rest of your 20s. You only get to do this shit one time."
The "Tomorrow 2" rapper has made it clear for months now that she's just out here looking for fun, and in June took to Twitter to say that she's responsible for leading men on, and that she often just does it for entertainment.
"I hate when I be acting fake delusional with a N***a & Dey take me serious then get to thinking Dey dat N***a or some," Glo wrote. "Like bitch ass N****a be coo I was just playing [laughing emojis] tf I'm just bored. Like ho I act like this with everybody pipe down."
In other GloRilla news, the young rapper clapped back at comedian Lil Duval, who unprompted asked his followers who they would "marry, fuck, kill" out of Glo, Sukihana, and Sexyy Red.
"Granddad why you worrying about dese young hoes pussy ?????" she wrote on Twitter, criticizing the 46-year-old comic.
Meanwhile, Glo celebrated her birthday in July with a new Maybach which was gifted by her CMG boss Yo Gotti.