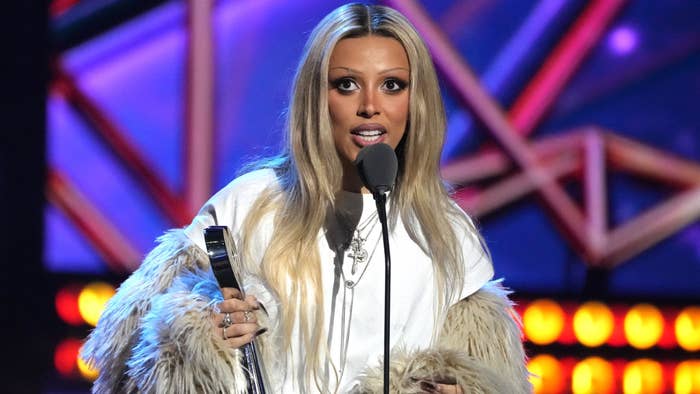 Doja Cat has responded to accusations that she's encouraged young people to get plastic surgery after she herself underwent breast enhancement surgery.
It all began after Doja announced that she had undergone plastic surgery.
"[G]ot my titties done and my clit bedazzled," Doja told fans in an initial tweet last Monday. From there, she responded to a number of replies, starting with one inquiring about how she felt. The inquiries continued on Sunday, with one eager fan asking Doja to show off her new goods.
"We want to see your new boobies," the fan wrote, to which Doja replied, "they're swollen."
A disgruntled fan then chimed into the conversation, writing "Stop encouraging your young and impressionable fans to change their bodies."
"Eat my long quiet and warm farts," Doja replied.
During her initial tweets last week, Doja added that she had undergone liposuction, and said she was "healing really fast" following the procedure. She also clarified the nature of her lipo after someone incorrectly asserted what it entails, as well as shared a broader statement about all that aforementioned misery.
"[B]ecause people need things to be upset about," Doja said when asked why people were "upset" about the lipo disclosure. "[B]ecause people are miserable and people need a job."
The latest slew of tweets comes after Doja toyed with fans who believed in the Illuminati.