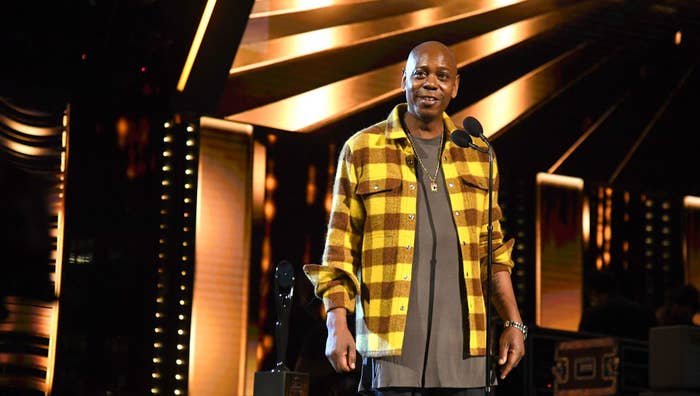 Dave Chappelle was almost overcome with emotion when he got to meet one of his childhood idols at the Rock & Roll Hall of Fame induction ceremony in Cleveland, Ohio.
Upon meeting Scorpio of Grandmaster Flash and Furious 5, the legendary MC shared that he was equally as excited to meet Chappelle for the first time. A video of the exchange was shared to Scorpio's Instagram account on Sunday, which you can watch below.
"Are you fucking kidding me?!" Chappelle can be heard saying after giving the rap legend a hug. "Eddie Murphy used to tell me stories about you being outside of the club wearing clothes like you was from the future. My man. Oh my god. I know exactly who you are. It's an honor, bro."
Chappelle continued, "You heard what I said to Jay. Boy, does that not apply to you… It is an honor to shake your hand, brother. You have no idea, man. Kids like me…I was out there, I was listening to you. No bullshit."
Scorpio then continued to thank Chappelle for his kind words. "Oh I believe you 'cause you know Hip Hop like we know Hip Hop," he replied to the comedian. He added that he didn't want to take up any more of Chappelle's time, but Chappelle wasn't having it. "Bro, the honor is mine. I've admired you since I was a little boy. No bullshit. I'm getting eyed just thinking about it," the comedian said. "In Cleveland, Ohio of all places. My guy. Much love. Boy, you made a difference in my life. Any time you look at me, good or bad, you contributed to it."
The induction ceremony was an incredibly emotional evening overall for Chappelle. Prior to meeting Scorpio, he shared some equally as moving words for Jay-Z, who was inducted earlier that evening. 
"I could sit up here tonight, I could talk about his acumen as a businessman," Chappelle said during his speech. "I could talk about his accomplishments in music. But I think what's most important for everyone in this room to know is what it means to us, what he means to his culture." In closing, he simply said to his friend. "I am honored to be the n***a that gets to say, 'My n***a, welcome to the Rock & Roll Hall of Fame."
Grandmaster Flash and the Furious Five formed back in 1978 and were themselves inducted into the Rock & Roll Hall of Fame in 2007.
Check out the full exchange between Scorpio and Dave Chappelle above.