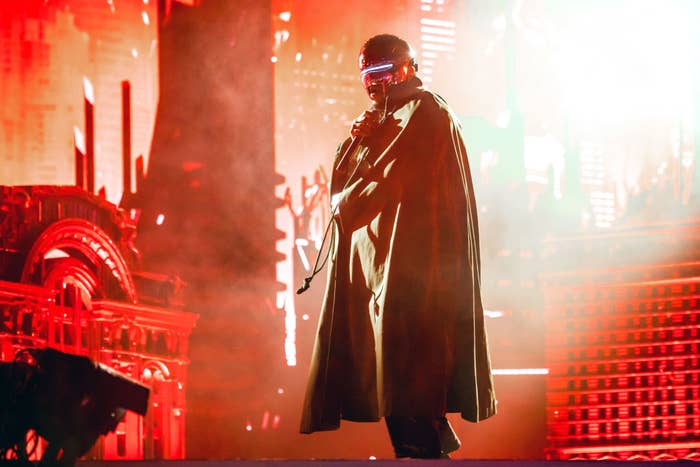 The Weeknd might be done handing out features but it doesn't look like he'll stop performing them. Last night, the singer performed "Circus Maximus," his latest collaboration with Travis Scott, for the first time in Mexico.
The track debuted on Travis Scott's Utopia album and was one of two songs to feature the Toronto singer; the other being the single "K-Pop."
During his stop in Monterrey, Mexico, The Weeknd played a medley of hits including a number of songs he was featured on like "La Fama" by Rosalia, "Hurricane" from Kanye West, and "Low Life" by Future before getting to the live premiere of "Circus Maximus."
Though he doesn't have a verse on the track, he still managed to turn the chorus and outro into a full-fledged performance.
The Weeknd also introduced a third tour costume at the show showing off a Robocop-like helmet, a metal arm sleeve, and a Star Wars-esque cape to solidify the sci-fi theme.
"Circus Maximus" may have been the penultimate feature of The Weeknd's career. He recently confirmed that his appearance on Diddy's latest project The Love Album: Off the Grid would be his last.
During a stop in Poland, The Weeknd gave fans an early tease before the song actually dropped on Sept 15.
Should Daft Punk reunite, however, The Weeknd could be convinced to get back in the studio as a featured artist.