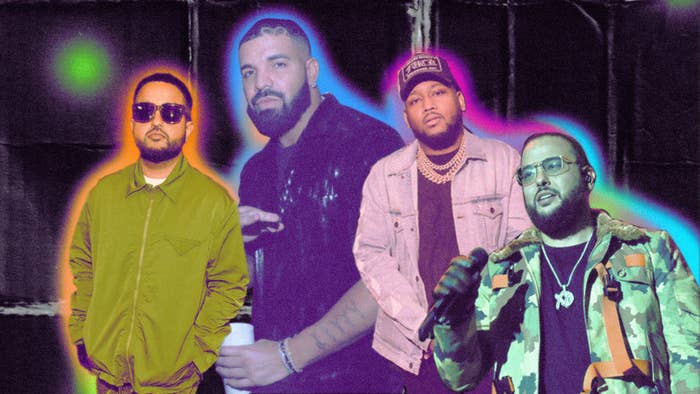 1. Drake
It should come as no surprise that Drake helped shape the last decade of Canadian hip-hop. He wasn't the first to skillfully combine singing and rapping but he popularized to levels higher than his predecessors ever could. Without Drake, the landscape of hip-hop in the 2010s changes drastically. His output never seems to slow down, and it's hard to remember the last time he wasn't an integral part of the hip-hop conversation. Since So Far Gone arrived, Drake has continually changed the game, and doesn't appear to be slowing down anytime soon.

2. Noah "40" Shebib
Drake and 40 are intertwined. There's no one without the other and while Drake went on to inspire other singers and rappers, 40's influence on his producer peers can't be overlooked. His moody atmospheric take on hip-hop transformed the way hip-hop and R&B connected. 40 quietly goes about his business in the OVO sphere, but the Toronto sound as it stands today wouldn't exist as a distinct worldwide force if not for his ear.

3. The Weeknd
He's not a rapper, and we're not claiming he is. But it's impossible to talk about Drake, 40, and the rise of Toronto as a global music force without talking about The Weeknd and XO's contributions. Hiding one's identity from the world as an emerging artist wasn't exactly a novel concept, but when The Weeknd did it with the arrival of "High For This" and House of Balloons, the mixtape the track landed on, people became infatuated with the idea of mystery. Beyond the shrouded aesthetic was a darker take on R&B. Singers tried to emulate his voice, and producers tried to elevate his sound. Even as The Weeknd's sound evolved into something a little more poppier, remnants of his original sound still permeate throughout Canadian hip-hop.

4. Nav
Nav's first major placement came not as a rapper but as a producer on Drake's "Back to Back." Following that up with a slew of popular singles in 2016 earned him a roster spot on The Weeknd's XO label along with a few features. It wasn't long after that before Nav became an international sensation, making tracks with Travis Scott, Lil Uzi Vert, Young Thug, and Future. Nav's voice allowed him to stand out, and he took the XO sound and made it his own, in a way that allowed him to keep collaborating with every superstar under the sun without losing his unique style. Nav may not always get the critical accolades given to Drake and The Weeknd, but his lasting effect on Toronto hip-hop can't be understated.

5. Belly
Even before signing with XO, Belly had hits. In 2006, the Ottawa-Palestinian rapper released "Pressure," a sticky club banger with a feature from Ginuwine. He had also appeared on a few Danny Fernandes songs that would help establish him as a genuine rapping force in the country. A small break after his 2011 mixtape with DJ Drama found him on XO, releasing his comeback project Up For Days which featured The Weeknd, Travis Scott, and French Montana. His changed sound was darker, more in line with the mid-2010s trends. Belly never looked back, doubling down on the manic drug-induced vibes that helped break him out of his shell a second time. His Mumble Rap mixtape stands as a true Canadian classic.
6. Boi-1da
No other Canadian producer has had such a varied production discography as Boi-1da. Of course, he produced many tracks for Drake and his Young Money peers, but he also lent his talents to other acts ranging from Canadian rap boy band Down With Webster all the way to Beyoncé's Renaissance. Though Boi-1da can't be pigeonholed into one type of sound, his elastic production could fit any artist, big or small. Don't let his star status fool you, though, Boi-1da continues to be immensely active in Toronto and hasn't forgotten about his beginnings. His place as an icon in Canadian hip-hop and production could never be disputed.

7. Shad
Shad may not have dominated charts or packed arenas, but few other Canadian artists can keep up with the London, Ontario rapper in terms of passion and quality. After coming up in the blog era and having released three albums over the course of the 2010s, Shad kept one-upping himself, winning a Juno in 2011 and hitting the Polaris Music Prize shortlist five times. He's a multi-talented individual who also hosted radio program Q and documentary series Hip-Hop Evolution.

8. Murda Beatz
Murda Beatz's career jump-started thanks to a key beat placement from Migos. He immediately turned the right heads, securing production credits for 2 Chainz, Nicki Minaj, Travis Scott, and many more. Murda's prominence didn't stop him from producing for his fellow Canadians as well. He made beats for Prima Boys, Smoke Dawg, and Partynextdoor among others, showing he's never far from his home country. As the sounds of the 2010s evolved into the 2020s, Murda Beatz was there to evolve as well, and he's as in-demand as ever.
9. Loud Lary Ajust
While Toronto hip-hop was flourishing worldwide, Quebec's hip-hop scene was having its moment in the French speaking parts of Canada as well. Loud Lary Ajust held a tight grip on the Rap Queb movement of the 2010s. Ajust's production understood that you can marry Quebecois kitsch with cool sounds, while Loud and Lary Kidd perfectly complemented each other as MCs: the former was the sharp leading man, while the latter was the wild one. In 2015, you couldn't be at any Quebec house party without hearing "Xoxo" and "Automne." LLA's prominence helped usher in a new era of hip-hop in the province, creating new avenues for rising artists to succeed.
10. Kaytranada
It's impossible to talk about producers in Canada without mentioning Kaytranada. Sure, the producer has made more of a name for himself from dance music, an infamous Boiler Room, and effective collabs, but his lightweight, fluttering style felt like the polar opposite of what was going on elsewhere at the time. Shinier and groovier than many of his contemporaries, Kaytra's production soundtracked many a Canadian summer thanks to 99.9% and Bubba. And if anyone questioned his hip-hop production chops, then they should look no further than what Kaytra did behind the boards on Kaytraminé.