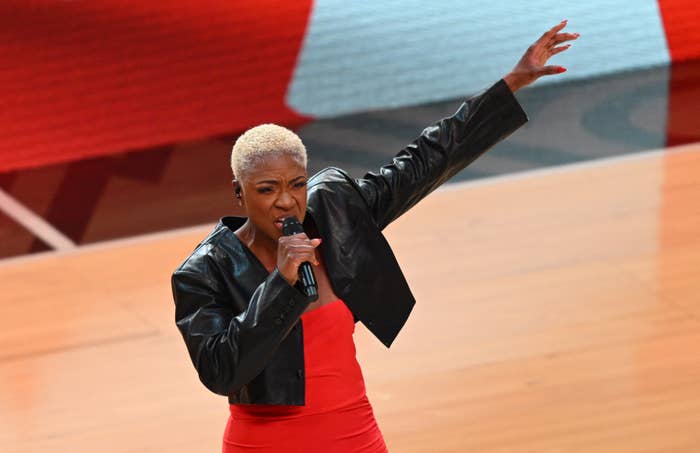 When it came time for Jully Black to sing the Canadian national anthem at Sunday's NBA All-Star Game in Utah, the Toronto singer made a subtle change to the anthem that honoured the land on which Indigenous lived before European settlers colonized North America.
Black changed the opening line that reads "O Canada! Our home and native land" to "O Canada! our home on native land" emphasizing the "on" to highlight the small but important change to the anthem that's nearly 150 years old.
"I sang the facts," Black told The National on Monday. We are walking, breathing, living, experiencing life on native land. On Indigenous land."
In a brief interview with The Shift, Black added that she "dissected the lyrics, to really sing it with intention."
Chuck D was one of many on Twitter who took to social media to praise the veteran R&B singer.
Shortly after, Black quoted Chuck D's tweet to express her gratitude.
Inuk throat singer Tanya Tagaq quoted a tweet that highlighted Black's change to show her approval.
One Twitter user even captured the moment Black started singing and cut it into a "Canadian Heritage Moments" frame.
Black released her latest album, Three Rocks and a Slingshot, in 2022.