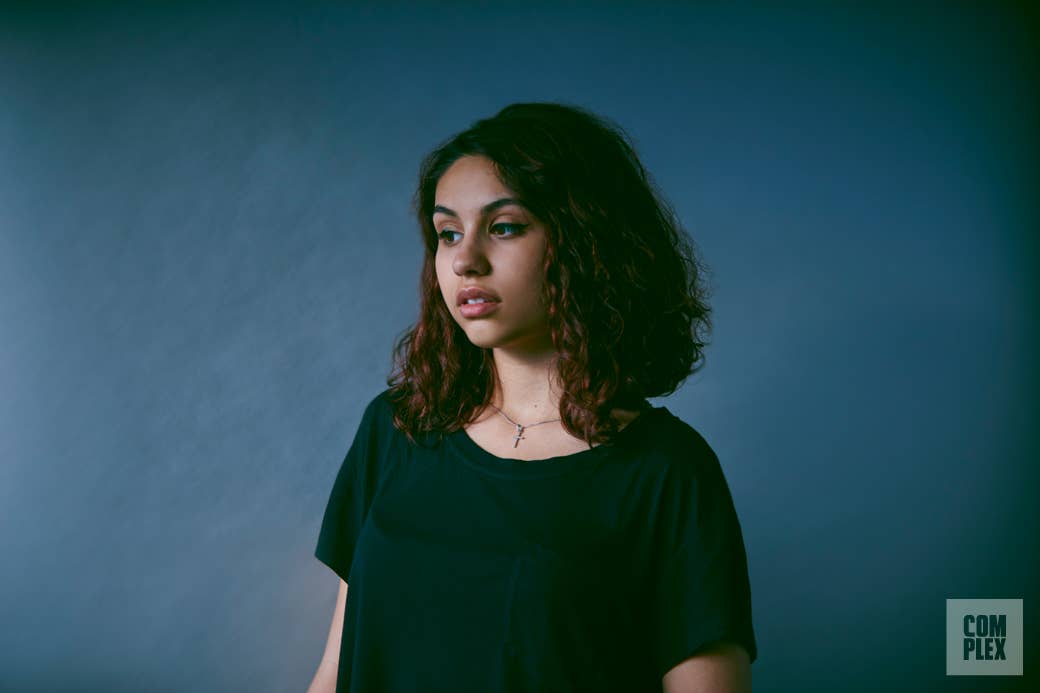 It'​s days before Alessia Cara'​s 19th birthday, and she'​s feasting on two pieces of Joe​​​​'​s Pizza, her first real New York slices ever. The Brampton, Ontario, native, also known as Alessia Caracciolo, is in town for press a few weeks after her debut headlining show at Brooklyn'​s the Knitting Factory. She enraptured that crowd with her short set, particularly with the performance of her first single, "Here." The lush and soulful cut, produced by Pop & Oak and Sebastian Kole and featuring a sample of Isaac Hayes' "Ike's Rap 2," is all about the ever-relatable feeling of being in a room full of people at a party and feeling bored as hell. The track is now buzzing everywhere. Power 105 finally played it on air this week, and it'​s been hailed by the New York Times, Pitchfork, and ranked at No. 2 on our Best Songs of 2015 (So Far) list.
There'​s no real mystique to Cara, who'​s currently prepping her debut album, Know-It-All, on Def Jam Records. She grew up in practically a first-generation Italian household listening to a lot of Frank Sinatra, Amy Winehouse, and, thanks to her mom, contemporary Italian pop. Decked in ripped Levi's, fresh red Converse, and a black T-shirt, Cara is laid back and giggling about how she doesn'​t celebrate birthdays but maybe she will this year. But that'​s because this year is different.
Almost five years ago, the theater and drama enthusiast went from uploading videos of her singing on Facebook to creating a slow-growing audience on YouTube. Early covers included​​ Adele'​s​ "One and Only"​ and Jessie J'​s "Price Tag." From there, she emulated some of her favorite singers' songs including Justin Timberlake'​s "​Mirrors,"​ Winehouse'​s "​Stronger Than Me,"​ and her most popular, a cover of the Neighbourhood'​s "Sweater Weather." That's what brought her to the attention of Tony Perez of EP Entertainment whose daughter forced him to watch the video. Cara flew to New York, performed her two most successful covers, and signed a management deal. Over the next year she spent time balancing her last years in high school with hitting studios around Toronto with Sebastian Kole. Then she shopped around labels. That's when she met Tab Nkhereanye, who was heading from Republic to Def Jam at the time, and by luck, Cara felt most at home in the offices that have housed everyone from Rihanna to Jay Z, Kanye West and more.
Cara never told anyone in high school that she was seriously pursuing music until she signed to Def Jam. She went back to the studio after that to record and polish demos she'd been working on, which included "​Here." Now, almost two years later, she's preparing to release the major label debut that could take her to the next level. We spoke to Cara about spending her childhood making up lies, learning how to sing in her closet, and getting a record deal off a few YouTube videos.
You're from Brampton, which is just outside of Toronto.
It's very suburban, but there's a portion of it that's very city-like—not as big as Toronto. There's not a lot to say about it. I had a fairly regular childhood. I was a pretty boring kid. I didn't do much. I was always thinking, but I didn't really say a lot. I was one of those weird kids who didn't really speak or smile. I remember my teachers would call home and ask if everything was fine at home because I would never smile. Then I got into this phase, from maybe fourth to eighth grade, where my personality just did a 180. I was really loud, and I found my best friend, and we would just do stupid things. I would lie a lot. Even during that period when I didn't smile, I would lie a lot and make up stories about everything.
What kind of lies, exactly?
Like, "Oh, my bus driver kidnapped me yesterday." I would make up these elaborate stories, and they wouldn't be true. My brother did the same thing. We just both lied a lot. I didn't tell any adults. I just told my friends. They'd be like, "Oh my gosh. How did you get away?" And I'd be like, "Yeah, I had to escape through the back." I was so involved in these lies that I was telling. That's when I got a lot louder and more comfortable in my skin, but at the same time, I was still really shy about singing.
You have a brother?
I have one little brother. He just turned 15. He's taller than me now. I just realized that a few days ago. Both my parents are Italian. My mom was born and raised in Italy. My dad was born in Canada, but then they moved to Italy. He moved back and forth, but he's first generation Canadian because both of his parents were born and raised in Italy. My mom moved to Canada with my dad after they got married. I'm really in touch with my Italian roots. My mom's whole side of the family is there.
Do you speak Italian?
Yeah. When I was younger, my mom didn't speak English, so she always spoke to us in Italian. I had a weird accent when I was kid. I didn't really know how to speak English because they'd always speak to me in Italian. I didn't learn how to speak English without an Italian accent until kindergarten.
"I got into this phase where my personality just did a 180. I was really loud, and I found my best friend, and we would just do stupid things. I would lie a lot."
You said you were more outgoing in middle school. What changed?
I didn't really have many friends when I was younger. There's no sob story. I wish I had this inspirational story, but I was just really weird and kept to myself. I just thought a lot. I wasn't depressed or anything. I was just quiet. I liked it that way. I was cool with it. I just really liked to think a lot and tell lies to people. I liked playing with nature a lot. I liked worms. It was so dumb. I used to pretend that I knew all about worms, and I would lie and tell the other kids that one of the worms was pregnant and we had to help it give birth.
Maybe you can also start a career as a fiction writer.
I would always write stories, but I never shared them with anyone. I'd write raps. I found some old ones a few days ago. There was one that me and my cousin wrote. We had this band called the Lilacs, and we had a song called "We Are the Lilacs." We had another song called "Let Me Be Your Friend" or something. It was so bad. We were all around the same age. I think I was the oldest, but we were very close in age. There were four of us. We were in the Lilacs together. You might remember us from our early stuff. We were really big in the early 2000s. [Laughs.]
Growing up, what kind of music did your parents play around the house?
Well, my dad listened to all the classic stuff. He listened to the Beatles, Queen, Elvis, and Michael Jackson. That music was always in the car. He'd play, like, Kelly Clarkson too though, which is so random. My mom would play contemporary Italian music. To this day, I still know the big Italian artists because she was always playing them.
What about you?
I think the first group that I really loved was the Black Eyed Peas. Elephunk and Monkey Business were two of my favorite albums. Then, I got into Amy Winehouse when I was 9 or 10. I loved her. Then, I loved Michael Bublé and Frank Sinatra. I started getting into this whole soulful sound. As I got older, I got into Selah Sue, Lianne La Havas, Allen Stone, and a whole bunch of people. I love Jessie J, too. She's so good. I think she started to break in the U.S. with "Bang Bang" and her newer stuff. Her voice is absolutely amazing.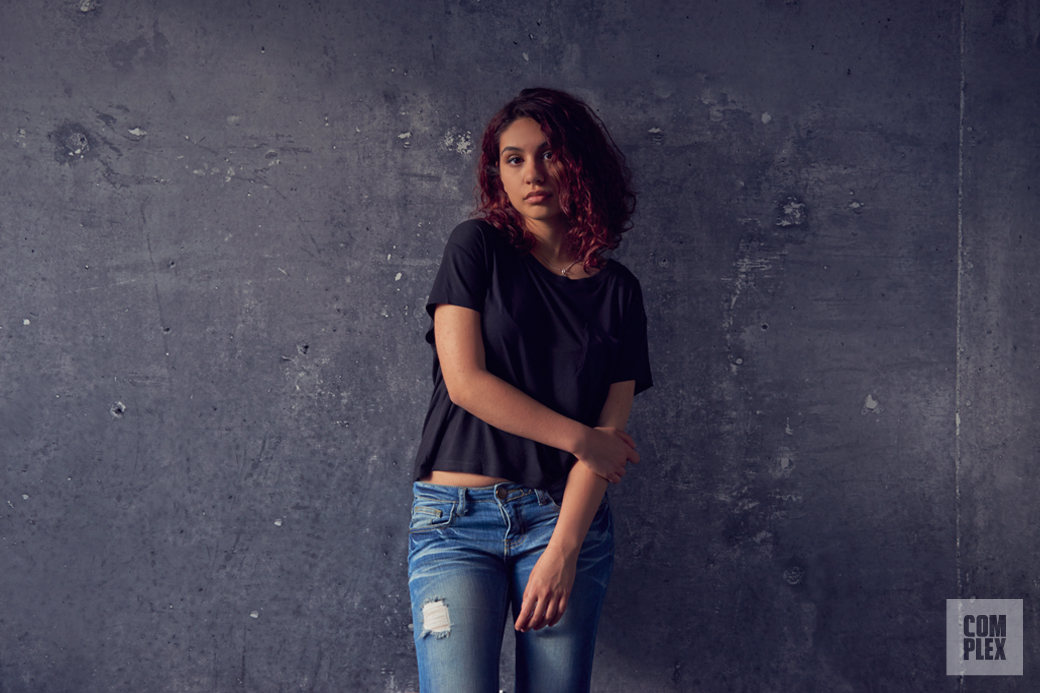 What's your earliest memory of singing?
Singing alone when nobody was home. There was this period of time where I would be home alone for an hour because my parents were still at work and my brother was still at school. I would close myself in a closet and just sing really loud. I loved it. As soon as I heard someone come home, I would stop. I'd get scared because sometimes I'd think that they heard me. I'd just belt for that little hour. I sang everything.
What made you gain confidence?
My mom caught me one day and was like, "Sing for me. I know you're good at it." I went into the closet and I was like, "Close your eyes, don't look at me, and never ask me to do it again." Then I sang for her. When I walked out of the closet, she was crying. She believed in me from the first day and then she made me sing in front of every family member that we had. I was like, "You lied to me. You betrayed me."
I posted my first video on Facebook. My mom was like, "If you want to do this as a career, you have to get used to doing it in front of people." That was probably a couple of months before I posted my first video on YouTube. The Facebook video got good feedback from my friends and family. I started doing little talent shows and things at school. My drama teacher, who was a big help in me getting more confident, would push me to sing at every little talent show or open mic that we had at school.
Do you remember what you sang in that first Facebook video?
Adele's "One and Only." I uploaded that to my YouTube too. My mom was recording on my BlackBerry. It was bad.
Is that what led to YouTube?
I did a lot of stuff with one of the members of the Lilacs, my cousin Carina. We had these little videos for our friends. I liked it, but then she didn't want to do it anymore, so I just started doing it on my own. My mom, again, was like, "If you want to do this as a career, you have to get used to the idea of people hearing you." I was like, "OK, I'll start a YouTube channel and do it for the public so I can see the reaction and get used to people hearing me." I posted the first cover. I was 13 or 14.
When did you really start to see things pop off?
Things didn't really pop off for a long time, but I was still doing it. I don't know who I was doing it for. I was still posting, and no one really cared. Then one day I posted this cover of Justin Timberlake's "Mirrors," and that one started getting a little bit of traction. Then Ryan Seacrest put it on his website for this cover contest of the summer. That got a little bit of buzz, I guess, and that was the first time where I realized people watched. A couple of months later, I covered "Sweater Weather" by the Neighbourhood. One person saw me, and she happened to be the daughter of the head of my production company. She showed her dad, and she was like, "Dad, look at this girl." That's kind of how everything started.
Did you know the girl who showed her father your videos?
No, I didn't. She just saw me. She said she was just online looking up covers for fun and she came across my "Sweater Weather" cover. She liked it, and she showed her dad. I don't think he was even looking for talent at the time. A couple of months later she asked, "Did you look at that girl yet?" She was really persistent, so I owe a lot to her. She DM'd me, and she was like, "Can we discuss business?" I thought it was spam. Long story short, my dad talked to Tony Perez, the head of the company, and they flew us out to New York a couple of weeks later. I sang for them, and we just started working together making some songs.
"['Here'] is 100 percent a true story. Terrible time. Awkward. not because of other people. I do this to myself. I make myself uncomfortable because it's just my personality."
I read that "Here" was one of the first songs that you wrote. You were 16 at the time. Was "Here"​ based off of a real life party? 
Yeah, 100 percent a true story. Terrible time. Awkward. Again, not because of other people. It's myself. I do this to myself. I make myself uncomfortable because it's just my personality. I felt like I couldn't talk to people. I didn't know where to stand. I don't dance. Feeling like you're the only sober one in the room is a weird feeling.
I think "Here" is relatable to anyone, in any situation, who has ever gone out and thought to themselves, "Why didn't I stay in bed?"
You think that everyone else is having fun. I'm sure there were 10 other people in that room who felt the same. Maybe they were just good at hiding it. Not everyone has fun all the time.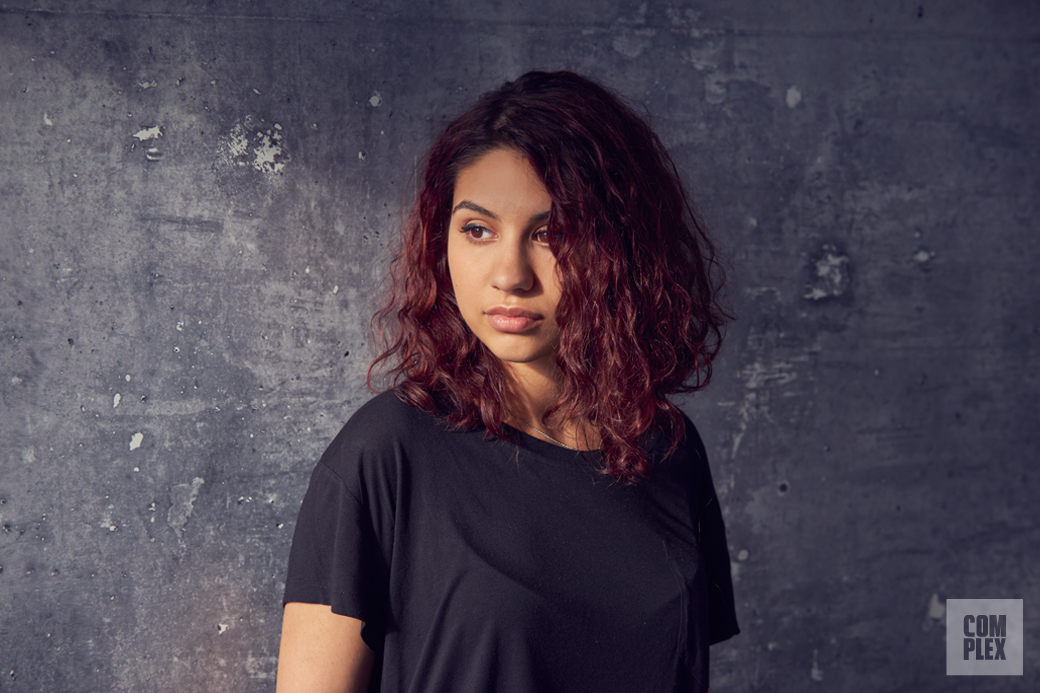 When did Def Jam come into the picture?
We had the demos. We went from New York to L.A., to all the labels you can think of between. Def Jam was actually the last label that we met with. We were in the middle of meeting different A&Rs at different labels, and we happened to go to this label, and I met with this A&R named Tab. We just had this cool vibe. The thing was that he was leaving this label to go to Def Jam. Then he was in an elevator with Tony, the head of EP, and they got to talking about me, and he was like, "I guess she already signed with that label." Tony was like, "Actually, no. Not yet." Then he ran to Steve Bartels, the head of Def Jam, and No I.D., the vice president, and he was like, "You guys have to see this girl." We put everything on hold, and we went to Def Jam. That's why they were the last that we met with. When I met with them, it  just made perfect sense. This was last July.
What was the next step?
Well, then we started getting into the studio again and revamping the demos that we had and also writing new ones because we wanted to make a full-length. I started working with these producers Malay, who did all of Frank Ocean's project, Pop & Oak, who have worked with every human, and Fredro. Also, I worked at Reefa Productions' studio in New Jersey, so we went to all of those people—all while I was finishing up senior year.
So, the project is finished already?
Yeah, pretty much. We're just tweaking it and mastering, but it's pretty much done.
What is the vibe for the rest of the project?
Sonically, I think "Here" is the most '90s R&B-sounding song that's on there. I wouldn't consider myself an R&B artist because I know what my other songs sound like. It's a lot of soulful stuff. I think my voice just naturally sings that way. There is more pop stuff. There's some acoustic stuff. There are some ballads. It's a little everywhere because my influences are everywhere. Overall, it's very alternative pop. That'd be the best way to describe it. Co-writer wise, it's just me and Sebastian the whole album, which is cool because I like that consistency. We only worked with four producers—Kuya Productions, Pop & Oak, Malay, Fredro.
What inspired the title, Know-It-All?
I listened back to all the songs, and then I came across one of the songs on my album called "Seventeen." It got to the bridge, and there's this line in the bridge where I say, "I'm a know-it-all. I don't know enough." That phrase sums up the entire album conceptually. Each song is so opinionated in its own way, whether I'm talking about a strong feeling or a strong thought. Even in here, I'm just talking like I know everything. I just have all these opinions, and as a young person, I think I know everything sometimes and I don't.
What's your biggest fear right now?
I always said that if I'm going to be doing this, I don't want to be just one song of the summer and then everyone's like, "What happened to that girl?" I never want to be that. I want to be remembered. I want to make a little dent in the music industry, at least. I hope that my other songs hit as hard as this one did, and I think this one is still going to keep punching. Another fear of mine is how I'm going to handle this. Am I going to know how to handle it if things get bigger?
You're so calm though.
It scares me because I should be going crazy, but I'm just floating right now.