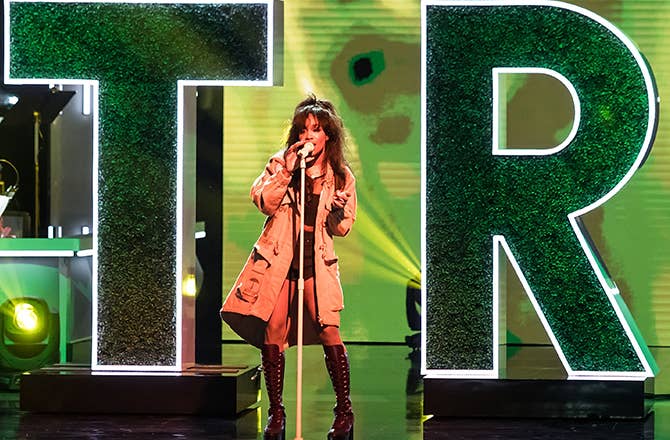 SZA is really coming into her own as an artist in 2017, with her new album, Ctrl, earning her respect and adulation on a completely different level from what she'd seen prior. And from the sound of things, she's going to be linking up with another prominent artist to help bring one of the songs from the project come to life.
In a new interview with USA Today, SZA revealed the next video on the way from Ctrl will be for "The Weekend," her anthem about what it's like to be with a man carrying out relationships with other women. And the director for the video will be someone you know and love: Solange Knowles.
"I love her," said SZA. "I think the universe is just bringing us closer to each other. That's my homegirl."
If another artist going to be in charge of the visuals for your song, it may as well be Solange. She already showed an affinity for it with a performance piece at The Guggenheim, titled "An Ode To," and she's debuting a new performance art piece in Texas later this fall. Allegedly, the video for "The Weekend" takes place at 10 different locations, so the duo sounds like they're sparing no expense putting this thing together.
Even if you throw out the video, the two singers have been spending a decent amount of time around each other later. Both are performing at the Afropunk Festival in Brooklyn on Saturday, and if they're as tight as SZA makes it seem like they are, they'll be using plenty of their backstage time to cook up some ideas together. Maybe a collaboration is in the works, because it's fairly well known they share a mutual admiration for each other's work.
Speaking of high-profile artists, SZA also took a moment to salute her TDE teammate, Kendrick Lamar. With Kung Fu Kenny poised to do some major damage at the 2017 VMAs—he's nominated for eight awards at the MTV ceremony—SZA is confident her pal is going to take the awards show by storm.
"Kendrick is going to sweep regardless," said SZA. "That man needs no rooting—he will snatch all wigs, all the time."
We'll have to wait and see just how prophetic SZA is, but in the meantime, you can definitely get excited about what's to come on the music front. SZA and Solange teaming up can only lead to good things.