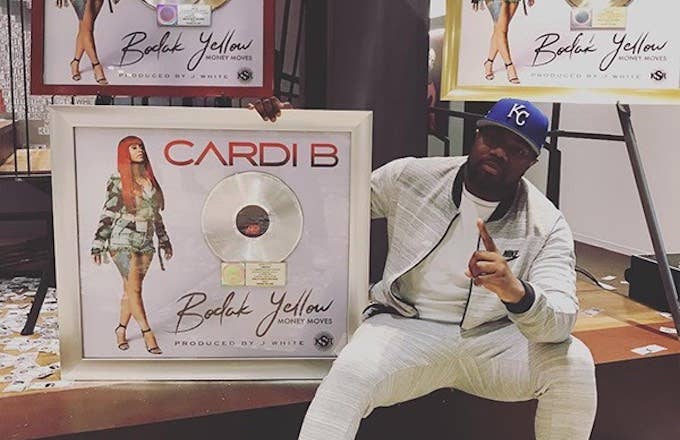 The last time we spoke with "Bodak Yellow" producer JWhiteDidIt, last August, Cardi B's breakout hit was sitting at No. 14 on the Billboard Hot 100. At the time, that seemed like a hell of a feat, but over the next year and change, "Bodak Yellow" hit No. 1 and Cardi followed up with another chart-topper: "I Like It" featuring Bad Bunny and J Balvin and co-produced by JWhiteDidIt, Craig Kallman, and Tainy.
Cardi has also flexed on the guest appearance tip, dropping a memorable verse on Maroon 5's "Girls Like You," which has also topped the Hot 100 chart. In other words, she's made legitimate history as the first female rapper to have three No. 1 singles on the most coveted ranking system in music. And it all started with the JWhiteDidIt-produced "Bodak."
Now, the pair have reunited for Cardi's new single, "Money." A lot has changed for each of them over the past year, but JWhiteDidIt says Cardi's work ethic has remained the same. "I was with her a couple weeks before she had her baby Kulture and she was in there still trying to go while the baby was kicking," he says. "I'm like, 'Yo, when is it time to just lay down and kick your feet up? When is it time?' Then I saw her a few weeks after she had the baby, in the same studio. She was back in the studio. I think she's gotten worse. She's on her Belichick right now."
When we spoke with JWhiteDidIt two weeks ago, he was just about to put the finishing touches on the new single. He spoke with us about how Cardi's new track came together, how working with the rapper has changed over the past year, and how his own career has been transformed since "Bodak Yellow."
How did "Money" come together?
The song came together on some fourth quarter stuff. If we're gonna be honest, I didn't know what was going on. All of a sudden, they sent me the freaking record and I said, "Oh, I know this beat. Oh, OK." This was a beat I did for Cardi a while ago. She must have been going through the archives and went, "You know, I like this track."
Honestly, they already had the song done. She sent it to me on some, "Yo, JWhite, make this beat better." I said, "Oh boy." It's funny, we were at the Billboard event recently in New York when they honored Meek Mill. I was in the corner. I didn't even sit with Cardi. I didn't know she was coming, but she walked in and pulled me to the side like, "JWhite, how is the song sounding?" I said "Oh, it sounds great," because she is critical when it comes to me and these beats. If you can't tell, she likes her beats to rock a certain way. The girl is evolving every song. Since I first worked with her to now, she knows how she likes her hi-hat. I'm like, "Dang, girl. You've been studying or something? What's going on? You done came back like Quincy Jones." [Laughs]
For this record, it was more of a treat for me to get these vocals back and be like, "Oh, I get to make a single again? OK, awesome." I'm excited about the record. She said on her Instagram that she's excited and nervous. You know what? I'm excited and nervous, too, because of the history that we've done together with her first two singles, "Bodak" and "I Like It." They both went No. 1, so that's a lot of pressure to have, especially with us two doing it again. Will we have that match again? As long as the music comes out in love, and people still feel her hunger, I think it's going to go well. The record's crazy. I'm not gonna front. I love this song.
You used the word, "pressure." How did that pressure manifest for you?
At first, it had me a little nervous: "Oh my God, I have to do this. I have to do that." But I was like, "You know what? I didn't do that in the beginning, so I'm not gonna do that now. I'm gonna stick to what I do." If it ain't broke, don't fix it. I literally had to just calm myself down, be my best self, and just do what I normally do. I make beats off a feeling, and I make these songs off love—just the love of people liking what we do. I calmed down and I'm just doing me now. I'm just doing what I like and hopefully the people like it, too.
Can you describe the moment Cardi sent the song back to you and said, "Make this beat better?"
So it was a track that I had already done just for the Invasion of Privacy album. It was a track that I was working on and it was just an idea I sent. But then she sends back the song all of a sudden, and I'm just like, "Wow, OK." One thing she wanted was for the track to bang.
So, Kansas City is where I'm from. I come to see my daughter once a month. I gotta be daddy all the time, but I fly there once a month and literally, as soon as I land, I get a text message: "Call me, blah, blah, blah." I make that phone call and 10 minutes later, I'm on Facebook looking for a studio in Kansas City. For the next six hours, I'm getting this track right because you know, I definitely enjoy working with Cardi and I don't like to get her mad. [Laughs] I don't want to disappoint her in the least at all.
Cardi got tours on Mars, now. Everybody's booking Cardi right now.
I can only imagine what the pressure from her alone is like.
Yeah, it's not bad. It ain't like she throwing a chair at me. It's more like, "Yo, giddy-up. Come on." I always get it done. I'll say that. I get it done. So I can't wait for the rest of the world to hear this new dope record that we did. I wish I had a super interesting story like, "We was in the studio this time." Nah, it wasn't nothing like that. Cardi got tours on Mars, now. Everybody's booking Cardi right now. I'm like, "Oh, Jesus booked you, too? OK, so everybody's booking you. Oh, the Pope is booking Cardi, too? Dang." Look, I turned up one day and she's in France, next day she back in the states, next day she's back in Europe. I'm like, "Jesus. How are you doing this? Is there two Cardi's now? It it a clone Cardi?"
On that note, what would you say has changed the most about your process of working together?
Oh man, just being in the studio together. I've been in the studio with her a few times since all the success, but she's so busy. It's kind of hard to catch one another in the studio. I'm doing other sessions and working with other people, as well. Thank God we got the internet so we can send emails back and forth to get the song done, but that's the only thing that's changed. It's just really being there and doing it together. I know she likes the process of being in the studio. That girl's a hard worker, but that's the only thing that's changed—just the time and the opportunity.
In our previous interview, you mentioned that being in the studio with Cardi was like being with somebody who's in the NBA or NFL, with her intense focus. Can you tell she still has that same intensity and focus?
Yeah, she still has that same intensity and focus. I was with her a couple weeks before she had her baby Kulture and she was in there still trying to go while the baby was kicking. I'm like, "Yo, when is it time to just lay down and kick your feet up? When is it time?" Then I saw her a few weeks after she had the baby, in the same studio. She was back in the studio. I think she's gotten worse. She's on her Belichick right now.
Uh oh.
Bill Belichick won the Super Bowl, right? And then after the Super Bowl party, he's talking about next season. He's trying to get back. That's Cardi. Cardi is on a mission. It's just a treat to watch, if I'm being honest. It's just a whole treat.
What does it feel like to have Cardi continue to come back to you for these major moments with her?
It's very cool. It's dope that she hasn't pushed me to the side yet. It makes me feel good. It lets me know we have something special, and hopefully we can continue to do this for a long time. Missy and Timbaland did it. Justin Timberlake and Timbaland did it. Timbaland and Aaliyah.
Damn, Timbaland and everybody.
Got dang. Hold on, let me find somebody else... Swizz Beatz and DMX.
There we go.
[Laughs] I'm trying to think of more producers and I'm like, who else did it like that? But I love Timbaland. But yeah, just that kind of duo. For us to come out the gate like this… It's crazy. Because this industry wasn't built to let Cardi B in. It wasn't built for her to come in this game and do what she's done. On top of that, the industry wasn't nice to me, either. It wouldn't let me in, either. So, for us to come in like this and to command so much attention—and for this woman to break records and make history, it's a crazy thing.
When "Bodak Yellow" dropped, just last year, we were riding in a freaking Suburban from New York to Virginia to promote the record while she's doing club gigs. This is crazy. Nobody wanted to let her in. Nobody wanted to let myself in. For us to do this and for her to keep coming back to me, I'm grateful and that's very, very cool. That's very, very dope, because a lot of artists forget about where they came from or who they work with to get to that level. But for her to be at the top of her game right now and for us to still be working, that's dope.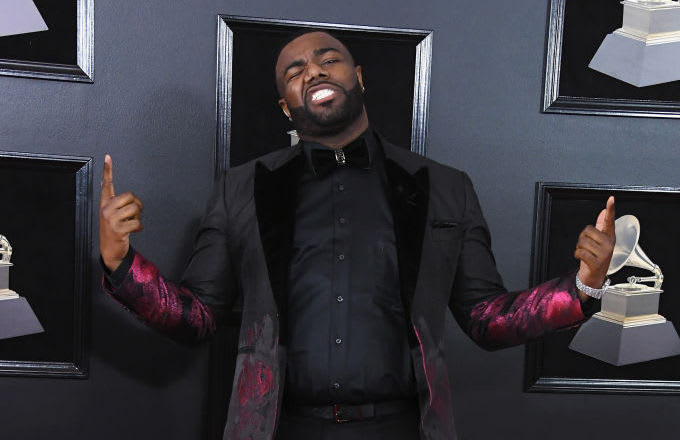 Absolutely. The last time we talked to you, you were in a very different position. "Bodak" was at No. 14 in the country. At that point, everybody was already hype, but just historically speaking, nobody saw a No. 1 coming. What has your life been like since?
I know a lot of flight attendants by first name. [Laughs]
Really?
Yeah, a lot of airports. I see a lot of people there. That's where I live now. That's where I got my furniture at. I got it at the airport. So it's been nonstop. This year went by so fast because I'm either in the studio, or I'm flying in the air, or I'm working. That's really it. I'm glad you asked that question because I told myself that I was going to sacrifice everything to get to this level, but that's one part of the sacrifice. The other part is to keep doing it when you're at a place—not where you're comfortable—but where you're financially stable. That's the part where you gotta sacrifice and you gotta keep going, because you can lose it all at any moment.
I've been traveling a lot since "Bodak" and "I Like It,"  but especially during the "Bodak" era. The pandemonium was crazy. My son is 6 years old now. He's my homie. But the time, he was a year younger and he didn't understand why his dad gotta keep leaving all the time. I was mentally worn out. I was physically tired because I wasn't used to flying here, flying there, flying here, meeting there, and studio time here. I wasn't used to it. I wasn't used to people pulling at me like that. I literally got on that plane and broke down. I had my hoodie on and I had my shades on and I was crying like a baby. I wasn't used to this type of sacrifice. Now it's like, "Dang, I work so hard for my daughter and my son to have things they want. Now, I can't even enjoy them." I can't because now I gotta work. I gotta do what I want. I asked for this. I worked hard for this and now I gotta do the real sacrifice.
Just yesterday, my son said, "Daddy, why you gotta leave all the time? You just got here yesterday." I said, "I know, and I gotta leave today." He's like, "Why? Why do you always gotta leave? Why you gotta work all the time?" It hurts my heart. Just this past school year, he had a kindergarten graduation and I missed it. My daughter had a fifth-grade graduation—I missed it. I hate it. I hate it to the maximum, but that's the most hurtful thing as a parent you can miss for them. Both of my kids asked me why I wasn't there, and I want to do everything for them. I can provide for them money-wise, but the most expensive thing I can't provide for them at this moment is time. That's the most expensive thing in the world. It's something that I teeter-totter with in my career like, "I want to be around my kids but dang, I want my kids to have this amazing life, too. So what is it gonna be?" At the end of the day, they look at you for their food and their clothes, so you gotta do that.
So, on a serious note, what's changed for me is really not having time for my family. My two kids are my No. 1. That's what I fight for. That's the only thing that hurts, is not being around them as much as I want to. People always say they want this life, but they don't really understand what really comes with this lifestyle. This lifestyle is lonely as hell. You're in the studio all the time. You're in the airport all the time. I'm not complaining about it. I wanted this. It's just something you gotta deal with and pray about it.
Thank you. I appreciate you being honest. People reading this interview might think, "It's about this new single." Because everybody's excited for it. But there's also some real shit that's happening at the exact same time.
At the same time. Literally, with this single and me working on it in the fourth quarter. I got the files to work on the track and make it better. But at the same time, I had to call my daughter and be like, "I'm not going to be able to come. I'm in Kansas City, but I gotta come late now to see you because I'm in the studio working on music." She doesn't understand, though. She don't care. She's 11. She don't care. "But you said we was gonna get sushi?" "I know. I know. I know. I know."
It's one of them things where it's either you're going to do this or you're going to do that. And I think that's the difference between people who want to be successful and people who talk about being successful. It's the people who are willing to sacrifice everything to be at a certain level. I know it probably sounds bad but it's like, "My kids gon' eat, yo."
Let me tell you a little something about me. I don't know how to change a tire. I don't. I'm not a handyman. I can change lightbulbs, but what else can I do? I can probably screw something in that's already screwed on. I don't know. That is the bare minimum because I spent my whole life wanting, learning, educating myself, making sacrifices, getting told "no," getting laughed at, getting made fun of. People would doubt me. People tried to sabotage me. People tried to hurt me. I did everything for this moment, and I'll be damned if I let this moment go.
I just don't understand how people do this and then all of a sudden quit. You've been doing it for like 12 years, bro, and now you're gonna quit? Nah, you might as well get a reward for it. Hell no. I'm finna get a reward from this and I'ma keep going. I'm gonna keep going and I'm gonna deal with it and God willing, I'm gonna be the best parent I can be, as well. I don't want my kids to be like, "Well, my dad wasn't there the whole time." I'm trying my very best. I go see my daughter once a month. I see my son as much as I can see him, too. But I'm in their life as much as I can be. If it's not the studio, then I'm with them.