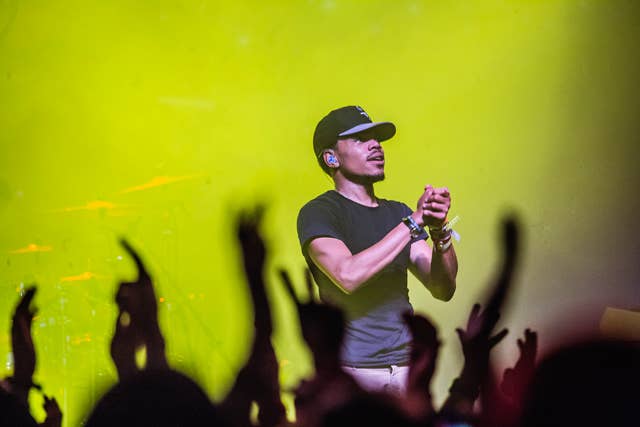 Over the weekend, two fans of Grammy Award-winning, Chicago-born artist Chance The Rapper started a website that aims to push Chance into running for Mayor of Chicago in the city's impending 2019 mayoral election. Hell, Drake's even here for it. They said that Chance represents Chicago "on the world stage, and you do us proud," but the reason Chance would make a great Chicago mayor is deeper than rap.
For those who've been paying attention, Chance has gone beyond just talking about issues in Chicago; he's not only pulled out his checkbook to help enact change, but he's put his foot to the pavement in an effort to make sh*t happen. Couple his drive for social change with his overall positivity and desire to make the world better, along with a legion of fans who rock with him, and you've got a young, viable candidate in the making.
And keep it a buck; Chance switching his name from "Chance the Rapper" to "Chance the Mayor" might be the illest glow up ever (that is until he becomes Chance the President). We could spend so much time just coming up with campaign slogans: "Obama's Best Prodigy"? "We're All Cousins"? Whatever it'd be, that free concert he'd throw would be EPIC.
Dream concert lineups aside, the first question people ask any political candidate is "what platforms are you running on?" Looking at the moves Chance has made as an amazing human trying to do right by his people, we took a stab at what Chance might actually be trying to do if he were to win mayorship of Chicago in 2019.
Public Education
In March of 2017, Chance made headlines when he donated $1 million to Chicago Public Schools due to their "urgent need" of funds. "Our kids should not be held hostage because of political positioning," he said. "If the governor does not act, CPS will be forced to end school 13 days early, which means over 380,000 kids will not have adult supervised activities in June and could possibly be put in harm's way."
I don't know about you, but that's some serious political talk, especially after his unsuccessful meeting with Illinois Governor Bruce Rauner days prior to this donation.
The Arts
Chance held another press conference to announce that he created the New Chance Arts & Literature Fund in collaboration with the Children First Fund, aiming to identify the Chicago Public Schools that are in the "greatest need for arts."
It makes sense, considering that he's a part of that "New Chicago" movement that appears to flip the perception that Chicago has, especially considering his work with the Social Experiment. Chance is investing in both the creative juices and education of the youth in Chicago so they can more than likely churn out more kids who want to be Chances to Nonames.
Housing
Back in February, Chance the Rapper and Jimmy Butler of the Chicago Bulls spoke with The Undefeated for an ESPN the Magazine feature about the issues within the city of Chicago. Chance was asked about Trump's "send in the Feds" tweet to "fix the horrible 'carnage' going on," and he dropped a knowledge dart that Trump probably still can't comprehend. "I hope he's coming in to do some type of federal overturn of our state and city budgets in terms of schooling and housing," Chance begins, before talking about what Trump should be doing when it comes to bettering the city of Chicago. I'm tired of n—–s talkin' about Chicago like it's a Third World country. Like, that it's not a place of booming business with a very successful downtown and all types of new development."
With the violent stigma that the city of Chicago has, it's hard for those outside of the city to see the beauty going down. With Chance already tackling the issues surrounding "schooling" in the city, it'd make sense for him to address affordable housing within the city, which is reportedly impacting nearly half of adults in Chicago, far more than the 31 percent of all U.S. adults across the United States, according to a 2016 MacArthur survey.
Ultimately, this is a great starting point for Chance; he's stepping in the right directions initially, but there are only so many problems you can raise money for. You need money, but you also need the clout to get these types of issues enacted. Maybe his celebrity teamed with his drive to mold Chicago into the city he no doubt loves and wishes the rest of the country could see is enough to motivate him to step into a new arena, for the people.