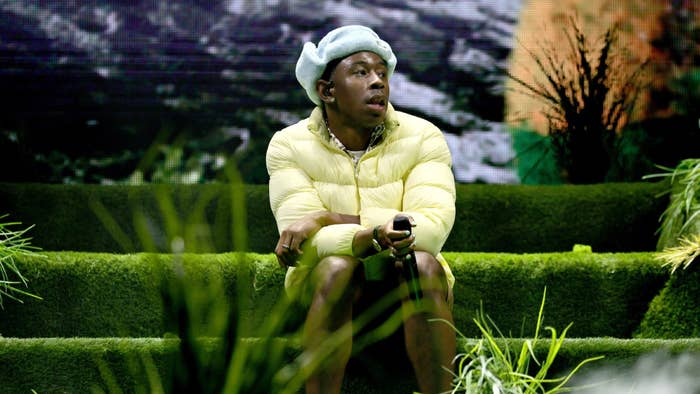 Tyler, the Creator has unveiled his favorite songs of 2022. 
Unlike other end-of-year lists, Tyler's roundup consisted of a dozen tracks that were released within the past 12 months and beyond. The eclectic batch began with The Sweet Enoughs' 2020 cut "In Mind," Dina Ögon's 2021 record "Tombola 94," and La'Verne Washington's 2020 song "I Found What I've Been Searching For." 
Tyler also co-signed Charles Stepney's "Around The House," as well as Pusha-T's "Neck and Wrist" joint featuring Jay-Z and Pharrell. He also included "Buttons" by Odd Future affiliate Steve Lacy; "Pour le Moment" by Sol Set; and "Cash in Cash Out," a Pharrell Williams track featuring him and 21 Savage. He also recognized not one, but two Kendrick Lamar songs: "Worldwide Steppers" and "Savior" with Baby Keem and Sam Dew; both of which appeared on K.Dot's critically acclaimed 2022 album, Mr. Morale & the Big Steppers​​​​​​​.
Shortly after releasing the list, a fan questioned why Tyler didn't include Apollo Omar's "Tamagotchi," a 2022 single that Tyler praised song on social media back in April, when he encouraged Omar to increase its promotion.
"Why you not posting that song up like a fuckin' madman every goddamn hour?" he said about "Tamagotchi" in an audio message to Omar. "You need to be promoting this shit. I don't think you even realize you got a fuckin' banger on your hand, you fuckin' dork … This shit a banger, treat it like one."
Tyler immediately added the song to the list, saying its bridge was a 10 out of 10.
You can check out Tyler's full list below.
The Sweet Enoughs – In Mind
Charles Stepney – Around The House
Pusha T – Neck & Wrist (ft. Jay-Z & Pharrell Williams)
Sol Set – Pour le Moment
Dina Ögon – Tombola 94
Steve Lacy – Buttons
Pharrell Williams – Cash In Cash Out (ft. 21 Savage & Tyler, The Creator)
Kendrick Lamar – Worldwide Steppers
La'Verne Washington – I Found What I've Been Searching For
Pearl & The Oysters – Candy (ft. Dent May)
Kendrick Lamar – Savior (ft. Baby Keem & Sam Dew)
Omar Apollo – Tamagotchi