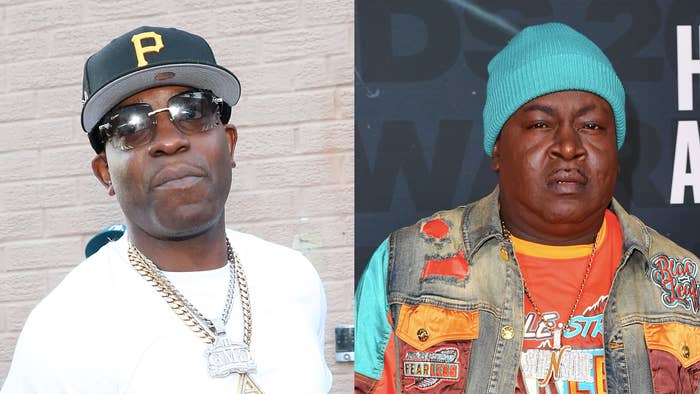 Trick Daddy is done biting his tongue.
In a recent episode of his online cooking show, the Miami-born rapper delivered a scathing rant about Uncle Murda and his controversial "Rap Up" tracks. Trick said the annual music series, in which he highlights the years' most memorable pop culture moments, was a "disrespectful" endeavor that exploited people's low points for headlines and streams. 
"And I'mma tell y'all something right now, viral is something that you do accidentally," Trick said at the 13:40 mark. "Anybody that tries to go viral, you are considered, to me, as a clown. You a joke. You a fool. You a gimmick. You a fraud. You catfish. Viral is something that is supposed to happen accidentally, unless you're a content creator, unless you're an actor, unless you a clown that do magic tricks. If you're not one of those, then you're not supposed to try to go viral."
Trick then referred to Murda as the "No. 1 clown" of the past five years. He accused Murda of using other people's "unfortunate disasters" and "downward spirals" to draw attention to his music.
"You sit there for that whole year, 'cause you got nothing else to do, and you sit there and you take everything that person went through, and you put it in a song every year … That's clown shit," he continued. "You mention the dead. You mention victims. You mention everybody. You mention people's money, wives, children. You're disrespectful and that's clown shit." 
Trick then pointed to Murda's 2021 "Rap Up" track in which he referenced Trick's controversial comments about Beyoncé's singing abilities.
"Trick Daddy said Beyoncé can't sing, that n***a bugged," Murda rapped. "He a coke head that's why we tell kids say no to drugs."
"You said my name and I didn't say nothing about it because I didn't want this to be about me. It's not about me," Trick continued. "This is about everybody that feel like they don't have the voice to say something to you. I'm gonna say something to you and I stand on what I said … I'm not worrying about no backlash off nothing I say to you, boy … You want to make some money? Find you something else to do. Don't take people's misfortunes, people's downsides, the things that happen in people's lives, and make a song off of it every year."
You can hear Trick's full comments below.
Uncle Murda responded on his Instagram on Saturday, taking the shots in stride. "This shit got me rolling 😂😂 Dammmm all that my nigga @trickdaddydollars mad at me cause I called him a coke head #RapUp2023Intro."