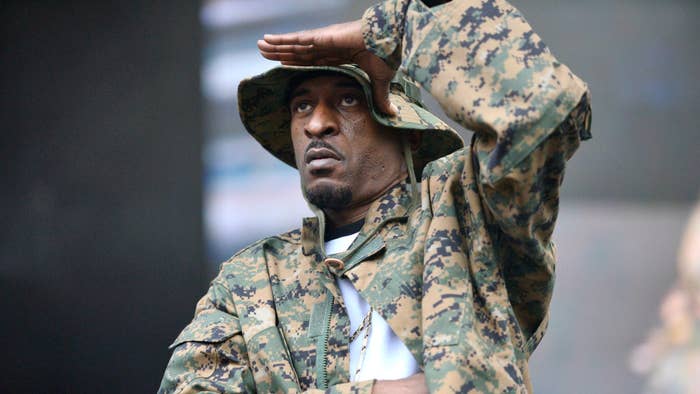 Rakim is a true class act.
Despite working in a highly competitive industry that's fueled by ego, the legendary rapper isn't afraid to give his fellow MCs their flowers. Rakim demonstrated this during a quick chat with TMZ on Friday when he was asked to share his thoughts on Billboard's 50 Greatest Rap Groups of All Time list. Though he and Eric B. landed at the respectable No. 7 spot, Rakim admitted they would've been closer to the top if it was up to him.
"Well, you know what I mean, I'm always gonna say I should've been higher, but it's a blessing to be recognized and it's a good time to be recognized, as well," he said.
Billboard's list included revered acts like Public Enemy (No. 6), Run-D.M.C. (No. 5), A Tribe Called Quest (No. 4), N.W.A. (No. 3), and Wu-Tang Clan (No. 2), but the top slot when to ATL's very own OutKast. Rakim wasn't mad about the ranking, instead praising André 3000 and Big Boi's influence on the culture.
"It's not really my place to say who else deserves it," he told the outlet. "I can only speak for myself, but OutKast pushed the envelope—a group that a lot of people got love for, we gotta give flowers to who earns it."
You can check out his full comments below.
Eric B. & Rakim formed in the mid-1980s—an era that is widely considered hip-hop's "Golden Age." The duo released their debut album Paid in Full in 1987 and went on to drop three more studio albums: 1988's Follow the Leader, 1990's Let the Rhythm Hit 'Em, and 1992's Don't Sweat the Technique. Rakim and Eric B. split after dropping their fourth studio album and went on to pursue their solo careers. In 2016, the legends announced they would reunite for a tour. The 17-date trek kicked off in the spring of 2018 and included stops in Boston, Atlanta, Houston, and Washington, D.C.
Shortly after the reunion was announced, Rakim spoke to Rolling Stone about his status in the game and how he was considered among the top 50 MCs of all time.
"I think it was The Source magazine? They did the 50 Greatest MCs," he recalled. "True story, man, I remember sitting with my kids just watching TV. Phone rings, A&R for the label. They say, 'Hey Ra, did you hear about the new 50 Greatest MCs? They did it, you in there. Guess where they put you at?' I'm thinking like 10, 15. Like, just the way he said it. At that point, I didn't even want to hear the conversation. So he's like, 'Yo, guess!' I'm like, 'Yo, come on, now. I don't feel like playing no games, bro.' He was like, 'Yo, number one.' And that shit hit me like a ton of bricks, E. I think I smiled, laughed and cried at the same time."