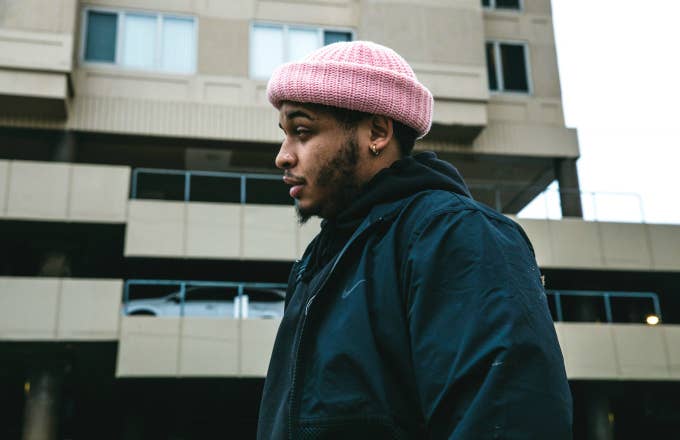 Out of all the members of SaveMoney, the Chicago hip-hop collective that boasts Vic Mensa, Joey Purp, Towkio, and Chance the Rapper as members, Sterling Hayes is the pessimist. The Hyde Park-raised rapper's music treads significantly toward a darker and brooding territory compared to the often hopeful, playful, and soulful offerings of his peers. Where Chance the Rapper's sound dwells in churchgoing gospel or Towkio's in conscious-expanding psychedelia, Hayes finds inspiration in his own mind's dysfunction. He actually revels in it. 
In 2016, Hayes released his debut project Antidepressant, which dealt almost exclusively with his lifelong struggles with depression. Backed by almost suffocatingly paranoid production from his longtime collaborator Spanish Diego, Antidepressant made for one of the bleakest Chicago rap debuts in recent memory that was also totally compelling. Like Vic Mensa, who wrote incredibly personal songs on his recent album The Autobiography, Hayes is at his best when he's baring his soul. 
His forthcoming full-length project SideFx, which is officially dropping on May 29, is the culmination of the promise of his ruminative voice. Reuniting with Diego, Hayes battles his demons over 15 tracks like his mental health struggles, crises of faith, substance abuse, creative doubts, and growing up on the South Side of Chicago. It's not music for the club. Instead, it's perfectly suited for having an existential crisis alone in your apartment. 
While he's already dropped lead single "Schizophrenia," Complex is premiering the Spanish Diego and Nico Segal-produced "Drowsiness," the next cut off the project which features his SaveMoney compatriot Chance the Rapper. Listen to the song below and read our conversation with Hayes about the project, as well as check out the official tracklist for SideFX. 
What have the past couple years been like for you since you dropped Antidepressant?
It's been up and down. I've been kind of struggling with mental stuff like low self-confidence, drug abuse, and all the stuff I talk on the album. I've been living extremely fast and I've learned that you don't need to escape reality all the time. It got so bad that I almost stopped making music and I couldn't afford to make the kind of music that I wanted to. I needed to figure stuff out and not act like a victim anymore. I learned a lot about myself. 
What changed? 
Out of nowhere, Adidas licensed my song "Whatever I Want." It re-motivated me. I needed that to happen at such a crucial moment. I decided to invest back into my music. Regaining that confidence was crucial. It was a total surprise! I thought the emails I got from them were scams at first. It was totally legit though and I'm happy I still got it even though I ignored the dude for three months. I made all of the songs in the last five or six months even though I had been working on this for two years—for a year and a half I was just perfecting things and trying to find that groove. 
One of the reasons why your music resonates is how unafraid you are to get in your own head on the song. Do you find that you overthink things in the writing process? 
I definitely spent a lot of time perfecting it but it was the right thing to do. I just wanted to catch up with my friends. I was only on my second project and all my friends are on their third or fourth and some are getting signed and winning Grammys. I just had to sit down and realize that if I rushed it, my time wouldn't come. The music wouldn't have been as good. 
Did seeing your friends succeed give you a feeling that you need to catch up or you'd be left behind? 
Not anymore. I grew out of that. They're my real friends and would never leave me behind. There was an adjustment period because they're famous now and we've been friends for so long. Those were my own insecurities that weren't true.
How did "Drowsiness" come about? 
I was in California and I went down to Nico Segal and Nate Fox's studio. I showed them an early version of my project and Nate Fox gave me advice that made me stop rushing my project. He told me to restructure songs and think about the music differently. It opened my eyes to the music. That small constructive criticism really made me rethink this entire project. 
This song was originally a short interlude. We just kept adding parts and guest features and it got bigger and bigger. The version that's on the album is seven minutes long and has Kami, Potash Twins, Teddy Jackson, and Nico Segal. I was at the club with Chance towards the end of 2017 and he said he wanted to record a verse for the project. His only availability was the next day but I had work so I told them, "Hey, Chance the Rapper is recording a verse for my album. I don't care what y'all do but this is happening." They didn't fire me!