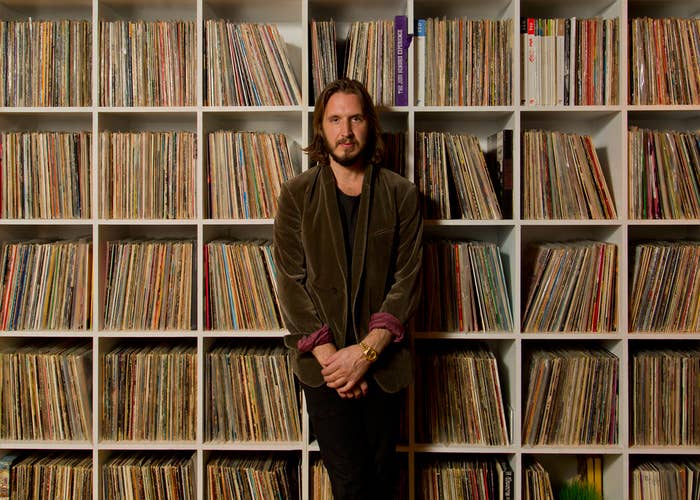 The doors of NYC's referrals-only Japanese bistro Bohemian are nondescript. You could walk past them a thousand times and hardly even notice. But once you step through the doors, it's clear that what lies beyond is special: You have to ring two doorbells before you're fully inside. Granted entrance, you find eight tables surrounded by white-washed walls, and if you're lucky enough to face the back of the room you get a view of the hydroponic garden. It's the type of vibe-y, exclusive, insulated environment that perfectly suits producer Emile Haynie, who's been the guy behind the guy of some of the most influential (and divisive) artists of the last half decade. When asked why he picked this place to eat, Haynie, 34, cites the food ("The burgers are incredible here," he says. "The fondue…. I mean, two guys can sit around and eat fondue, right?") as well as the fact that Basquiat once lived in the building that now houses the restaurant. With Haynie, there's always a story behind the story, a detail to the detail.
Haynie, who makes noise behind the scenes and is a constant in the liner notes of hit records, exists in the details. This quality's present even in his origin story: In 2000, after waiting outside of Madison Square Garden for Eminem's tour bus to pull up, Haynie spotted late D12 rapper Proof and managed to get a CD full of his beats into Proof's hands. On the bus ride back to Detroit, the rapper listened to the beats, and the next day Haynie was being flown out to Detroit to hang out with Proof and meet Obie Trice.
Off of that break, Haynie started to make more industry connections, and for the next five years built himself a solid resume of production credits on records by Ghostface Killah, M.O.P., and AZ, among others. In 2007, after stumbling onto Kid Cudi's MySpace page and connecting with Plain Pat, Haynie began to co-manage Cudi and went on to executive produce his breakthrough mixtape, A Kid Named Cudi. (It was followed by Cudi's hit LPs, 2009's Man on the Moon: The End of Day and 2010's Man on the Moon II: The Legend of Mr. Rager.) In 2010, he scored a Grammy for his contributions to Eminem's Recovery, and co-produced Kanye West's "Runaway," off My Beautiful Dark Twisted Fantasy (which, maybe you've heard, is one of Yeezy's most critically acclaimed pieces of music, full stop). After an abrupt public split from Cudi over creative differences, Haynie recalibrated, and in 2012 he went pop, producing Lana Del Rey's breakout album, Born to Die, Fun.'s platinum-selling, Grammy-winning Some Nights, and Bruno Mars's chart-topping, five-times platinum single "Locked Out of Heaven," all in the same year.