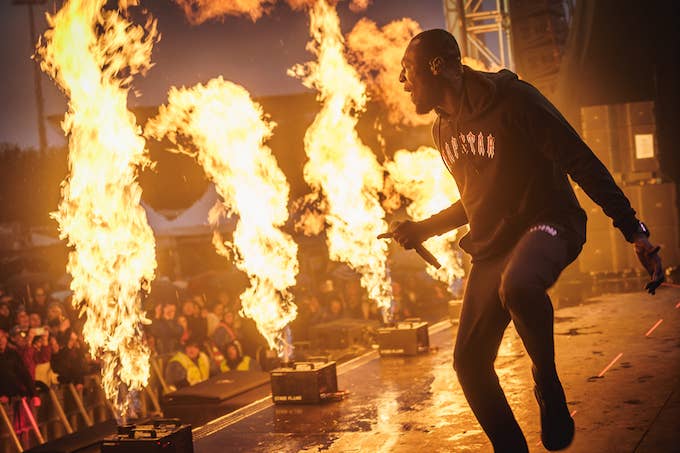 We're going to be upfront with you right from the off: if you're looking for pearly white beaches and blistering hot sun, you might want to look elsewhere. Even slap bang in the middle of summer, Icelandic temperatures struggled to surpass the 20°C mark. If, however, you're looking for breathtaking scenery, including glaciers and frozen lava tunnels, then you're in absolutely the right place. Much of the northern European country was sculpted from a mixture of ice and volcanic rock, creating a landscape unlike anything you've ever seen.
Of course those kinds of otherworldly, dreamy sonics sit naturally that sort of setting — it's probably the likes of Björk or Sigur Rós that spring to mind when you think of Iceland — but there's naturally more to the country than that. Hip-hop has, as it has everywhere, reached the country, of course (It would be silly to assume otherwise). Frankly, whatever your musical palette, you're unlikely to be disappointed by the range of rap, pop, folk, house and techno, and yes, heavy metal.
As is often the case with international festivals like Secret Solstice, much of the day time acts were local performers, bringing their Icelandic take on everything from indie and metal right through to hip-hop and grime. Throughout the day, both on the site and in the lava tunnels, eclecticism reigned. Local Icelandic artists and performers brought out their appropriately ethereal brands of folk, post rock and all manner of dreamy, otherworldly sounds. In the normal festival settings, that was stirring enough stuff, but against the backdrop of rugged volcanic rock and shimmering ice formations it was truly breathtaking.
Of the highlights we'd be remiss to leave out was IAMDDB's charismatic and energetic performance that included the kind of fan interaction that probably will sadly not be possible as her star continues to ascend exponentially. George Clinton and Parliament/Funkadelic was another and a clear favourite for the rest of the crowd, despite the rain. Flanked by an enormous band that included three backup singers, at least three guitarists, several brass players, a couple of bass players, several keyboard players, a few rappers, Clinton took us on a mid-expanding tour of his back catalogue.
Billing GoldLink and Gucci Mane one after another proved a master stroke, at least in terms of energy levels. If anything, you could argue Gucci Mane got the crowd maybe a little too hyped. I had assumed Slayer's mosh pit would be the most intense, but Gucci Mane (and Atlanta crew Earth Gang, for that matter) came very close to starting riots. That said, credit to Earth Gang for keeping a handle on it and stopping things if they looked like they were getting too much.
Then, in spite of brutal levels of rainfall, Stormzy closed out the festival on Sunday night. Kept warm in the cold Icelandic rain by liberal use of pyrotechnics, he ripped through the classics and even one or two deep cuts Fun fact: Secret Solstice 2015 was Stormzy's first ever live show outside of the UK. J Hus had been billed to appear, but obviously couldn't make it, so when it came to Stormzy performing "Bad Boys", he turned the moment to his advantage, bringing a fan on stage to sing with him, with the fan doing J Hus' part.
Though the rain got a little on the intense side on Sunday, for those that stayed it was more than worth it. From George Clinton and Parliament/Funkadelic through 6lack and finally Stormzy, the stamina of both artists and fans alike came as close to helping us forget about the rain as much as anything could have.