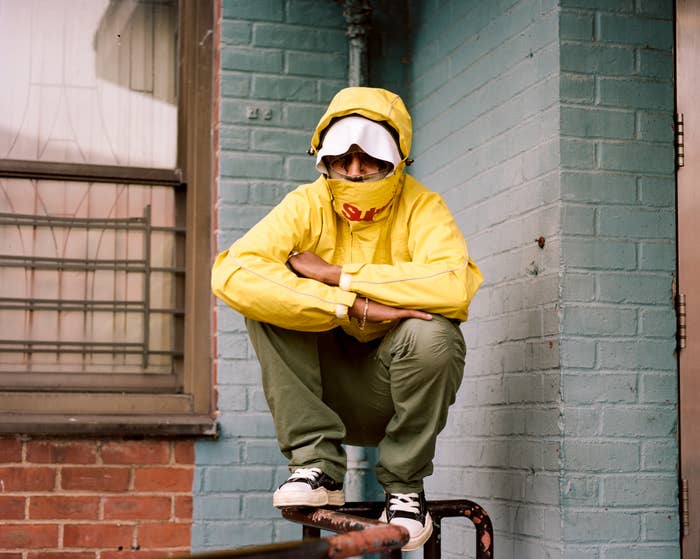 $not doesn't move with the world, he lets the world shift around him. 
The life and times of the 24-year-old Florida artist have changed a lot since he started rapping in the underground SoundCloud scene back in 2016. After consistently (and accidentally) going viral on social media, receiving co-signs from the likes of Billie Eilish, landing a song on Euphoria, and dropping multiple acclaimed albums, $not has grown from a SoundCloud phenom to a legitimate rap star with a devout and steadily growing fanbase. 
The new followers and mainstream attention have changed the trajectory of $not's career, but it hasn't changed who he is in the slightest. One thing he prides himself on is his privacy. Speaking with Complex over the phone after the release of his new album, Ethereal, the hooded rapper reveals one of his top priorities right now is maintaining a distinct separation between social media and real life, no matter how much notoriety he's acquired over the last year. Even a milestone like recently purchasing a home is something he has no desire to share with the world. 
"I keep the internet and my real life completely separate," he explains. "I just got a crib. I'm not going to be posting the keys. None of that shit matters." He says he's thankful for the internet for helping him buy the home, but he also recognizes that it can just as easily be taken away by oversharing and letting people know too much about himself. ("I don't keep my hoodie up like you see on the internet all the time," he points out.) Even though he doesn't share the ins and outs of his daily life on social media, it hasn't made his fans any less loyal. Go to any $not show, and you'll find crowds of kids in their late teens and early 20s, raging in mosh pits. 
Now, it's time for a new chapter. $not describes Ethereal as his 808s & Heartbreak-type album because it doesn't sound like any of his previous projects, and he believes it will force his OG fans to get accustomed to hearing a different style of music from him. Boasting features from ASAP Rocky, Joey Badass, Trippie Redd, and more, Ethereal reflects the ebbs and flows of life. The first three songs find $not sullenly crooning in "My World (Intro)," only to nosedive into mosh pits on "Doja" and soberingly jerking listeners back to reality on "Blue Moon." 
The album's sequencing creates a rollercoaster of emotions, and $not intentionally avoided giving Ethereal an overarching theme, because he wanted to experiment with new melodies while also giving fans some songs he's had in the vault for months. There's a little something for everyone.
We caught up with $not to talk about the making of Ethereal, working closely with ASAP Rocky and AWGE, and why he believes the new school of SoundCloud rappers has surpassed his generation.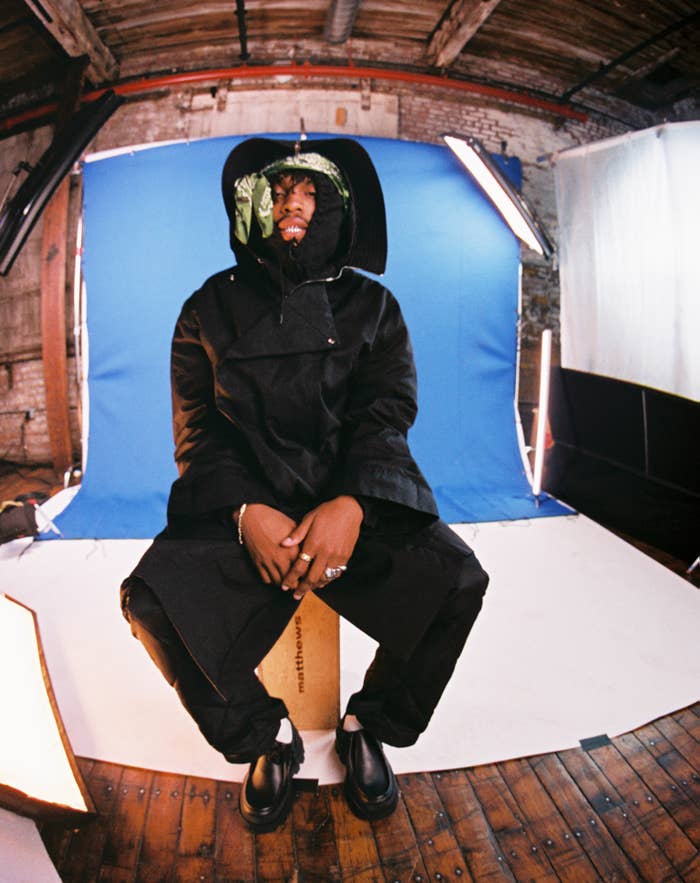 How has the reception for Ethereal been?

It's been good. I've been holding onto these songs for a long time, so now people can actually hear what I was doing over the months. Some of these songs I've had for a year, so to see the reaction feels good.
How does dropping Ethereal feel, compared to when you released Beautiful Havoc in 2020?

This is for a way bigger audience. I got a lot of fans off Beautiful Havoc. Now the new fans are able to see that I'm diverse, and they can see what I can really do with my voice.
Did you put any more pressure on yourself going into this project, knowing you have a bigger audience?

It's just being myself. Once you do you, there's no pressure. I'm myself every day, so when I make this music, it's just me. When fans hear it, they're like, "Oh, that's him."



"I made a whole different album, completely opposite of what they think. If I lose fans, I lose fans. It'll gain whole new ones, and people will appreciate the sound that I showed."
You recently called Ethereal your 808s & Heartbreak album. Why do you feel that way?

It's because of the bigger audience. They're expecting a sound that they followed me for. They're like, "Okay, he makes this type of music that I fuck with, so when he drops this album, it's going to be this specific style." I made a whole different album, completely opposite of what they think. If I lose fans, I lose fans. It'll gain whole new ones, and people will appreciate the sound that I showed. You don't want to be in no box. Sometimes fans can put artists in boxes, and it will be the same people complaining about wanting different stuff.
One of the standout tracks on the album is "Doja" featuring ASAP Rocky. How did you initially connect with Rocky and start working with AWGE?

I have this song called "5AM," and I was going to give it to one of the directors for AWGE. But then I told him, "I have this other song that's more up your alley," and I wanted to get Rocky on it. I told him I was trying to get Rocky on it, but it's Rocky, so it's hard to get a feature from him. He's an A-list celebrity and all that, so I was like, "Let me just give dude this song and keep an open verse out and leave it at the hook," and he was like, "Oh nah, I'll send it to Rocky." At first, I didn't believe it, because anybody can say anything. But he sent it to him, and I got the answer the same night, saying Rocky was down to get on it. I still didn't want to go too crazy, because I was like, "Okay, he said yes, but anybody could say yes." Then a couple weeks later, I got the verse and was like, "Yo, this shit is real!" He gave me his number and everything, and we're cool now.
You shot the music video in New York. I know you were born there, and it feels like you tapped into your New York roots a little more for this album. Was that a conscious decision?

Not really. I'm not from there—I was born there—but I can see why it looks a little more New York with the type of style, because we're outside. There's a little scene in the subway and it looks like a whole New York vibe. I fuck with the video a lot—it gets me a little nostalgic. Even seeing Rocky in the video, it reminds me of when I was a kid and I was watching that shit with him going through New York City going crazy with his homeboys. It gives me that 2014 vibe.
Another New York feature you got is Joey Badass. How did that come together?

With Joey, it was DJ Scheme. Joey did a song for DJ Scheme's album—they're real close. So I asked Scheme if he could put in the word and ask Joey if he could get on the song because I could hear him on it. Then Joey hopped on that shit, like, a week later. That's how it happened. It was so simple and fast.
You got your start in the "underground" SoundCloud scene. Now, that scene looks completely different from when you blew up. How would you describe the scene right now, and how do you think it's changed?

Right now, it's just different. I don't know how to explain it, because I'm going to sound like an old head. I feel like there are more youngins now. They're making way better music than we were back then. They're very melodic and smart. They're making their own beats because they've got time to learn that shit. Off nostalgia, I'm always going to listen to the older SoundCloud stuff, because that's what I came up on, but the new ones go crazy. They're more melodic, they can sing, they rap, they can do anything. But the sound is completely different. Some of them are more inspired by [Playboi] Carti. Back then, some people were inspired by Carti too, but it wasn't like that. It would come down to the beat selection. Back then, it was more method shit. You would hear a whole bunch of shit from people like SpaceGhostPurrp to Yung Lean, all that shit mixed. Now it's completely different. You can ask a kid from the new SoundCloud wave, they never heard of any of that shit. They make good music, though. That's why they got fans.
What's it like seeing new school SoundCloud guys like Yeat hanging out with huge artists like Drake?

He's the new underground. He's pushing the new underground scene. With his music, it's different. A lot of kids look up to that dude.



"I feel like there are more youngins now. They're making way better music than we were back then. They're very melodic and smart. They're making their own beats because they've got time to learn that sh*t."
I know you like to be a private person. Has it been more challenging to maintain your privacy as you've gained notoriety over the last year?

Nah, not really. I keep the internet and real life completely separate. Like, I just got a crib, but I'm not going to be posting the keys. None of that shit matters. I feel like these kids will know exactly where you live just by posting the floor. I fuck with it, because it got me this crib, but you can lose it that way, too. It's not hard. A lot of people just don't know me for real. I don't keep my hoodie up like you see on the internet all the time.
Have any artists given you advice about how to maintain your private life, while also growing in the public eye?

Not really. I'm more private than them. They don't really know things about me. They just know me from a music level.
What was your approach to the album's sequencing? It feels like a roller coaster of highs and lows.

The thing about this album is there's not really a concept. Some of the songs on there are fan-favorite songs that I showed as a snippet, and people were really fucking with it, so I put them on. There's not really a concept, it's just me being me. When you hear the music, it's hype, then some sad shit, then back to being hype. That's just me having fun. There's no schemes. There's not really anything to it. You listen to the album and vibe out. You might like one song out of the whole album, and that's okay. But I feel like my next album, it might just be straight hype shit. I probably won't even sing.
You have a few of those moshing songs on Ethereal. Did you purposefully want to include a lot of performance songs on this album?

Hell yeah. The kids go crazy for hype music at festivals. With me, I like to be a good performer. I like to make everyone happy when they perform. Some artists will perform sad shit, and everybody is just standing there. I hate that shit. The crowd is there to get lit. That's all they came to do—not to stand there like a funeral service. So I'm going to play all the hype shit, maybe play a chill song sometimes, but I like to get hyped. It gets me out of my comfort zone. When I perform, I get in the mosh pit and get lit with the people. Even if someone throws a punch and all that, who gives a fuck? Let's get lit.