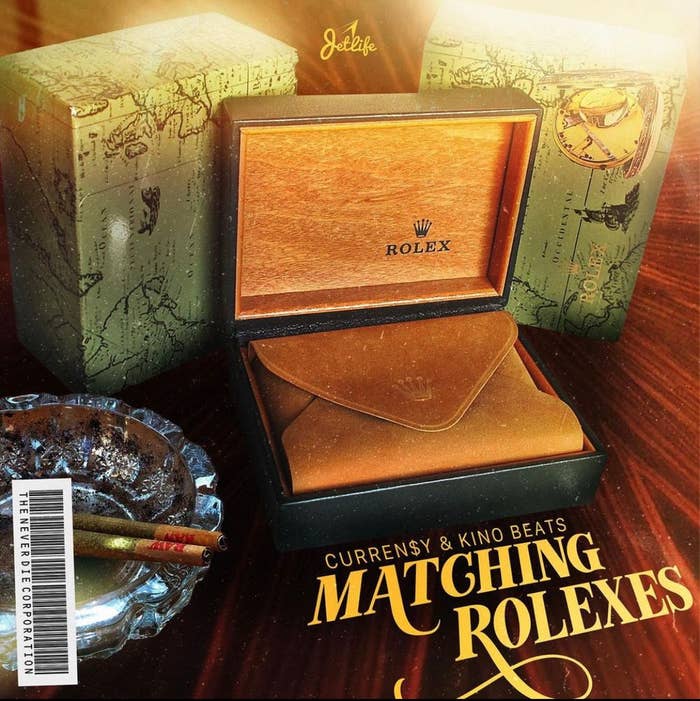 Currensy and Kino Beats have joined forces to deliver their new project, Matching Rolexes, that comes with features from Dej Loaf, Valee, and BLU.
Recorded over the course of three straight days in New Orleans, Currensy finds a balance between smooth records with layers of grittiness, like on "Heart in This Shit," and spinning tales of luxury that still feel relatable to the common folk like on "Yacht Master." All the while Kino is lacing the beats and enhancing the lyrical performance that Spitta is already putting on. Matching Rolexes hits different grooves across its 11-tracks and feels as fit for a cool summer afternoon drive as it is for the pregame of a brisk fall night.
In fact, one of Kino Beats' recent posts to Instagram embodies the look and feel of the project as well, with the Virginia-bred producer catching a glimpse of his home, Norfolk, from the wing of a plane.
"I took this picture from my window seat flying over my home town," Beats wrote in the caption of the post, which has since been deleted. "It was so beautiful it reminded me of this #MatchingRolexes project dropping tomorrow."
Earlier this year, Currensy dropped his project Collection Agency which featured Larry June, with production credits from Harry Fraud, DJ Fresh, Arsonist of the Heatmakerz, and more. The rapper also appeared on a series of other projects throughout this year.
Listen to Currensy and Kino Beats' latest project Matching Rolexes featuring Dej Loaf and Valee down below.