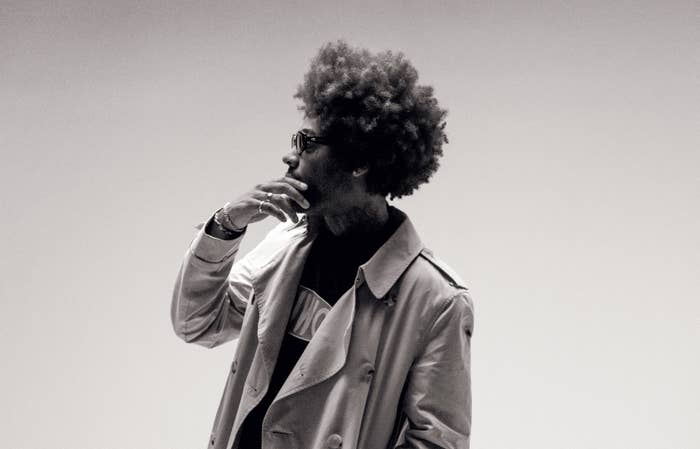 Brent Faiyaz never stays in one place for long. One second, you'll find him enjoying fine wine on a balcony overlooking Los Angeles. The next, he'll be greeting crazed fans on the claustrophobically narrow streets of London. It's always impossible to predict where you'll see him next, but wherever he is, he always shows up as himself.
When I track down the Columbia-born singer and producer on a blisteringly hot Wednesday afternoon in the middle of July, he's sitting in the back seat of a black Suburban, parked in front of Neil Simone Theater in New York City. It's two weeks after the release of his second studio album, Wasteland, and our original intent was to see the Broadway play MJ: The Musical together, but as Faiyaz is accustomed to, plans change quickly. Instead of seeing the show, we cruise down the block to his apartment to relax and talk before he has to jump to his next destination later in the night. He's rarely here because he travels so often, but the top-floor crib has a stunning view of lower Manhattan.
Shortly after we arrive, Faiyaz looks out of the floor-to-ceiling windows and watches the little yellow lights flicker from nearby buildings as the sun slowly sets, like Batman surveying Gotham City. "Sometimes, I just look out the window and imagine what people are up to," he says inquisitively. 
The feeling he's describing is known as "sonder," the realization that every person is living their own life just as complex as your own. This idea not only inspired the tattoo above his right eyebrow, but also the name of his group as well as his 2017 debut solo album, Sonder Son.
While Sonder Son told the story of Faiyaz's life before major fame, his 2020 EP Fuck The World was the true homecoming that introduced him to a global audience. He had already gained notoriety after snagging a Grammy nomination for his GoldLink collab "Crew" the year before, in addition to the success he found with Sonder, but Fuck The World put him on a whole new level. To this day, he remains independent, but a lot has changed for him since the release of that pivotal EP, which arrived just as the planet was falling apart.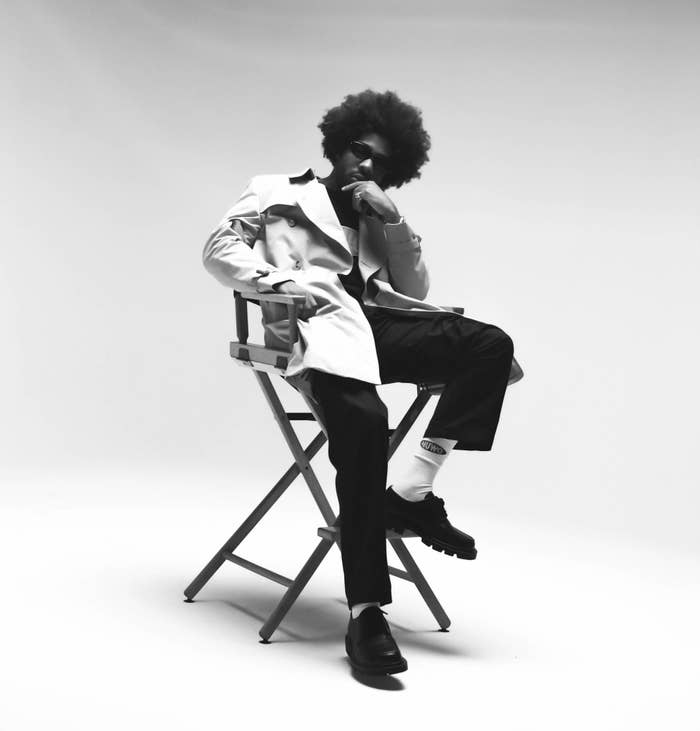 "Fuck The World came out at the same time as [COVID]," he points out. "It's like, I dropped that shit and everything stopped, so I couldn't really shoot video or do shows. We had a whole tour planned and we had to cancel it. I was really living and experiencing all of the hype of that project on my own. I was making more money than I ever fuckin' made, but it was all around the same time COVID happened and George Floyd got killed, so it was just a weird time."
Still, Faiyaz allowed himself to indulge in the benefits that his new lifestyle provided him. After figuring out how to travel around the globe safely, he spent two years adventuring and living out the perks of being famous with nothing to do. He would go from city to city, sometimes staying with different women for weeks, then disappearing back into the night. "I'd fuck around and stay at a woman's house for like two weeks, off some random shit just because a nigga could," he reminisces, chuckling about how wild it sounds in retrospect. "It probably wasn't the best idea. But I was just pulling up from crib to crib, because the project was out, niggas was hot, and I couldn't do no shows, so I went on a whole personal tour and really just did wild shit."
He had no touring responsibilities or any of the other things that often make life as an artist stressful, living freely and watching the world flip upside down on his terms. Naturally, that unique experience spilled into his second solo album Wasteland, which arrived on July 8. "This shit didn't make no sense," he says. "It was a weird ass time, and that's what Wasteland is; still protesting and getting tear gassed while simultaneously still going to the strip club and writing music and going to the studio. Everything was all over the place, so if I was in these random spots and I got inspired, I'd go to the studio immediately." 



"I think there's a common misconception that I'm chasing commercial success. I think motherf*ckers fail to realize that I really don't give a f*ck."
Although Faiyaz fully leaned into a rockstar lifestyle over the last two years, he's not far removed from the humble beginnings that shaped the strong work ethic he has today. As we talk, he reminisces on the challenge of working at Dunkin' Donuts just to get by. "People are picky as shit about their coffee!" he says emphatically as we bond over a shared experience of being a barista earlier in life. (We both agree it's one of the most difficult jobs in the world.)
Kicking back, Faiyaz turns on some music and offers me an organic ginger shot along with his. He tells me he's getting in touch with Usher's singing coach soon because he wants to take his vocals to the next level, and he needs to take his health much more seriously. "It sucks being a singer sometimes," he jokes, as we laugh about how weird ginger shots taste (it's my first time trying one, and definitely the last) and compare Black Southern herbal remedies.
He's come a long way since the Dunkin' Donuts days. Today, he's a leading figure in a new era of R&B that's full of artists challenging the conventions of the genre. He isn't caught up in wanting to be the torchbearer for R&B, but he also wouldn't decline being considered the face of the genre.
"I'd own that—I feel like I earned that, but I think it's deeper than R&B," he says when I ask for his opinion on being called the "face of R&B." Then he adds, "It's bigger than just a genre… I'm not one of those niggas that wears R&B on my sleeve, so it's ironic, but I'll take it. I think music as a whole is changing and people are going to see a lot more with what I'm trying to do." He shared similar sentiments with Complex back in 2020, explaining that even though he's considered an R&B artist, he doesn't want to restrict his sound to the boundaries of the genre. "I just make music," he said. "I listen to a lot of different types of genres, but I guess I'm R&B because I'm Black, I sing, and I have a soulful voice. So I'll take that R&B title. But I might fuck around and make a reggae album tomorrow."
Another thing that separates Faiyaz from some of his peers is the fact that he never wanted to be famous in the first place. "I think there's a common misconception that I'm chasing commercial success. I think motherfuckers fail to realize that I really don't give a fuck. I just don't care because nothing is that serious."
Regardless of his intentions, success keeps building for Faiyaz. Wasteland debuted at No. 2 on the Billboard 200 albums chart, surprising many in the industry. Like Faiyaz's own career, the album didn't take a linear path to existence. Late last year, a different name for the project was circulating among fans: Make It Out Alive. Faiyaz clarifies that he thought of that name first, but as Wasteland began to take shape, he realized it was being informed by the burning world around him, so he opted to save that for an entirely different project that will be released at a later date. "I still have a project I want to put out called Make It Out Alive," he reveals. "That's still in the works—it's just not this one, because I love the title Wasteland and I love what it represents. I have an idea in my head of what I want Make It Out Alive to be, but all of the songs that I have been making up until this point didn't fit that title. I wasn't in the headspace to put that body of work out."



 "It was a weird a** time, and that's what Wasteland is; protesting and getting tear gassed while simultaneously still going to the strip club and writing music and going to the studio."
Many of the songs on Wasteland are cathartic, as Faiyaz sings about the regret of letting his past lovers down and accepting that he's just as flawed of a human being as anyone else. He credits The-Dream—a collaborator he first met in 2018—for helping him figure out how to make R&B love records that are authentic to him, rather than filling them to generic, sensitive content that he doesn't actually mean.
"I was struggling with finding a way to be myself and still sing, so I linked with Dream and started talking to him about music and life," he says, remembering a turning point that happened before Fuck The World. "He just goes into the booth and starts singing my thoughts. He was like, 'You sing, right? Your power is in making anything you say sound good. You don't have to say things that are nice, because you can make anything sound nice. You can let your true self out.' And that made me realize I can say whatever I want and just sing it, and that's how Fuck The World happened. Ironically, women gravitated towards that more."