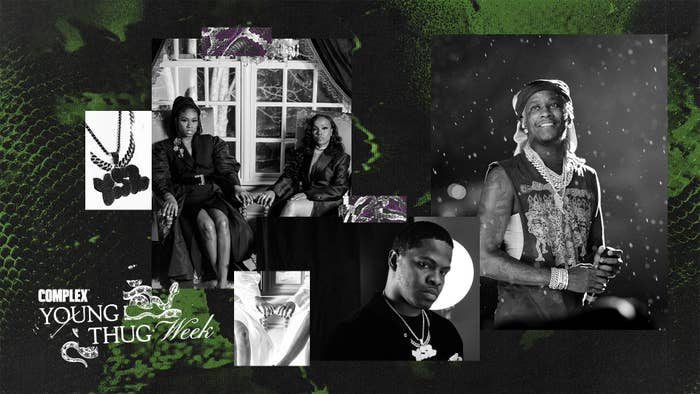 It's Young Thug Week at Complex! Leading up to the release of his new album 'Punk' on Friday, we're diving deep on the influential rapper's career, publishing new interviews, essays, and lists each day of the week. Follow along here.
---
When Unfoonk came home home from serving 11 years of a life sentence in October 2019, he returned to a lot of changes.
Just two months earlier, his younger brother, Young Thug, earned his first No. 1 album on the Billboard 200 with So Much Fun, which was soon followed by the success of Gunna and Lil Keed's solo albums, ultimately kickstarted a wave of national attention around Young Stoner Life Records. Then, one year after Unfoonk's release in October 2020, Young Thug signed his brother to YSL, and by April 2021, he was a part of the No. 1 charting album, Slime Language 2, appearing on one of the standout songs, "Real." 
Unfoonk tells Complex that adjusting to his newfound freedom and fame hasn't been much of a challenge. He has a great support system, after all. "Shit's been amazing," he says. "I just take it all in, and take it one day at a time. I got to take it all in because I'm just getting out. So I'm taking it slow and enjoying life with my family. That's all it's about, enjoying life with my family." 
Family is the foundation of Young Thug's YSL music label and brand. Throughout his career, he's earned a reputation for bringing up new talent. Many of the artists on his roster, like Lil Duke, Yak Gotti, and Gunna, have known Thug for over a decade. And as his rap empire has grown, he's made a point to throw his biological family in the mix as well. In addition to Unfoonk, Thug's younger sisters Dolly White and Dora (also known as HiDoraah) are also signed to the imprint, turning the label into a literal family affair. 
Growing up in a family of eleven siblings in Atlanta, things weren't always easy. Dolly admits that her family grew up "very poor," but as a result of their circumstances, "We was always family-oriented," she says. That's all we had was each other." Music was often a part of their communion. 
"We all were brought up on music," Dolly explains. "It ain't something that we just woke up one day and was like, 'Oh, Jeff want to rap or Unfoonk want to rap, so I want to rap, Dora want to rap. As kids, we always did that. We used to be like, 'We part of the Jackson 5.' 
Their mother would often play R&B and sing along to Aretha Franklin in the house, and the siblings picked up their own knack for entertainment. As early as elementary school, the family's Uncle Bert would encourage the kids to perform talent shows during family get-togethers and cookouts. "Shout out to Uncle Bert. They would all make me sing," Dora says. "Soon as I come to the cookouts and stuff, they used to be like, 'There go my niece right there. Come on, sing that song for me.' Everybody would be quiet and all that stuff. I was like nine or 10." 
After they hit puberty, they began exploring their own musical interests. Unfoonk and Thug naturally gravitated toward rap music like No Limit and Cash Money. Dolly and Dora also enjoyed hip-hop artists like Tupac, Biggie, and DMX, but also listened to Black pop artists including Whitney Houston and Michael Jackson. 
When Unfoonk was 15, he picked up a pen and started writing raps at his dad's house. And after some encouragement from his step-brother, he discovered he had a real talent for the craft. As Young Thug began to uncover his own music abilities, the two hatched a master plan. "Me and him had a different vision," Unfoonk says. "But I got into a little trouble, I got incarcerated, and he took over. He was talking about how he got to do it for the family. And he ain't give up."
Seeing their brothers dabble in rap, Dolly and Dora naturally followed suit. "Honestly, being young, music was a fantasy thing for me. It was just something I knew that I had a passion for," Dora explains. As early as 13, Dolly remembers freestyling as a hobby. Then one day, as Thug's career started gaining momentum, Dolly and Dora accompanied their brothers in the studio. 
"We lived, slept, and ate at the studio. And one day, we just were like, 'I'm about to record since he ain't even doing something,'" Dolly recalls. "I think [Thug] was in a meeting or something, and I was like, 'I'm about to record.' I told his engineer, 'Pull up a beat.' Then Dora did her part. I was doing the song, and I was thinking that he wasn't going to like it, but when he came in, he was like, 'Wow.' He really liked it." That's when I started taking it serious." The song eventually became "Family," which appeared on Young Thug's mixtape, I'm Up. 



"Me and him had a different vision. But I got into a little trouble, I got incarcerated, and he took over. He was talking about how he got to do it for the family. And he ain't give up." — Unfoonk
Thug rose to mainstream notoriety with the success of songs like "Stoner" and "Lifestyle." At the time, Unfoonk was behind bars, but he says he was ecstatic for his brother's early achievements. "I was shedding tears when I heard him on the radio. I was like, he did it. We finally did it. We broke the family curse," he says. "From behind the walls, I was calling him everyday like, 'Shit, boy, don't drop it. Keep going. You got it, bro.'"
After a string of hit mixtapes including Barter 6 and Slime Season, Young Thug officially launched his label Young Stoner Life Records under the umbrella of 300 Entertainment. The same year, he dropped Jefferey, followed by Beautiful Thugger Girls. YSL wasn't just created to release Thug's music, though. The rapper has said that he intended to create a label that would help his friends and family shine, so it came as no surprise that when Slime Language dropped in August 2018, it featured both Dolly and HiDoraah. HiDoraah appeared on two songs, "Oh Yeah" and "Expensive," while Dolly appeared on the latter track. 
Family empires don't come without their own set of challenges, of course. Just like any family, there can be disagreements from time to time. "It can be difficult to work with family because you might not be on the same level as that other artist that's your family member. They might be in their head space over here, and you're right there," Dora explains. "But I think we have the same challenges that anybody that's been doing this shit as a family. You know, the Jackson Five, the Ruff Ryders… We have the same challenges they have. It ain't nothing different, it's just how you handle it. " 
At the end of the day, family comes first, and the good certainly outweighs any of the obstacles they have to face. The label is quickly becoming a business that all of Thug's family can benefit from, even the younger generations. Thug has six children, and one of his daughters, eight-year-old Mari Mego, has already shown promise as the next family star. She made her debut on "Yessirskii," one of the deluxe tracks on Slime Language 2. 



"We really have fun with each other. It ain't just about music with us. It's memories." – Dolly
While Young Thug is building YSL up to be a leading force in the industry, his siblings say it isn't all about the music for them. They each say Thug has taught them more about life and fame than anything else. 
"He gave me a lot," Unfoonk says. "He taught me about life. He gave me a different vision on how life is. I see things different now. He just painted a picture in my head. He just gave me so much knowledge, and I'm the older brother. That's crazy that you learn something from a younger brother like that. That was really amazing." 
In 2017, Unfoonk received a call from his lawyer that he would be released from prison in two years, and he's credited his brother with facilitating his return home. "He made it possible for me to get out," he said in a 2021 interview, revealing Thug helped finance a legal team that helped reduce the life sentence. "He put money behind it."  
All three siblings say Thug taught them the power of prayer and the endless possibilities that are out there when you stay consistent, focused, and humble. "Anything is possible if you put your mind to it," Unfoonk says. "Just stay consistent, stay focused, be patient, and stay humble at all times. God is real. He answers every prayer, but just not the way you want it. It's going to come right on time."
Dolly adds, "It's like work, but it's also fun to us because this is what we do all day, every day. We really have fun with each other. It ain't just about music with us. It's memories."