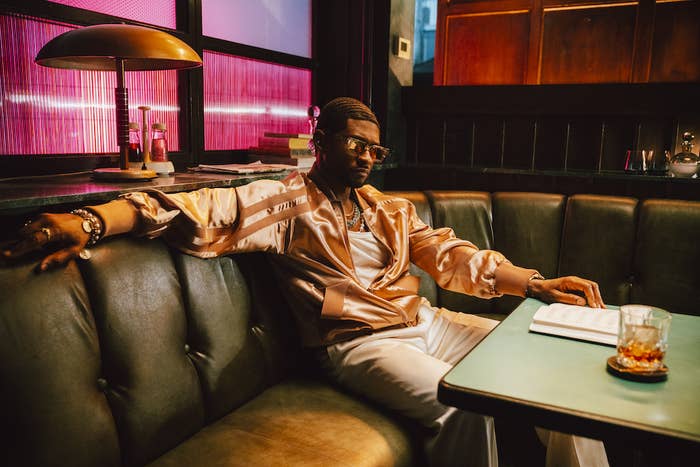 "I allow people to bring their phones into my show, and normal people don't do that," Usher says smirking as he discusses his viral Vegas residency. "I want you to share. I want you to see it. I want you to wonder what it's like to be here."
It's an early Wednesday afternoon in April, and we're in a rural neighborhood in Prague on the set of Usher and Rémy Martin's new campaign shoot. Usher's been busy—the multihyphenate entertainer has recently resurged in mainstream popularity thanks to to his recent string of celebrity guests at his Vegas show and meme-worthy performances like his set on NPR's "Tiny Desk." Last week, Usher serenaded Nope actor Keke Palmer, which instantly sparked a debate on Twitter (and might have caused a riff in her romantic relationship). Palmer swooned under pressure, but when Usher attempted to sing sweet nothings into the ears of Saweetie and Winnie Harlow in the days that followed, neither celebrity buckled. Still, Usher managed to stir up conversation and laughter, both in the arena and online.
There is so much to discuss—the campaign's vibrant creative direction, Prague's frigid air, the looming jet lag that accompanies it and his first full-length album since 2016. The reigning King of R&B sitting here on a prop restaurant booth, and it would behoove me not to start our discussion with the main topic surrounding him lately.
In 2022, Usher began his Las Vegas residency at the Park MGM hotel, inviting fans of all ages and walks of life to go on a journey through his iconic discography, which includes top-selling albums like Confessions, 8701, and My Way. And, thanks to his phone-friendly policy, the show has regularly gone viral for everything from his illustrious vocals and roller skating skills to some of the aforementioned moments with its celebrity guests.
"I really enjoy being engaged on a deeper level than just listening to a song or seeing a performer on the stage. So, I [asked myself], what can I do to bring a little bit of that into this Vegas experience that's going to be different?" Usher adds. "I wanted Vegas to be an opportunity for me to spread my wings and try different things that I haven't before. I really wanted to make certain that I give you something that not only entertained you, but [that] you felt great, and gratified in spending the time to get there because I gave you something that you just otherwise would've never seen or experienced."
He notes Rémy Martin's role in curating the "USHH Backstory Pass"—an exclusive immersive experience in Vegas that incorporates music, art, and dance pop-ups. He's cultivated a strong relationship with the cognac brand throughout the years. After originally partnering on Usher's OMG Tour in 2010, they launched a campaign for Remy Martin 1738 in 2022, which also included a limited-edition bottle, powered by AI technology. Now, in addition to the Vegas residency, Usher and Rémy Martin have partnered on a new campaign, "Life is a Melody."
Over the span of three days, Usher and a film crew set up shop in an isolated warehouse to shoot the campaign video. The once-vacant lot was transformed into several elaborate stage designs that mimicked a speakeasy, roller skating rink, and music studio. Dancing to a snippet of his unreleased, Afrobeats-inspired single, "Coming Home," Usher easily captivated the set crew and bystanders with his graceful moves as he swayed (or skated) from each set-up. Though he acknowledged his jet lag later during the interview, he always appeared to be in "go mode" when the lights were on and "action" was called.
In a moment between takes, he tells Complex how the campaign video captured similarities between music and spirits: "The same way notes give you an opportunity to escape, music gives you the opportunity to escape. It creates similar energy," Usher explains of the connections made in the campaign.
While fans only hear a clip of his single in the video, Usher promises "Coming Home" will appear on his forthcoming album. Unfortunately, Usher's lips are sealed on a title or release date, but he reveals he is working with legendary music executive L.A. Reid, whom he collaborated with on his first three albums.
Rémy Martin and Usher will also embark on a nationwide 4 on the Floor Tour, which will include immersive pop-up experiences that will bring Usher's shared interests of music and skate culture to major cities including Atlanta, New York, and Los Angeles.
He discusses the album, viral residency, thoughts on retirement, and shares an exclusive behind-the-scenes video from the Rémy Martin campaign and more, below.
What story are you trying to tell with this campaign and concept, and why is it so special to you?
It's daring to be different. Their idea around the culture that is all about taste and notes is every bit of what music is. So, telling that story and imagining this concept and idea in almost a dream state was what I hoped to get out of this creatively. The same way notes give you an opportunity to escape, music gives you the opportunity to escape. So when you taste something, when you notice and you feel the body of what it is inside of what you're tasting, the body of work that's inside of music, it creates similar energy. It creates this journey of discovery.
Last year's bottle design for the cognac was powered by AI technology. What are your thoughts on AI being used in the music industry?
I mean, creativity starts when the imagination opens, and it's been kind of analog up until this point. Don't get me wrong, analog matters. But even as a vocalist, I can process my tone through all these different apps and these different plugins that are inside of a microphone that process it and make it do things that I can't necessarily do. It reaches in spaces that I can't necessarily tangibly reach. So, I look at it as a positive, and finding a creative way to utilize my imagination with AI's help. I look at how this time has managed to monetize things that are not tangible. Bitcoin and things like that, art that you can't necessarily own. Why not allow the imagination to drive music in some sort of direction, or consumer product in a direction that could actually give you something that's tangible? So, AI-assisted, basically through the tone of my voice and these words and patterns that I used created an algorithm that then created a piece of art. I took that art and I put that on a bottle, and I turned what is normally a crystal bottle into a black bottle with gold accents. And I created an old-school seal, like Scarlet Letter seal, because why not do something that I think could be a collector's item? So, nah, I don't have any problem with the AI assistant.
This campaign is debuting your new single "Coming Home." What was the inspiration behind the new track?
Well, it's part of my next album. I worked with an artist by the name of Pheelz, who is a Nigerian artist, and he created this song when I was in Las Vegas. We worked together for the first time. I think I'm more of an artist of the world. I don't just have one idea about music. If anything, my catalog will tell you that. So, I just happened to be in that region of Africa and was inspired to do these songs. Afrobeat is something I just felt like was a vibe and [part of] the evolution of R&B. I think that R&B is kind of an ever-evolving style. It ain't like rock and roll or country. It's able to morph into anything. This seems like another chapter, and if I can do it my way, I can speak to my fans that are there in Lagos, in Accra, because I really enjoy being there.
You won't hear the actual lyrics in this [campaign] that we're putting together... It's important for collaborations with brands to be able to assist and artists to be able to offer, and meet in the middle and do something that's creative that gives us a chance of creating something that'll be remembered. In the past, it was more or less about a record company coming up with a marketing strategy and idea and then shooting some videos and then putting it out for the world, and hopefully, those videos lead you to care about the song.
In this situation, this not only lets you know something about the artist and his creativity, but also to lead you to a consumer product and maybe to a song. This is, once again, what makes a relationship like this one with Rémy Martin so beautiful because we respect each other, and they're supporting me even before I launch my album to the world.
"Afrobeat is something I just felt like was a vibe and [part of] the evolution of R&B... This seems like another chapter, and if I can do it my way, I can speak to my fans that are there in Lagos, in Accra, because I really enjoy being there."

This is a perfect segue to the album. What can you tell us about the forthcoming project? Is there a title or release date?
It might be a little early for that.
Well, "Coming Home" is inspired by Afrobeats. Will you be experimenting more with the genre on this album?
Not the entire album. It's not a "Usher goes to Africa" beat… What I will say is it's been a long time since I worked with L.A. Reid. We started a label together. You know the recent partnership between myself and Larry Jackson with [new music company] Gamma? That houses our record company, of which I'm the first artist off of our label. And, man, I think it might be a little premature to give you more information about it, but I'll tell you this, the album that we created is an amazing body of work, and the last time me and L.A. Reid did something together, we did a great job at it. I'm in this place where I'm not really trying to make things for other people, just making what I like, and offering things that I feel are melodic, memorable, and offering sides of my voice that I haven't opened up and shown before. I get a chance to be free and expressive. And I allow people to see all the places I've gone. I'm not just the R&B artist. Nah, I've been everywhere with this thing. It's been great to have had all of those experiences and then come back with L.A. [Reid]. So, now, for us to bring all that together and make a body of work, I know is going to be really special.
"I'll tell you this, the album that we created is an amazing body of work, and the last time me and L.A. Reid did something together, we did a great job at it."
How has your recording process evolved from your first run of albums to now?
I'm not as concerned about making music that seeks approval. I want to make music for other people, but to make music that I think represents where I am, and how I feel, and the things that I'm excited about. And if that manages to be something that speaks to the truth about where people are in relationships, in life, in transition… I think that there's a great deal of masculine energy missing, and though there are times of softness when you're singing or melodically offering music, I think that there's an aspect that I think is missing from music right now, and I really zeroed-in on that. And that masculinity isn't necessarily just being some big dude. It's being transparent, but also just saying, "I love you," and being able to say it in a way that you hear it, not just listen to it.
Everybody and their mother is at your Vegas residency, literally…
Yeah, it's just funny, the visual of that. "Mom, I ain't expect to see you here. I'm drunk as hell. You ain't supposed to see that." [laughs]
It really is everyone of all ages and walks of life. Why do you think you are an intergenerational act?
I mean, look at the generations of people there, whether it's my kids, who sometimes come to see the show. They are the babies. And the adults, and then their parents, and then sometimes their parents. I've literally seen an entire family come to a performance. Her grandma looked like mom. I'm like, "This your sister?" She's like, "No, that's my mama." I think being able to say that I have music that has spanned over these generations is a testament to making something that people really appreciate, and that's probably where I get that title from. But, yeah, man, I didn't want Vegas to represent one aspect or area of me or my music. I wanted people to come and be educated. I wanted you, if you knew my most recent record, to not know the first song that came out. And I speak to that. As a fan I want them to be like, "Well, wait a minute. I want to know more. Let me investigate," or, "What was the name of that record?" and look back at what you recorded on your phone.
What would you say is your best album in terms of your own artistry and creativity? That's like having a favorite child. But in terms of creativity, I got one for you. The one that's coming. Nah, outside of this new album that I really do think is incredible, not just because it's the new one, but because the last time me and L.A. Reid did something, we made Confessions, and before Confessions, we made 8701. And before 8701, we made My Way. So, me and that guy together, it's a different level, man. So, in terms of creativity and breaking barriers, I think all of those albums did some version of that. I think Confessions is the one that kind of opened it up for the world. It was Nelly, Eminem, and me at that time that were introducing this level of music to the world so much so that it sold over 10 million units.
"The residency feels good... I get the opportunity to be the father that I want to be for my children, and also to still do what I love."
In this streaming era, there's less emphasis on albums. People used to sit with albums like Confessions for long periods of time. Now they jump from single to single. How do you navigate this shift?
I don't know. I don't make singles. I make albums. Singles come as a result of people electing one song over the other that they like, which then kind of makes it clear that I am doing this to make certain that you enjoy it. And if you like this song, then I'm not going to go against the grain. You should listen to an album and it should take you back. It should make you feel like you were in that era of where music and life was. I don't know how to do it any other way. If I'm making an album, I'm making an album. You can get conscious about whether this is good enough and does it have commercial relevance in order for it to last in all of these places and be number one for 10 weeks. You could get caught up in that, or you can just make something that you really love and allow people to exist in it with you, and be honest where you are, and let them be a part of that moment. That's really what my practice is and what I think people might be missing.
Has retirement ever crossed your mind?
No. The residency feels good. It feels good because I get the opportunity to be the father that I want to be for my children, and also to still do what I love, and also handle business and be stationed. I mean, you get a chance to be in one place for a nice amount of time.
How do you define this next chapter of your career?
Shit, I don't know. I'm trying to figure it out as I go. But that's the beauty of it. The fact that I'm not living with any idea of what has happened in the past or what's going to happen in the future —I'm just in it. We literally are choreographing on the set. Even when we put the clothes together, the ideas, the lighting, all of the things matter. If I see something, I say it, like, "Yo, I think this light needs to be different. We might want to catch it from this perspective." To work and collaborate with the DPs, and the directors, and the choreographers, and wardrobe stylists, I'm just enjoying being in the moment. Whatever this next chapter of my life represents is going to be based on what I feel. And I give my all, every time I do what I do.