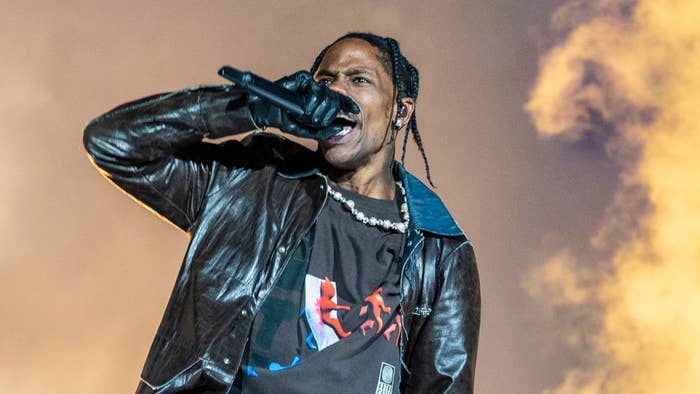 It looks like Travis Scott is getting ready to drop a new album. 
Earlier this month, fans spotted cryptic billboards in California that seemed to tease new music from Travis. Then Travis changed his Instagram bio from Astroworld to Utopia, which is believed to be the title of his forthcoming album. 
Utopia has been in the making for some time now. After initially being teased in 2020, the album was seemingly put on hold following the tragic events of Astroworld Festival in late 2021.
While there's still a lot we don't know about Travis' fourth studio album, he has been dropping clues in various interviews for the past year about what his music might sound like. While we wait for it to arrive, here's a breakdown of everything we know about Travis Scott's Utopia so far.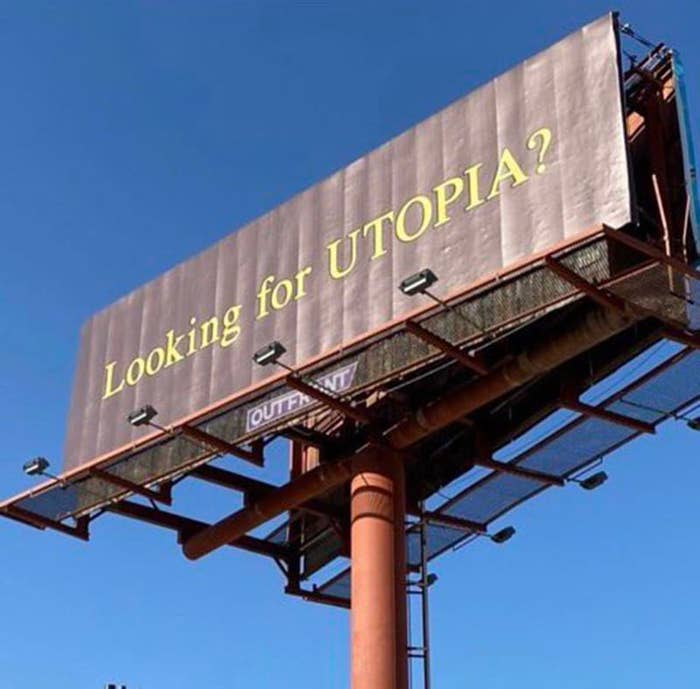 Travis has been dropping hints about Utopia since early 2020. On the second anniversary of his critically acclaimed album, Astroworld, Oct. 5, 2020, he tweeted, "Going to go cook up and build these walls for Utopia. See you guys soon." A couple months before that, he slyly dropped the album title in an interview with GQ. When the interviewer asked Travis, "Where does one go after Astroworld?" He responded, "You go to utopia. That's where we go." The interviewer asked Travis what utopia looked like for him, and he replied, "[It's] a place where we could just all sit across from each other and one side stops looking at the other side and where we all realize we're equal. As just humans. We got buildings, flying cars. Like, everything's just moving. And as people, we don't want nothing from each other but just to see each other happy."
In a 2021 interview with CR Men, Travis spoke more about his idea of "utopia" and said he's been thinking about themes of "medicine, nursing, being a better person, talking, language, communication—you know, a utopian state. That's what my album is about." He continued, "You think utopia is a society where everything is good: health, buildings, architecture—nah. It's just about proper lines of communication. Because that's the dystopian shit we're in right now. It's all hate, hate, hate, and all of that is drawn from what? Miscommunication, non-communication, non-understandable communication, ignorance to communication. 'I don't like this person.' Why? Because somebody told me something to not like this person? Because in history I read to not like this person? Why?'"
Travis says he's planning to introduce a new sound to listeners. He described the new sound to WWD as "psychedelic rock," explaining, "Even just like the field of cactuses and mushrooms, you might get tripped out." In a February 2021 interview with i-D, he elaborated on the sound he wanted to create for the album. "That's been one of the most fun things about working on this album. I'm evolving, collaborating with new people, delivering a whole new sound, a whole new range," he explained. "I want to make a fucking new sound. I might spend days banging my head against a wall trying to figure it out, but once I do it, it's like ultimate ecstasy."
Travis has been personally involved in every aspect of his forthcoming album, from recording to production. In his i-D interview, he revealed, "I've been making beats again, rapping on my own beats, just putting everything together and trying to grow it." For Trav's early supporters, this should come as no surprise. But it will be interesting to see how his new beats will fit the "psychedelic rock" sound he is going for.
On Sept. 20, 2021, Trav shared photos of himself in the studio. In the Instagram photos, he's playing different instruments, including the drum and the piano, hinting at the use of live instrumentation on the album.
Travis Scott's debut solo mixtape Owl Pharaoh, which dropped in May 2013, received critical acclaim at the time of its release. Well, according to producer Mike Dean in a 2021 interview with Our Generation Music, Travis Scott is "getting back to" the style of those Owl Pharaoh days on the new album. More specifically, the interviewer complimented Owl Pharaoh songs like "Bad Mood," and Dean slyly responded, "Yeah, he's getting back to that, too." Unfortunately, Dean didn't share any further details.
Travis has been tight-lipped about the tracklist and features that will appear on this album, but he hinted that fans will hear new voices from artists he's never worked with before. "I never tell people this, and I'm probably going to keep it a secret still," he told i-D, "I'm working with some new people and I'm just trying to expand the sound." As far as producers go, he's been rumored to be working with Southside, Metro Boomin, Wondagurl, Wheezy, Hit-Boy, Ronny J, James Blake, and Allen Ritter, although it's unclear which of them will actually make the album.
Producer Wheezy, who has collaborated with Travis on songs like "Hot" and "Turks," told Complex in a December 2020 interview that he had linked up with Scott in Mexico to work on the new album. "Every time that we link, me and Trav make it crazy good," he said. "But definitely look out for Trav's new shit coming out. I just left Cabo in Mexico. We definitely got shit."
There is a very good chance that Travis Scott's album could be accompanied by a visual component, and we're not just talking about music videos. In August 2021, it was reported that Scott's Cactus Jack Films division signed a production deal with content studio A24. And the first "special project" to come out of the partnership will align with Scott's upcoming album, Variety reports. It's currently unclear what the film will entail, but A24 hinted it will be called Utopia.
Utopia has not been given an official release date as of yet, but there have been some signs that point to the album dropping in the near future. In April, billboards promoting the new album mysteriously appeared along the I-10 highway in California. Most of the billboards shared short, cryptic messages like "Wrong Way!" and "Looking for Utopia." Another billboard showed Scott's Cactus Jack symbol.