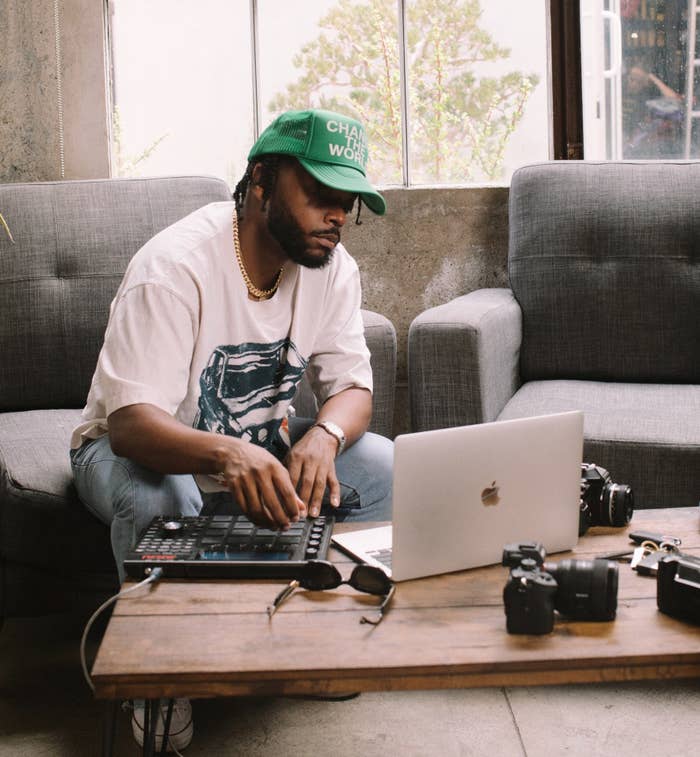 What does a Sounwave beat sound like? You might not be able to describe it if you try, because as the producer explains, his sound has no boundaries. 
"If you put all my beats side-by-side, I guarantee none of them are going to have the same instrument in it," he points out. "They're not going to have the same pattern. Everything is going to different elements."
Sounwave, born Mark Spears, is a producer from Compton, who is responsible for a long list of hits over the past decade. As an in-house producer for Top Dawg Entertainment, he's produced major projects like the Black Panther soundtrack, and collaborated closely with artists like Schoolboy Q and SZA. Outside of TDE, he's earned credits with everyone from Beyoncé to Thundercat to Baby Keem to Chloe x Halle. Through it all, though, the artist he's worked with the most is Kendrick. 
To date, Sounwave has contributed to every one of Kendrick's projects, from his self-titled debut EP in 2009 to his fifth studio album Mr. Morale & The Big Steppers, where he has production credits on 13 of 18 tracks.
Recalling his first meeting with Kendrick, Sounwave tells Complex, "He had this tie-dye hoodie on and he didn't say a word." When he played one of his beats, though, Kendrick came alive, rapping for "20 minutes nonstop, freestyling off the top of his head." Sounwave was immediately impressed, but the two wouldn't cross paths again until a year later, ultimately reuniting in the studio with TDE's Top Dawg and Punch. "We've been rocking ever since," he says now.
Kendrick's most recent album, Mr. Morale, came together over the span of five years, and it captures some of the most raw emotions and experiences that took place over that period. Sounwave acknowledges that it was a challenging process for all involved, explaining, "It was rough. It was good times, bad times, and frustrating times. We went through so much from the five year gap. We lost very key figures in our culture in Nipsey [Hussle] and Kobe [Bryant] within less than a year of each other, which can bring anybody down." 
The album has so much depth that most fans are still processing its significance and uncovering new layers, but Sounwave says they are already working on the next album. "Oh, we always start immediately after. Like, we're starting on the next one now." 
Complex spoke with Sounwave over Zoom to get a glimpse into his world. During the conversation, he spoke about his own introduction to music and production, working on Mr. Morale & The Big Steppers, and what's next. The interview, lightly edited for clarity, is below.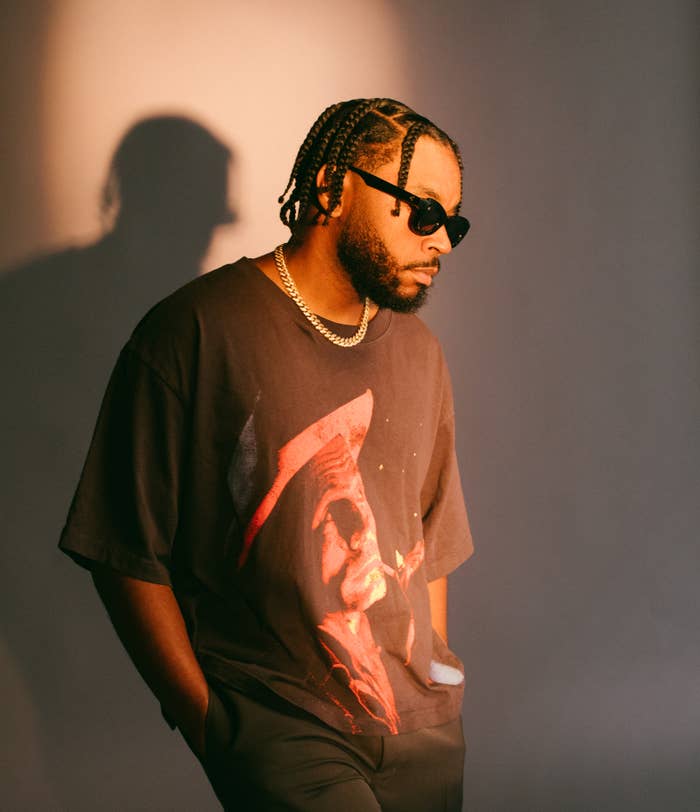 What was your first introduction to music? 

My mother tells me this story all the time, so I can never forget it. My auntie used to have an old piano in her house. I was about six or seven, and we just got through seeing The Lion King. There's a moment in there where they sing, "In the jungle, the mighty jungle, the lion sleeps tonight…" My mom said I bee-lined straight to that piano, and I played them notes just by ear. Ever since then, she's said, "Music must be in your future." My family members weren't musicians or artists. It was just random that I picked up on that, because as grownups, they couldn't even do it. That was my start, honestly, and I never looked back. 
At what point did it fully register that you were musically inclined? 

I didn't think I was any good until I sold my first beat for 20 bucks. I was like, "Oh, shoot. Somebody will actually pay me for this." Before then, I was just doing it because I loved it.
What was the first album you ever bought yourself? 

The first single I bought was "1st of Tha Month" by Bone Thugs-N-Harmony. I was intrigued with how fast they rapped and how melodic it was at the same time. As a kid, it just blew my mind, so I saved up my allowance and bought that. I think the first album was probably Aaliyah's One in a Million if I'm not mistaken. 



"I don't need to be famous. I don't need to be looked at as the greatest producer that ever walked the world. I just love to do what I love."
How did you get into production? 

I always give credit to two people. The first one is Donald Byrd, who was an amazing jazz musician. My father used to play his albums throughout the house, and I learned how to play the drums by studying his drumming. Everything the drummer would do, I would do, not knowing that it's super technical drumming. I was thinking that's how every drummer is supposed to start off playing. So I was doing all these drum solo riffs, to the point where I get to middle school and I'm trying to be a drummer, but I'm better than everybody who's trying out for the first time. So I give Donald Byrd credit for that aspect of my life. 
As far as modern music goes, hands down, Timbaland. Timbaland was the first person who made me understand what producing was. Before you listen to music, you hear songs that you like as a kid and say, "I like the song. I like the lyrics." But when I first heard Aaliyah's One in a Million, with the drum patterns and crickets and all these weird sounds, I was like, "Oh shoot, this is producing." It just blew my mind away, to the point where I said, "This is what I have to do. I don't want to do anything else. I want to make people feel the way I feel at this moment."
What did your early beats sound like? How did they differ from your current work? 

Early on, I was stuck trying to be in the space that was popular. If Lil Wayne had Mannie Fresh, all my beats would sound like Mannie Fresh. When Swizz Beatz got hot, all my beats sounded like Swizz Beatz. When you mimic these hot producers, it gets to the point where when you get older, the artist is like, "If I wanted Swizz Beatz, I'm going to Swizz Beatz." So I had to learn to do a Timbaland type beat, but put my own twist on it, and then that started to grow. I created my own sound bank, with my own sounds. 
Today, my whole goal is to make you wonder, "Who the heck made this beat?" I don't ever want people to say, "Oh, that sounds like a Sounwave beat." I want my beats to always be different to where you're surprised that I produced it. I love to reinvent sounds and reinvent myself. If you put all my beats side-by-side, I guarantee none of them are going to have the same instrument in it. They're not going to have the same pattern. Everything is going to have different elements, to where you had no idea unless you were a fan. That's what makes me excited about producing: the reinvention of yourself.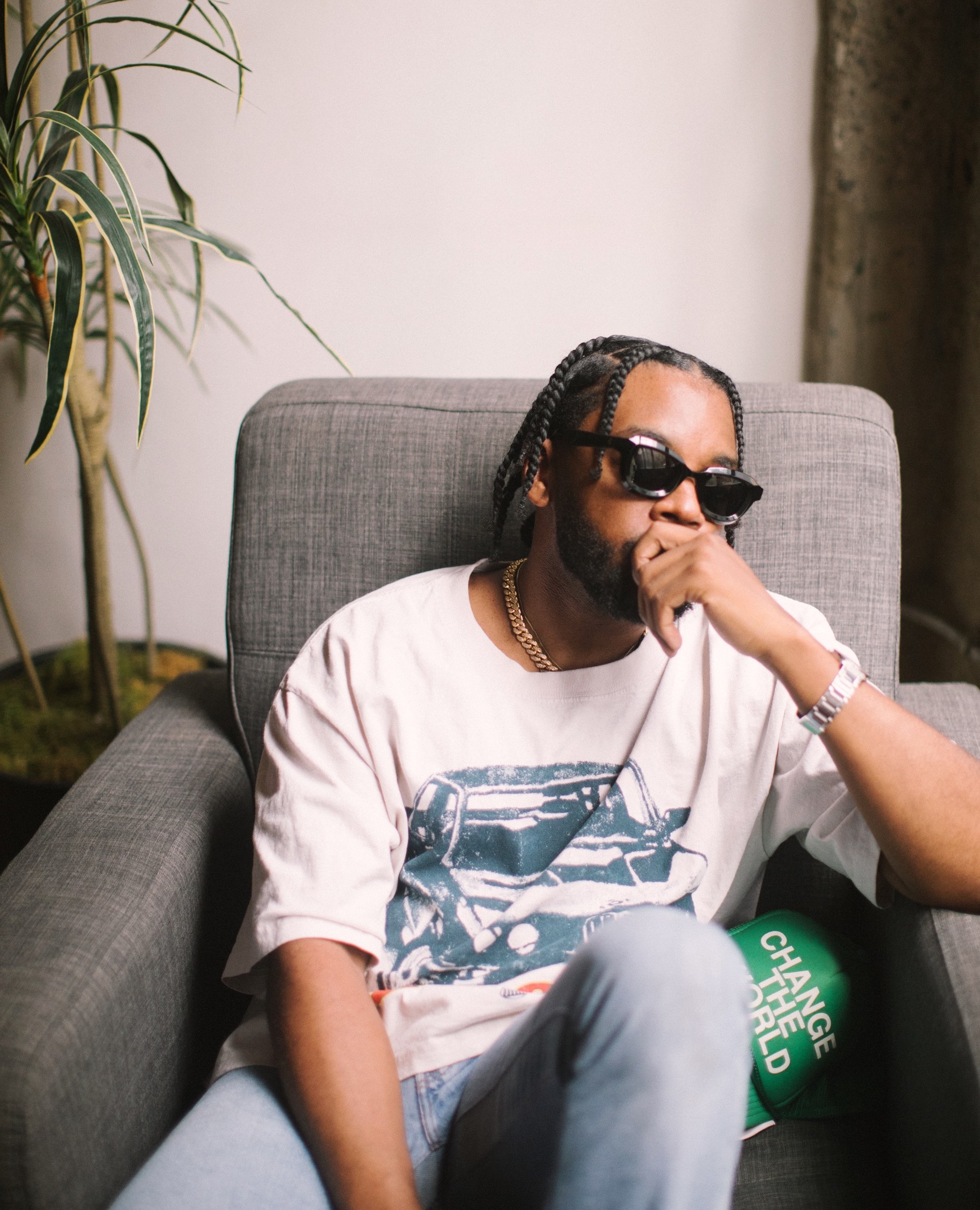 What's the story behind being discovered by TDE president Punch? 

Back in the day, every Sunday at my parents' house in Compton, we used to have basketball tournaments. All the kids that we knew—all the homies, all the family members—would come to our backyard. We had a little half court, and there was no three-point line, but Punch was always one of the closest family members who used to come and hoop every Sunday. I remember one day I lost [in basketball] and I was hot. So I went in the house and started making beats on the MTV music generator, which is a video game. Punch was going to the bathroom, and he actually heard me walking by. He was like, "Hold on. What's that?" I said, "That was me. I make beats on the side. This is my passion right here." He was like, "Let me hear something." I played him a few things. So he said, "I got a cousin starting up his own label. He's looking for a producer." His cousin happens to be Top Dawg, so I was like, "All right, bet." He drives me to this studio, and [Top Dawg] plays me music from an artist that he's working with. He's like, "Punch says you're pretty good. I want you to take these vocals and just create a song from it." I looked at it as a challenge. About a day later, I sent it back to him and he was like, "Yo, this is better than their original," and that's how I locked in Punch and TDE.
What were some of the early challenges as you found your sound and your place in the industry? 

My first placement never came out. I was 18, straight out of high school. I had an amazing friend of the family, a manager named Cassandra, and she just saw potential in me. So she took a chance. She was managing KeKe Wyatt at the time, and I'm 18 not knowing anything. I'm nervous, but we locked in and created three amazing songs. One of them was featuring Ginuwine. I was freaking out, like, "Oh, I made it. I'm doing what I want to do." 
Fast forward, [Hurricane] Katrina happens, and at the time, KeKe Wyatt was signed to Cash Money. When Katrina happened, everything got paused, so the album never came out. I didn't realize I was supposed to be out there grinding, instead of waiting for this to drop so I could blow up. I should have taken advantage of the situation, but I just laid back and chilled instead of creating relationships. Because of that, I didn't get my next placement until I was like 25 or 26. That was just a lesson I had to learn. It's all about who you know. It's all about relationships. I learned that early on, and ever since then, I know the importance of getting in these rooms.



"[The goal for Mr. Morale] was just raw emotion. Don't hold nothing back."
What does a studio session with you look like? What are your routines and rituals?

I'm simple. There are two aspects of my creative side. There's one where I'm going in with a new artist, and I just want to have a conversation—a good 35 or 45-minute conversation with you to pick your brain, figure out where you coming from, and where you want to go. Then at that point, we can just start throwing paint at the wall. It's nothing complex. 
But the other side of me is where my brain never turns off the music. There's gifts and curses in that. The gift is that the majority of my sounds and sonics all come from the same dream. It's me driving in my car. It's me turning on the radio. It's me hearing the song I've never heard before. I say, "Oh, my goodness. I wish I had made this song. This beat is amazing." As soon as I say that, I usually wake up and realize that it's my brain working overtime, and my dream's creating melodies. So I grab my phone and I hum the melody, or I beatbox it however it was playing. When I'm fully up, I go and try to recreate it as close as possible. I don't know how that happens, but it's usually the same dream, at least once a week. It happens that way. My whole Notes app is basically my dream beats. 
And I guess the curse is that it's a never-ending cycle. 

Yeah, my life is just music. The homies and everybody say, "Bro, just stop. Just enjoy the moment." It's like, "Did you not hear that bird squeak? It sounds amazing. I need to record it."
What's your first memory of meeting Kendrick Lamar? 

It's a quick story. I was in a hole-in-the-wall studio in Gardena, California. This guy, he would basically just round up all of the talented artists that were in the city. He wanted to create a super label. I had been working with them for a couple of weeks, and I remember him vividly coming in and saying, "I got this new guy from Compton." I'm like, "Oh, bet, I'm from Compton." He was like, "He goes by K.Dot. Never heard of him, but he's coming in today. I heard he's supposed to be really, really dope." 
Kendrick pops up with Dave [Free]. He had this tie-dye hoodie on and he didn't say a word—literally an oversized hoodie, and didn't say a word to nobody. I remember Dave looking up and saying, "Hey, so who's going to play the beat?" So I had this beat with "Rock 'N' Roll Gangster" that I was chopping up. I put that on, and I see him in a corner, mumbling, going back and forth. 10 minutes later, he goes in the booth, and I kid you not, he raps for at least 15, 20 minutes nonstop, freestyling off the top of his head. Hoodie never comes off. Everybody in the studio is going crazy. I'm going crazy. I'm like, "Yo, who is this mystery kid? This dude is sick." 
He comes out of the booth. Everyone's like high fiving. Fast forward, me and Kendrick are the only two out of the whole 10 or 12 people who were there who didn't sign, and we go our separate ways. A year passed, and this is where Punch introduced me to Top Dawg. The next week, I go in there, I see the same kid, same hoodie on, walking in. I'm like, "Yo, I've been looking for you." He's like, "Man, I've been looking for you." We've been rocking ever since.
What's the most rewarding experience to come out of your relationship with Kendrick? 

The family friendshipness of it. We do just about everything together now. He comes to my kid's birthday parties. I go to his kid's birthday parties. We travel together. It's like basically traveling with your best friend, who just happens to be Kendrick Lamar. I've been rocking with him since he was 16, so we've grown very fond of each other.
What is your favorite album of Kendrick's? 

Ooh, you're trying to sneak that one in there. At the moment, I want to say Mr. Morale & The Big Steppers. It changes, though. One day it's Section.80, the next day it's good kid, m.A.A.d city. Next day, it's To Pimp a Butterfly. But just at this very moment, it's Mr. Morale & The Big Steppers.
How has your creative process with Kendrick evolved over the years? 

It's mainly just having no boundaries anymore. The fact that we can do whatever we want, whenever we want, however we want it, that allows us to think bigger. We can get any type of instrumentation we want and make it our own. It just opens your eyes to a completely different world of things that kids coming up from Compton can never imagine.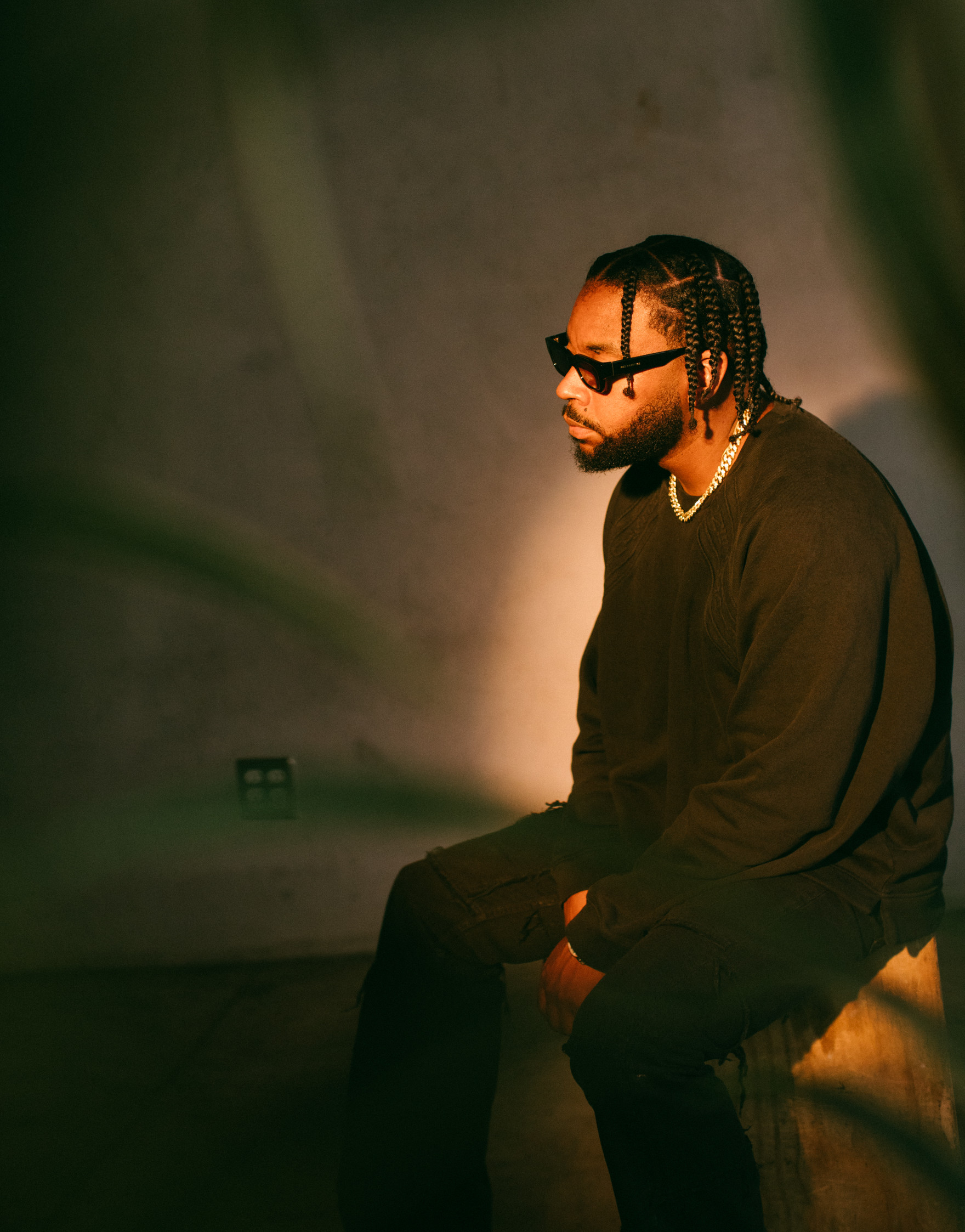 Mr. Morale & The Big Steppers is full of raw emotions and experiences. What was it like creating the album in real time? 

It was rough. It was good times, bad times, and frustrating times. I remember we went through so much from the five year gap. We lost very key figures in our culture in Nipsey [Hussle] and Kobe [Bryant] within less than a year of each other, which can bring anybody down. It brought me down, to the point where I was creatively stuck. Then mix COVID with that, lockdowns and all of that, it was just an emotional wreck for me personally, to the point where I was drained. I was forcing myself to create music, but eventually you gotta get out of it. I found myself A&R-ing a lot more than production. When things opened up a little bit, though, you could actually get in the studio with the artist. You could actually feel the energy—things that you forgot you needed. I'm a perfectionist. I need someone to be like, "No, no, no, that's actually good. Don't throw that beat away." Otherwise, all my beats would never come out because I just feel like it could be better. I still listen to the songs today and I'm like, "Ah, I wish I didn't do that." That's just the perfectionist in me. I'm hard on myself, so you need people like Kendrick to be in the studio to give you life sometimes.
Given that series of events, from Nipsey to Kobe, then the COVID-19 lockdown, what was the timeline for the creation of Mr. Morale & The Big Steppers? When did you start and when did you finish? 

Oh, we always start, immediately after. Like, we're starting on the next one now. That's never going to change, all the way from the Kendrick Lamar EP. The next day, we started on Section.80. It's just the ideas never stopped. That's one of the main reasons I go on tour with him, is to create the next album. We can't skip a beat. We have to just keep it going. There's no breaks. There's no such thing as a vacation when you're doing what you love. Everything you do is what you love to do, so you're excited. Your family might feel a different way about it, but it's always like, what's next? We're like kids in a candy shop. Personally, once I release an album like this, I don't go back to it for a while, because I lived it so much. It's like, it's not for me anymore. It's time for me to clear my head, so the best thing to do is to think about the next project.



"We always start, immediately after. Like, we're starting on the next one now. That's never going to change, all the way from the Kendrick Lamar EP. The next day, we started on Section.80."
What were some challenges that you faced during the creation and rollout of the project?

For me, specifically, that lockdown hurt. I didn't think it would. I thought it was going to be a perfect chance for me to just hone in on my creativeness. But like I said, not being able to feed off other people's energy and not being able to actually get reassurance that what you're doing actually makes sense, that can drive someone crazy. It was rough for me, for sure. For Kendrick, I don't know. I know he went through a lot, too. If you want to say this, we could do three albums of Mr. Morale & The Big Steppers. There would be similar content, but sonically, it'd be completely different. Just because our emotions constantly keep changing—things keep happening in the world which changes this. Then, all of a sudden you don't feel that way any more. So it's constantly changing to the point where you look up and like, "Oh, shoot, this is a completely different album."
If you could have three versions of the album, with all different sounds, at what point did you look at each other and say, "Enough is enough. Let's go with this version"?

It's this feeling we got. I talk about it all the time. I take a drive and I listen to the full album nonstop. If I don't come away from that drive overwhelmed with emotions, then it's not it. It's always the same split moment—I would hit him and then be like, "We're not ready." He was like, "Bro, I was just about to tell you the same thing. We got to do this. We got to do that. We got to change this." Until that happens, and until the whole core people are in agreement, the album's never going to come out. Fortunately, this felt like this was it. We got off every feeling, every emotion, every sonic, everything that we wanted to do, and it is now ready to present to the world.
What was the main priority or goal the core team wanted to achieve with this album? 

Just raw emotion. Don't hold nothing back. 
You mentioned that you took a step back from the creative process and prioritized A&R-ing. What does that mean in the context of this album? 

When I went through my little funk in 2020, I couldn't pick up an MPC. I couldn't pick up a keyboard. I needed a break. So the next thing for me was putting people together who I knew would make amazing music. So I A&R-ed Baby Keem's The Melodic Blue album. Like, little ad-libs, little beats and stuff. Like I said, "Ooh, James Blake would kill that little ad-lib right there, bring him into it." That's what I got joy out of doing for that full year. For the Kendrick album, it was like saying, "Okay, I know J. LBS, I know his musicianship. I know how he can play a piano. Bring him in for these piano sections." 
What were some of your favorite memories from the five-year gap you all took? 

Right after the DAMN tour, we went straight to London and just started banging out ideas. Granted, only one song came out of that whole session, but I remember that initial happiness we had of this being a blank canvas. That's always one of the funnest moments for me. To be able to see that session turn into what now has come out to Mr. Morale & The Big Steppers, I don't know, it just brings a smile to my face.
"Alright" was featured in the new Black Panther trailer. The song has become recognized as a protest song, but can you talk about its significance in expressing grief and other emotions? 

That song has so many layers. When I first heard it, I didn't necessarily hear it as a protest song. "We're going to be alright" could mean so many different things and hearing it with Black Panther, it just felt perfect. I got chills. It was just the perfect score to it.
Why do you think "Alright" is a timeless record, regardless of the climate? 

I think when you're in a moment that's selfless, you don't have an objective to put out a hit record or anything. You're just actually doing what the energy is pointing from. That's when you're always going to have songs that are going to capture the timeless moments, and that just happened to be one of them. I remember when that song was being created, it wasn't necessarily meant to be, like, the protest of the year song. This is how we felt. We were all in the studio, just shedding tears listening to the lyrics being created, because that's how the moment was bringing us to feel. The energy, everything about it, it was just a selfless act.
A Black Hippy album never happened, but the fans are still praying for some type of miracle. Can you give some insight on why it never came to be? 

You guys are going to have to ask the Black Hippy artists on that one. Me specifically, I can just say it was all about timing. As each part is elevated, timing and schedules become crazier. That's from my vision, why it never happened. Of course, there was a moment where we were all in the studio, we brainstormed some ideas, but then somebody had to go on tour, or somebody's album was dropping. And it's like, "All right, after this album, then we're going to lock in." But then that person has to go on tour. 
What else are you working on right now that you can talk about? 

There's a few projects that I'm working on. I really can't talk about them just yet, but there are a few projects that I am working on and I'm excited about for the future. They will all be revealed within time. 
From a commercial standpoint, you've done it all. But how would you like the next 10 years of your career to look? 

I just wanted to have every goal that I've ironed out done. It's quite a few of them, so I've got a long way to go, but I just want to have a lasting legacy in the genre that I love. Legacy for me is more so my family. I want to have my family look back at everything that I've done and be proud. I don't know if you can tell, but I'm a very low-key person. I don't need to be famous. I don't need to be looked at as the greatest producer that ever walked the world. I just love to do what I love. 
What's the most important thing people should know about you right now? 

I'm never ever going to lose the passion for what brought me here. Without music, I would not be able to be a happy person. So I guess my main thing is just to know that whatever I do in my history and my life, music is always going to be that main thing that always keeps me straight and focused. So even if I change and go and do something else completely different, it's still going to always link music somehow in the middle of it.