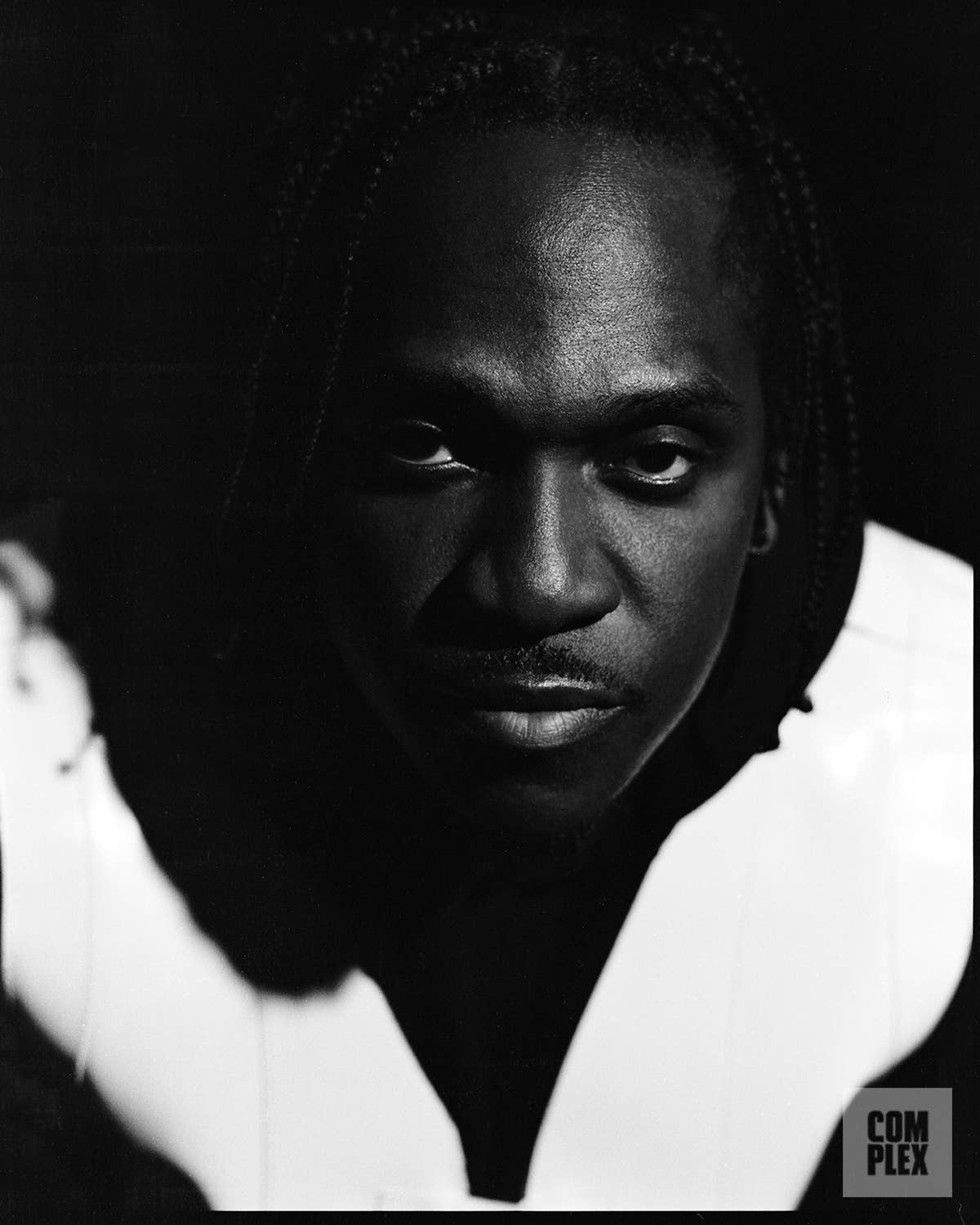 Two guys are wrapping "cocaine bricks" with plastic wrap on a folding table. 
It's a Thursday evening in March, and my day has taken an interesting turn. I'm inside a Brooklyn warehouse, where a music video for one of rap's biggest stars is being shot. The bricks are not real kilos of coke, of course, but to someone unfamiliar with the pharmaceutical business, they look authentic. 
A studio crew is filming a felon work out in a makeshift prison cell, and in another setup, a tall, slender man practices dunking one of the bricks of cocaine into a large pot that is propelled eight feet above the ground on a white stove. If you haven't guessed already, we're on the set of a Pusha-T music video shoot, and the director has envisioned a very literal creative direction that mirrors specific lyrics in the song: "Hear Me Clearly," from NIGO's new album I Know NIGO.
The warehouse goes dark, and the man of the hour walks in, donning a sleek white and black 'fit, ready to work. The camera starts rolling, and Pusha-T jumps into character, rapping along to his verse. He uses his hands to emphasize certain words, circling a blindfolded hostage who is being strapped to a chair. 
"People think I'm crazy," Pusha-T says, laughing. "A maniac."
Don't let his aggressive delivery, vicious lyrics, and unwavering dedication to tales of drug-peddling fool you. Pusha-T, born Terrence LeVarr Thornton, unmasks another side of his personality when we first meet at the Dominick Hotel in New York's SoHo neighborhood. It's several hours before his video shoot, and he's waiting for his manicurist to come upstairs. When she arrives, Push is kind and professional, extending a handshake and warm "hello" before placing his hands in a bowl of water. His tone of voice is soft at first, in stark contrast to the gritty texture of his vocals on wax, but as he begins to talk about his forthcoming album—his first since 2018's Grammy-nominated DAYTONA—his endearing personality and knack for storytelling peeks through.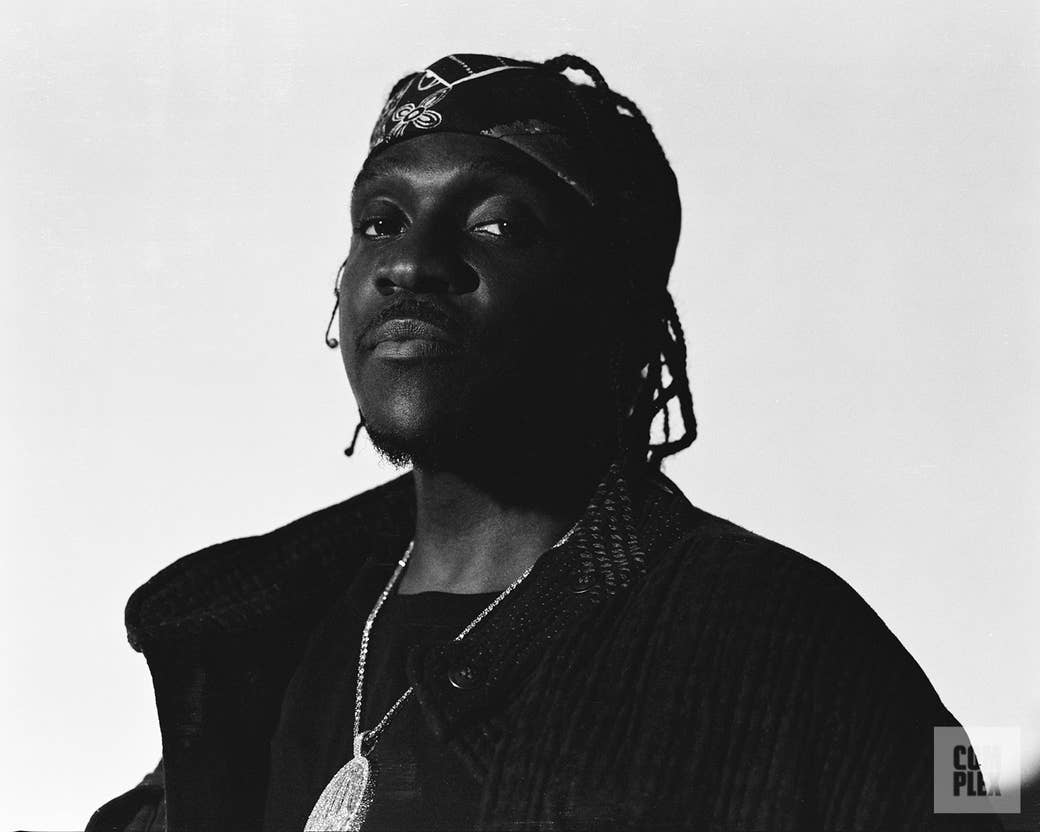 Before going to work on his current album, Pusha-T allowed himself space to prioritize his personal life over music. Not long after closing out his touring schedule in December 2019, the COVID-19 pandemic hit, and like everyone else, he was stuck inside. Meanwhile, his wife was expecting their first child, a son who was born in June 2020. Push was also building a new home for his growing family, and he tells me, "I wasn't thinking about recording. We got acclimated to the whole lifestyle, just living in the crib."
After a while, though, he felt a stroke of inspiration and phoned longtime friend and collaborator Pharrell Williams. "I was like, 'Man, you know what? Let's just cook up while there are no expectations. Nobody's thinking about us. We can actually find shit that we like. We can go through the processes,'" he recites, reenacting their conversation. Soon, Push and his family flew down to Pharrell's compound, and he began working on the album. 
"This is all about making sure that the subgenre of street rap is seen at the highest levels, and can compete with everything that's popular."
Push jokingly told Spotify's Carl Chery on Twitter that the songs on the album would be "about feeding the conscious mind," instead of a bunch of coke references, but now he clarifies, "I was only fucking joking." 
This album will, in fact, have all the nose-candy references you might expect. And it's because of his creative way of describing the lifestyle that Push declares his status among the all-time greats when it comes to coke rap. "Hov is first, because he made Reasonable Doubt, and that is the grail of all drug levels, without being all about drugs. It spoke more to the lifestyle," Push explains, ranking his top three coke rappers of all time. "Lyrically, I'm going to say that I'm next. And I'll say Jeezy is third, because I don't believe there was a stronger moment in time than Trap or Die."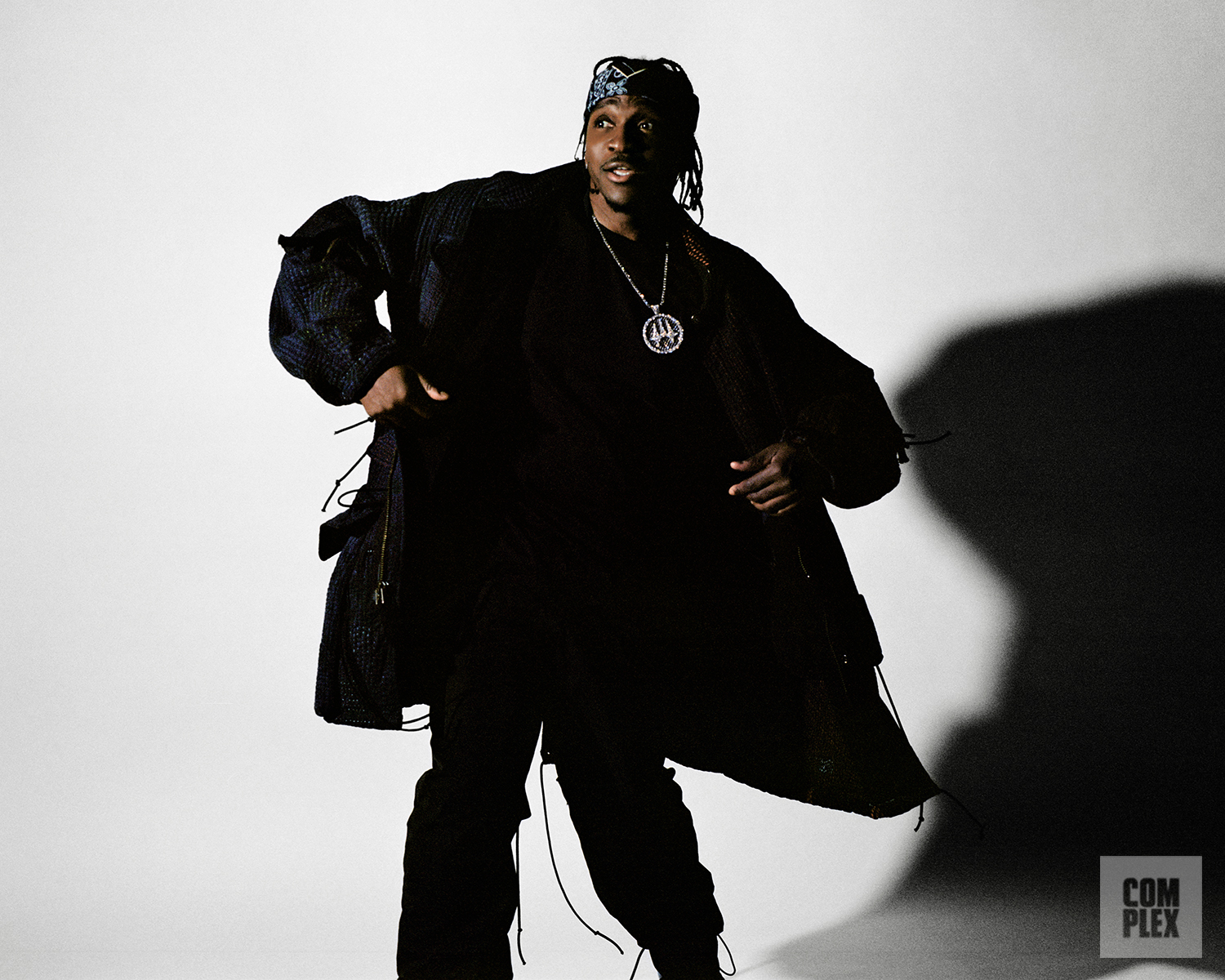 Pusha-T has put himself amongst good company in his personal ranking, but he says coke rap still gets a bad reputation. "I don't know when it became cool for people to slight the cornerstone of rap," he says, dipping one hand out of the water bowl and giving it to the manicurist for clipping. 
"It's funny, because I come under a lot of scrutiny for the term 'coke rap'," he continues. "Either they're knocking it or they're finding ways to cheapen it. Like, I drop an album, I go through a cycle and by the time the album cycle is done, then it's back to, 'Oh, it's only this, it's only that.' And then I watch the same people who shoot down the genre when I'm at it, they'll sit back. Then, in my absence, it turns into, 'Oh man, this is great lyricism.'" 
To Pusha-T, coke rap is a "lazy way of describing" the style, since it's essentially no different from street rap. For the sake of time, he'll embrace it, but he says his new album will bring some regality to the name. 
Push has grown accustomed to being called a coke rapper, but he drew the line when Pharrell called him a "mixtape rapper." The story that Push first shared on Instagram took place shortly after he recorded "Hear Me Clearly." When Pharrell heard an early cut of the track, he said, "It's cool, but I don't want you to be a mixtape rapper for the rest of your life." Push's ego was bruised. 
"He was being snide and nasty," Push says now, scrunching his face up as if he smelled something foul. To some, "mixtape rapper" has a negative connotation, but Pusha has a different opinion. "He knows that my heart is mixtape rap. I only like mixtape verses actually," he explains. "I've known him my whole life, and there was a time in which we both had the same taste in mixtape verses. And that's a time that I try to get him to revisit a lot, in dealing with me. I particularly believe that our success and our greatness is when we're in those pockets."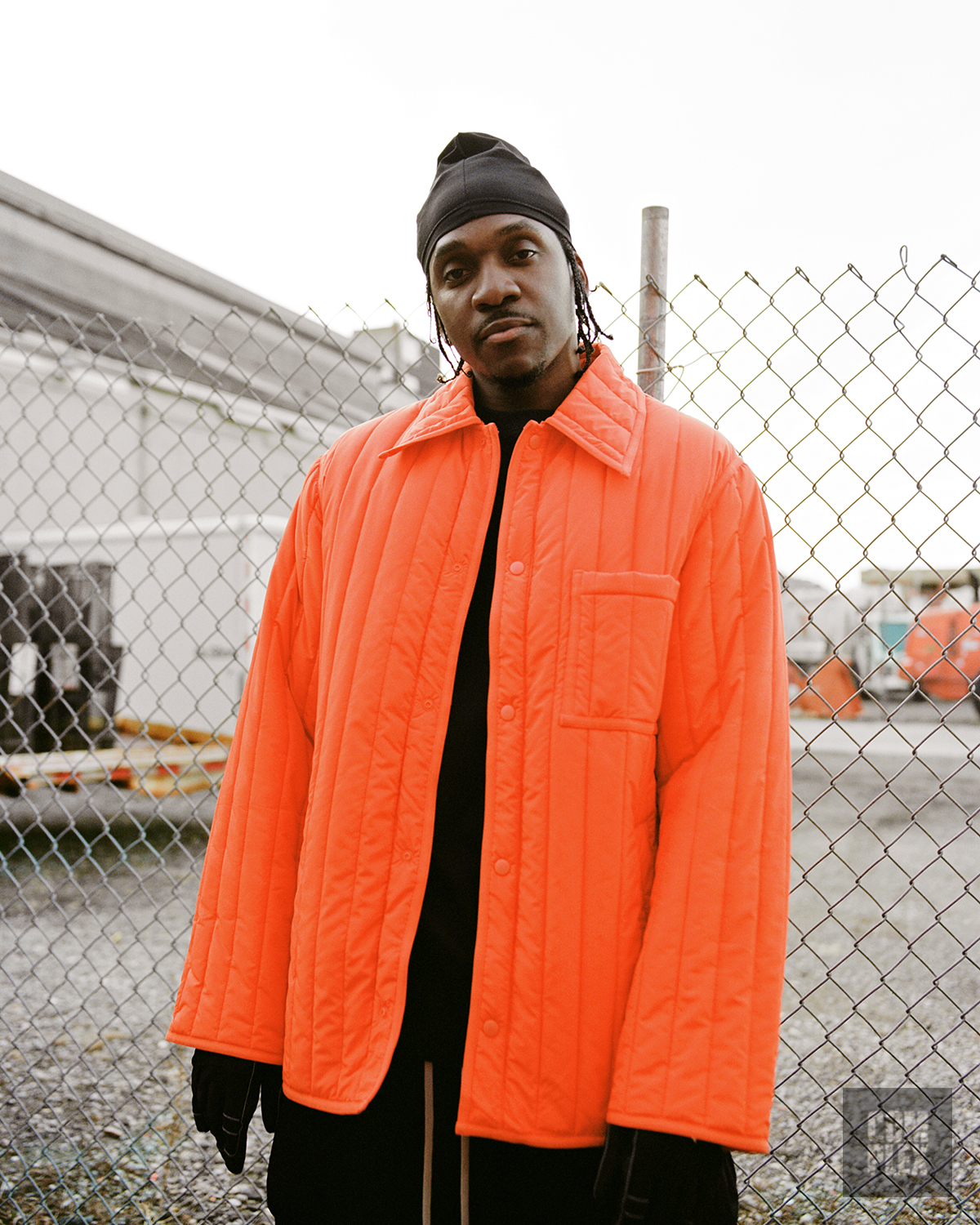 Pharrell wanted to push his friend to reach beyond his comfort zone, though, so he signed on as an executive producer for the project, alongside Neptunes partner Chad Hugo, and Kanye West. The album isn't cut into separate sides, but Pharrell and Kanye contributed equally to the album, and fans will be able to pick up on the subtle differences in their styles. 
Working with Pharrell is an involved process, Push says. While the two were living with each other during the early days of the pandemic, they would each wake up around 6 a.m. and sift through P's music library. Pharrell's focus was on the compositions of each song, from its structure to melodies. "I'm trying to get to the bottom of the barrel of some street shit, and I've got to go through an orchestra," Push remarks, shaking his head and laughing. The manicurist moves on to his cuticles when he sighs, "But you've got to do it. You've got to let him go through his process." 
Because of their contrasting ideologies, things got tense at times, and depending on Push's mood, he'd have to stop the session. "Sometimes, I'm just like, 'Man, alright, let's go ride a bike or play pool.'" Other times, they'd watch Joker—specifically the sinister origin story with Joaquin Phoenix, Push reveals. "That was helpful," he says. "What happened was, we would mute [the movie], and we'd be playing the music or the beat while it's muted. You could see the motion and we'd be like, 'Oh, that's a marriage right there.'" 
"Ye just wanted to listen to me rap all day."
Pharrell also referenced The Notorious B.I.G. throughout the process. "Man, Big did this," he would say. Push jumped back and forth between listening to Big's Life After Death and Jay-Z's Hard Knock Life Vol. 2. It made it easier to work with Pharrell, but he says, "Trying to live up to some of them standards is kind of crazy."
When it came to working with Kanye, Push says Ye's sole priority was the raps. "He just wanted to listen to me rap all day," he adds. "He likes when I talk about all types of things. He just likes to hear my perspective. It shows him my attitude." 
"Diet Coke," Pusha-T's first single from the album, is co-produced by Kanye and 88-Keys, but also incorporates some of the compositional elements Pharrell was looking for, specifically the use of repetition. The artwork, created by artist Sterling Ruby, was also facilitated by Kanye. "I met [Sterling] at Kanye's warehouse," Push recalls. "We were actually talking about kids' clothes and going through ideas when Sterling came through. Ye kept saying, 'Listen, this is going to be next level. He's the next level.' He kept pushing me because we'd been beating ourselves up about how outdo DAYTONA."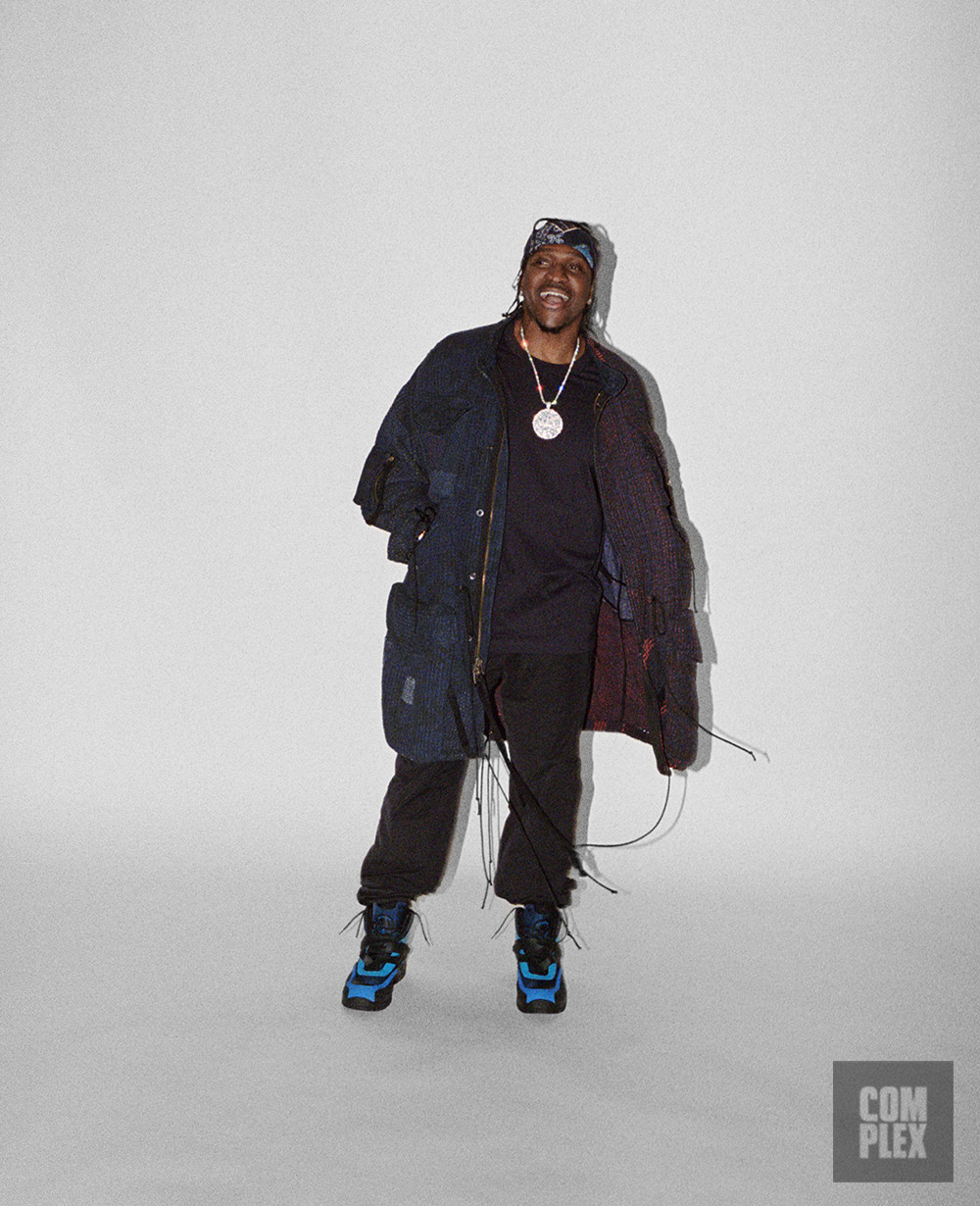 The cover art for DAYTONA was controversial and provocative. Kanye reportedly paid $85,000 to license a photo of the late Whitney Houston's drug-infested bathroom. At the time, Houston's ex-husband Bobby Brown said it was in "really bad taste." Now, Pusha-T says that he's not concerned with anyone's feedback, but he knew he was on the right track when it came to the artwork after receiving one particular email.
"Randomly, right before this meeting, Jay-Z emails me, and he was like, 'This is the best artwork I have ever seen.' I mean, he just goes on this rant in the email: 'Man, this is what this shit's supposed to be,'" Push shares, bringing up the DAYTONA art. "I showed Ye the email, like, 'I wonder what brought this about.' But I thought, this is how good the artwork is. It doesn't have to be one to one with the DAYTONA cover. It just needs to raise the taste level." 
There's a pause in the conversation as Pusha-T converses with the manicurist about which hand to buff first. It's awkward timing, since we're in deep discussion about the album, but the mention of Kanye leads us to the recent news cycle. Ye has made recent headlines over Instagram posts about his children, ex-wife Kim Kardashian, and her new boyfriend Pete Davidson. And in a more positive light, he inspired fans with the three-part Netflix documentary, Jeen-Yuhs: A Kanye Trilogy. These are two juxtaposing storylines about Kanye that have become increasingly difficult to make sense of, so I ask Pusha-T what people are getting wrong about Ye.
"You know what," he begins. "Man, we just had a conversation about this yesterday. I don't know what people are getting wrong. I want people to admit, though, that he's right a lot of times. The way in which he delivers [his message], a lot of people aren't ready for. It may be off-putting, because I don't think people like true opinions all the time. But I watched that doc again the other day, and I got to say, he's been right a lot. And when you're second-guessed and you end up being right, that can only fan the flame of how a person's going to act the next time they want to be right about something. I think people's opinions are based more about the communication versus the actual end-all-be-all result."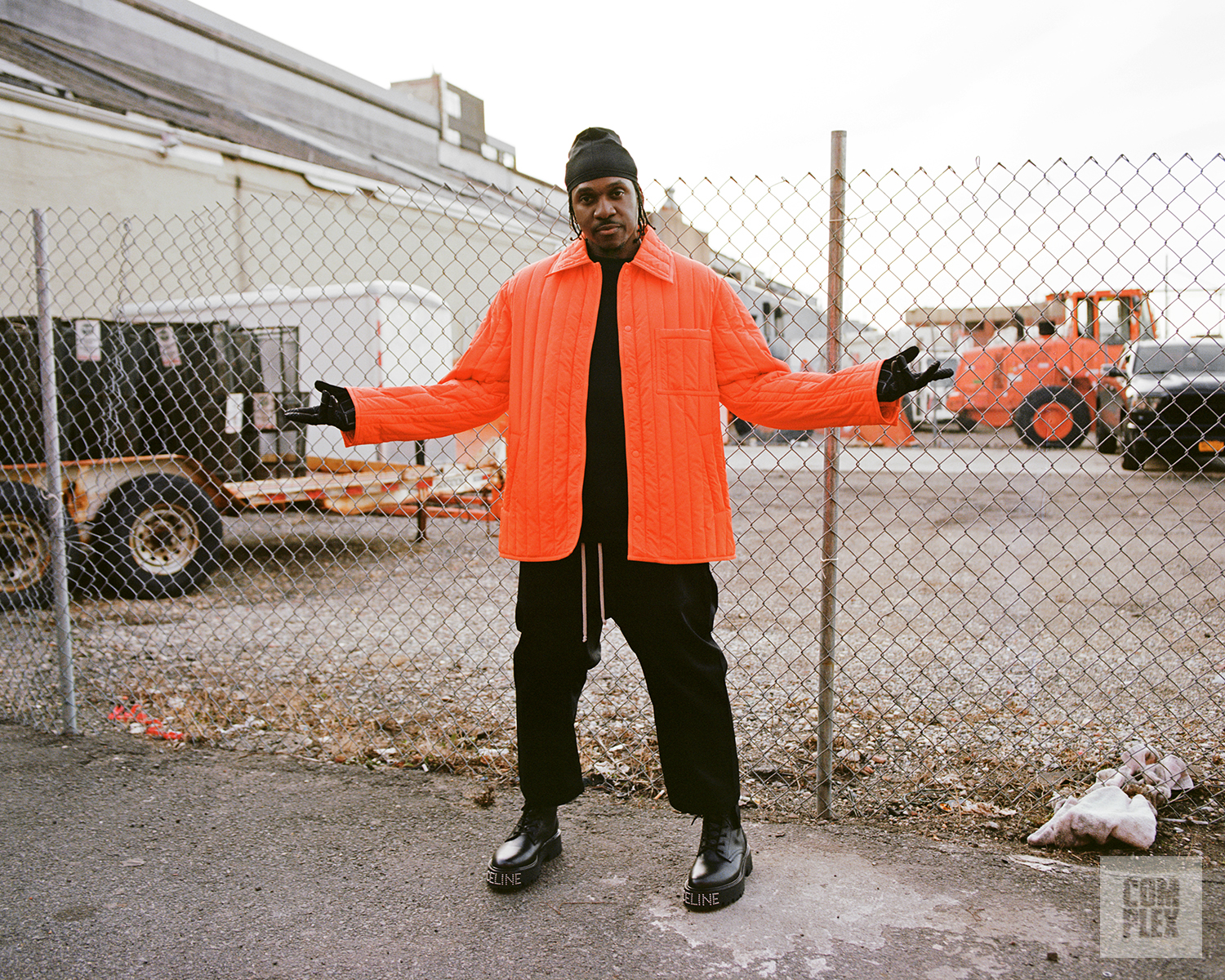 Now that that's settled, we get back to the album. Aside from Jay-Z's "random" email, Pusha-T also recently confirmed that the mogul will appear on the album. He won't directly talk about the song, but it's very possible that Hov drops some gems. "You can only say the type of shit he says when you've reached that level of success," Push suggests. "I reach out to him because I know it's something that I can't say. It's dope, and it should be inspiring when you hear it. To say some of the most outlandish shit, and it actually be true, that should be aspirational to all rap artists." 
So, how do you compete with someone like Jay-Z? You don't. "Hell no," he exclaims. "I don't compete, but I do try to impress him. I write my verse, then give him my verse, and be like, 'Can you please add something to this?' The battle for me is him hearing it and saying, 'Yeah,' because if it's not that impressive, he might be like, 'Eh, I don't need to do it.' Or, 'This ain't the one.' That's my competition." 
"Jay-Z emails me, and he's like, 'This is the best artwork I have ever seen.'"
With a Jay-Z feature on deck, Pharrell and Kanye on production, and Pusha-T doing what he does best, the Virginia Beach rapper says this is going to be his best album yet. To be exact, he claims it will be "1,000 percent" better than his critically acclaimed 2018 album DAYTONA. With 12 tracks total (five more than his third studio album) Pusha-T says this LP "is more well-rounded. It's more colorful. I think DAYTONA was solid. It's that thing, and I gave you that thing. I feel like this one is more well-rounded, with the same amount of greatness, but the bars are better and I push myself as a songwriter." 
In 2018, Complex named Pusha-T the Best Rapper Alive. And Push thinks highly of himself, but he's also fair. I ask him who he thinks the top candidate for Best Rapper Alive is right now (besides himself) and he gives me a top three. Since he hasn't dropped yet, he concedes the title to either Tyler, The Creator, J. Cole, or NBA YoungBoy. "Tyler going crazy. Cole is doing his feature things, and YoungBoy, his output is dumb," he continues. "To me, rap is just that multilayered and multi-genered that you have to name those three."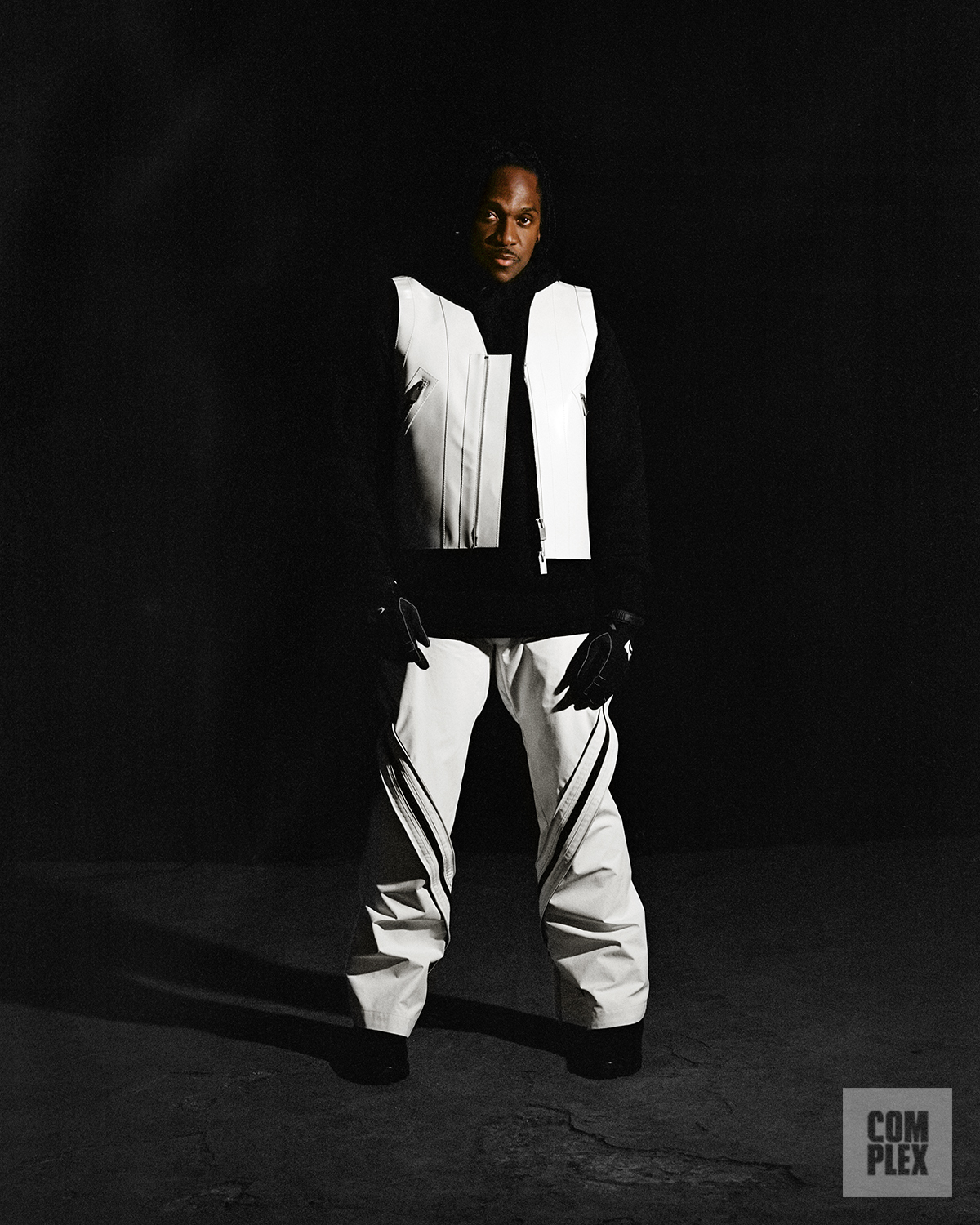 In January, veteran music executive and Pusha-T's manager Steven Victor announced the rapper's album will fulfill his contract with Def Jam. "Def Jam has been a good partner," Push says now, "It's always good to have options, though." Going independent has crossed his mind, and he explains, "I've actually been talking about that as of late. Right now, I'm going to take this time and the luxury I'm afforded to just create and then figure out what I'm going to do. It's a lot to think about when you just want to rap. I really want to get this album out. I want people to love it. Then I want to get onto the next because I'm on my next shit already."  
With Kanye and Pusha-T's ties with Def Jam seemingly coming to an end, there are also questions about the future of GOOD Music, which Push was appointed president of in 2015. When the topic comes up, Push deflects and says to ask its owner about the state of the label, but he will always rep the brand with pride. "GOOD Music is a staple, and it's what I'm representing wholeheartedly when I drop," he explains. "As far as the business goes, and how he wants to run that, that's up to the label owner. But as far as the brand and the shield on my back and my chest, I'm rocking with it." 
The legacy of GOOD Music is intact, but the label isn't as active as it was in the early 2010s, as Ye has devoted most of his time to other projects. There have also been relationship issues with former members. In October 2021, Big Sean announced he parted ways with the label over money issues. And this February, Kid Cudi and Ye had a public disagreement. Still, the possibility of a reunion isn't completely out of the question. "I'm only speaking for myself, but I think the relationships are still there," Pusha-T assures. "I'm going to the studio with Cudi next week. Big Sean is just a phone call away. So, the relationships are still there. I just think it would have to be a central focus on music. And, of course, with Ye involved and on the same type of time. We always try to do something different or outdo what was done before. So, maybe it'll come back in a different way."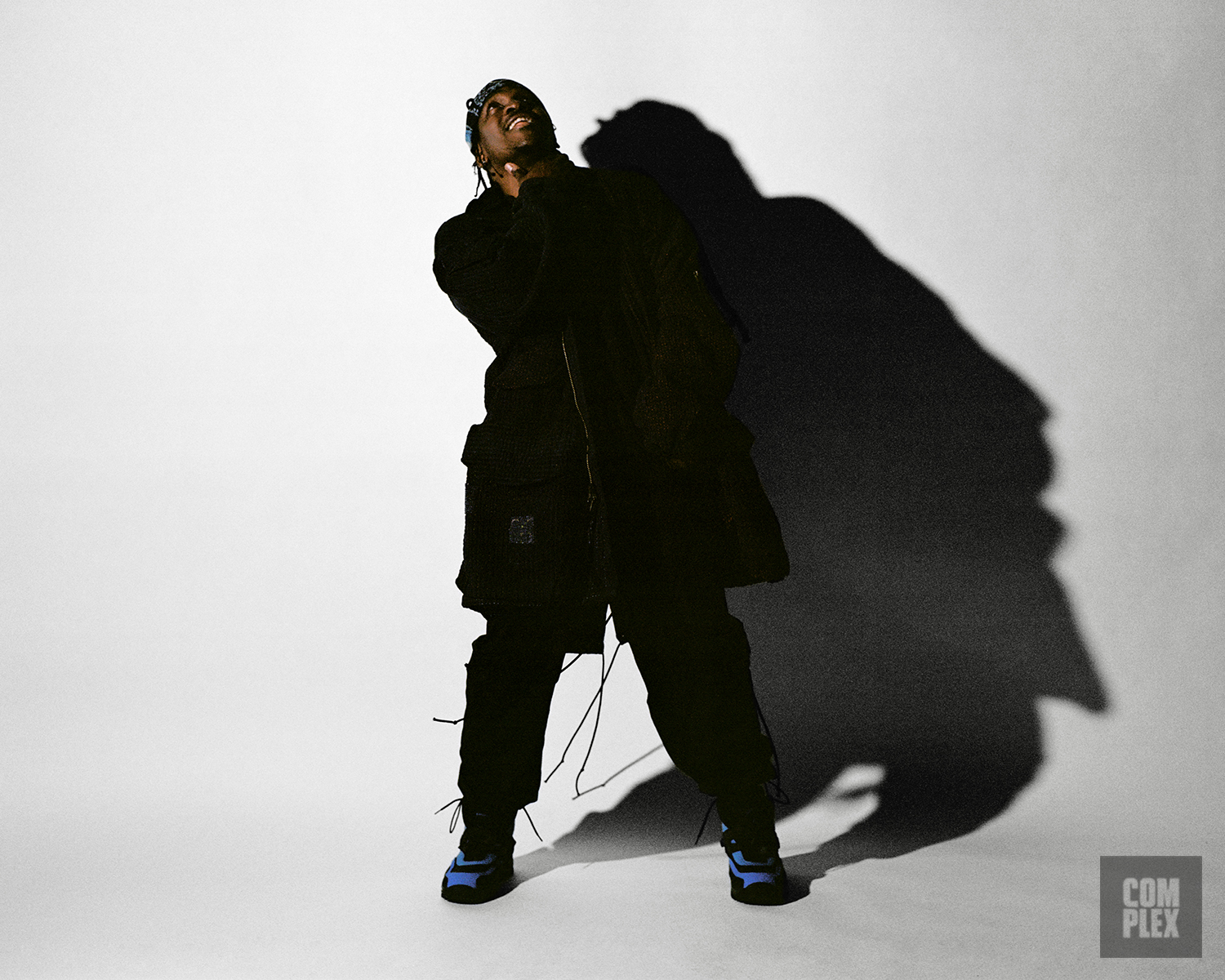 The manicurist's job is complete, and Pusha-T admires his glossy, clear fingernails before getting ready to head to the video shoot. His schedule is stacked. In addition to the music video, Push is scheduled to appear on The Late Show With Stephen Colbert, before taking care of some other business endeavors. He keeps a tight schedule these days because his first concern—even before the music—is being a father. Push and his wife welcomed their first child, Nigel Brixx Thornton, on June 11. He says becoming a dad is his "proudest moment ever," explaining, "Fatherhood is the best thing. That's my best verse ever, like a 48-bar verse. The best one, line for line. No wasted bar." 

Now, he doesn't have a second to waste. "I'm very precious of my time," he explains. "My team definitely knows I could be home." Before he left for New York, Push recalls how difficult it was leaving his son, remembering, "I kept forgetting shit in the crib, so I had to keep going back. My son was crying when I left, and I'm telling my nanny, 'Sorry.' All of those things wear and tear on me really bad, so I don't have time to play. 
"I'm really here to get it done," he continues. "I don't play in the studio with people. If you tell me to come to the studio, let's go in the studio and get it done. I don't want to toy with you. I don't want to sip Hennessy with you. Nine [times] out of 10, I don't want to do your feature. I'm sure I don't. I don't want my time to be taken from him. I'm not playing about anything that could disrupt his comfort."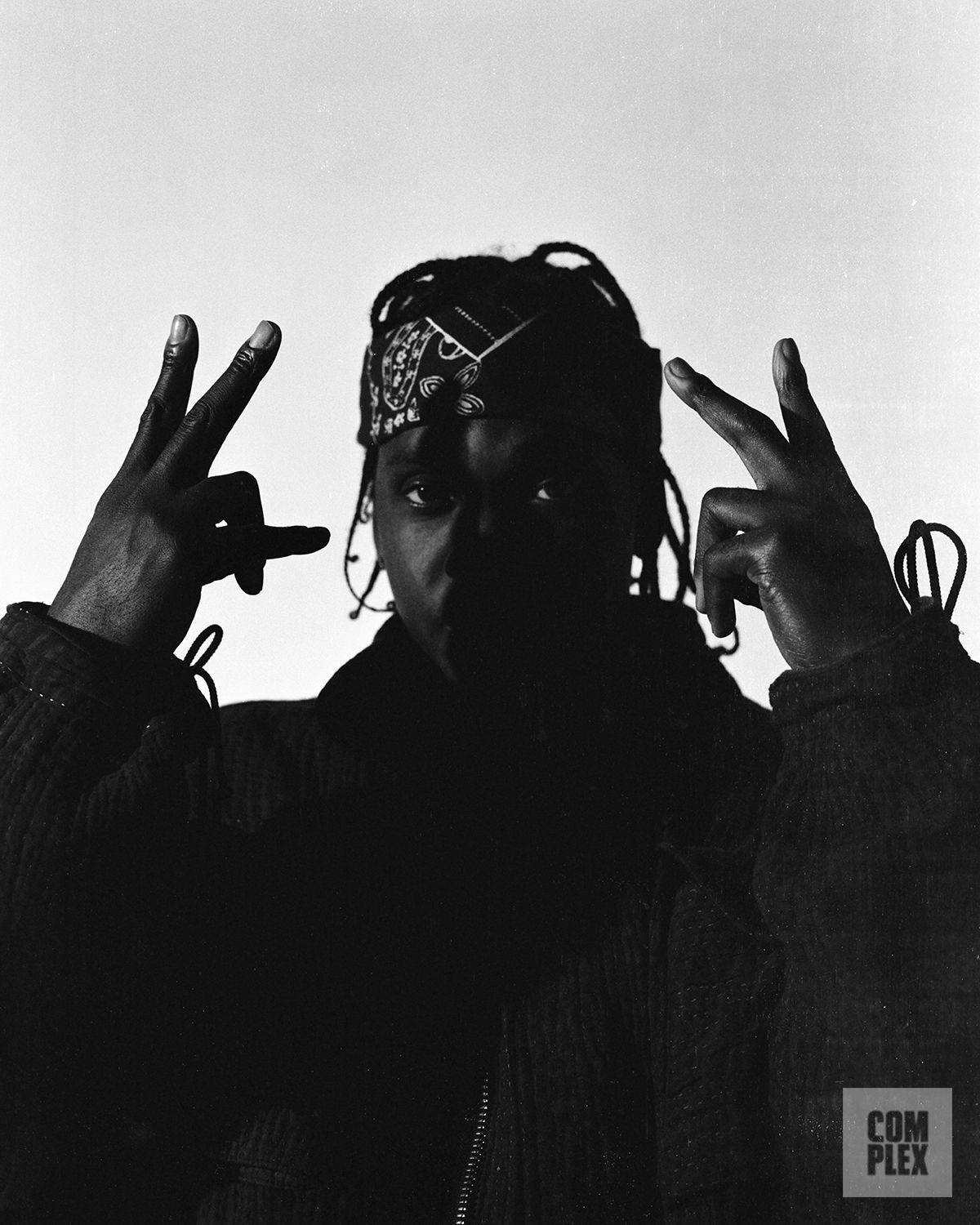 Despite his familial obligations, Pusha-T says retirement hasn't even crossed his mind. "Aww, man, no! There's no such thing," he responds, putting his shoes on. "See, I have a new goal: to see how long I can stay rapping at this level. As long as I'm rhyming in this way, I think that's good for rap as a whole. We haven't gotten a chance to see who our Phish or Rolling Stones or Grateful Dead is. We're the youngest genre. So, we've got to keep it going." 
Nevertheless, Push acknowledges that he knows when to bow out. "When my jeans become a little too bootcut and I start talking like, 'That shit ain't hot like it was!' When I start talking like that, it's time for me to pack it up," he laughs. 
For now, he's still ascending, and there's unfinished business to take care of. "I want to show people the difference between myself and other artists," he explains. He holds his freshly manicured hands at an arm's length apart, and adds, "I always want to be this far away from everybody else. I feel like sometimes people forget that until I drop." 
On Pusha-T's "Hear Me Clearly," two lines stand out as particularly striking: "Hear me clearly, if ya'll niggas fear me/ Just say ya'll fear me, fuck all these fairtytales." Soon, the world will hear Pusha-T again, and his message will be clear. 
"I'm always looking to heighten what it is I do in the rap game," he says. "This is a legacy thing with me. This is all about being great. This is all about making sure that the subgenre of street rap is seen at the highest levels, and can compete with everything that's popular. This is the realest real estate in hip-hop, and I'm the Martin Scorsese of it."