A Conversation with Pusha-T, the Best Rapper of 2018
Pusha-T dives deep on his third studio album 'DAYTONA', discusses his next album, and weighs in on being crowned Complex's Best Rapper Alive of 2018.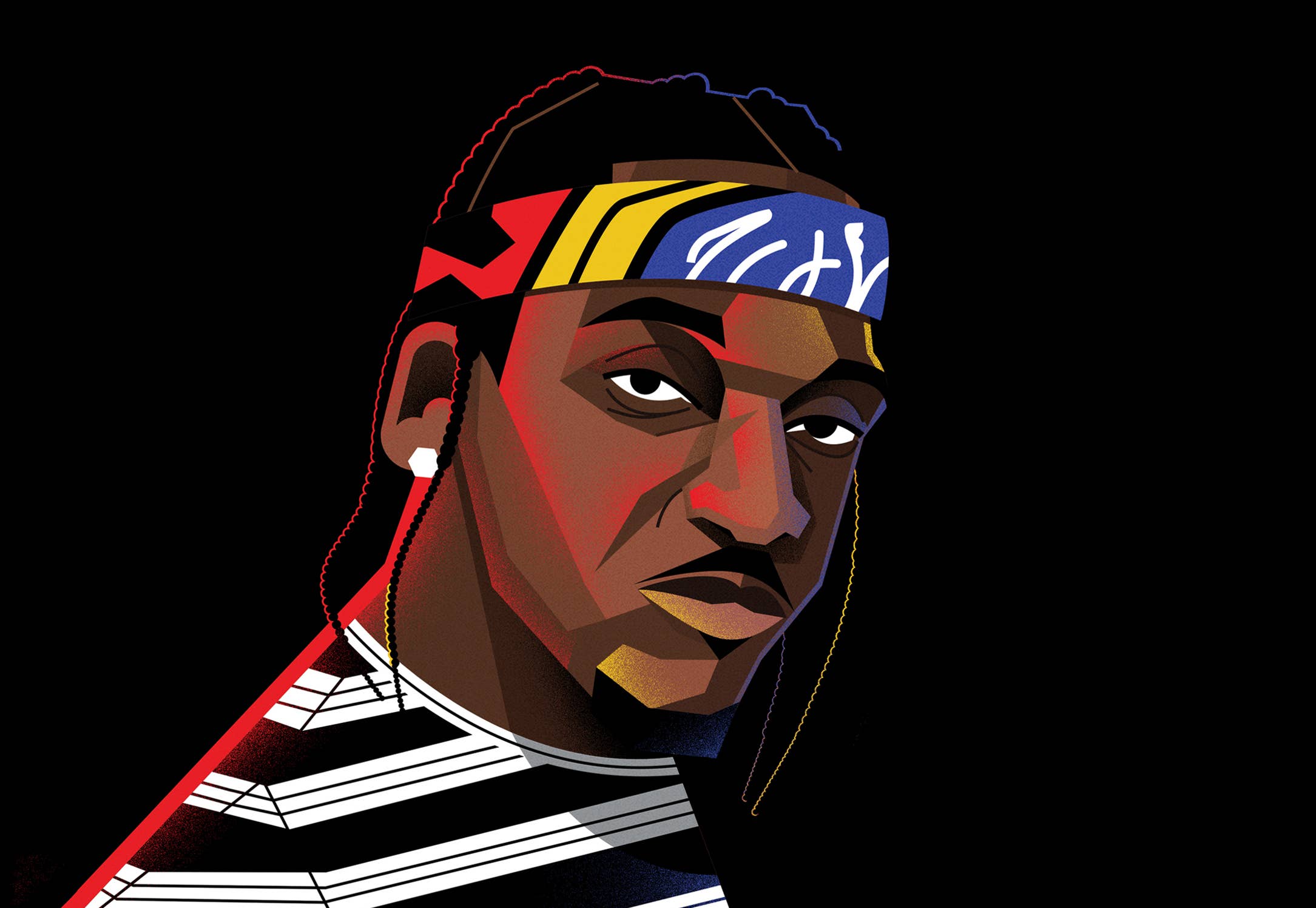 Complex Original
Illustration via Dale Edwin Murray/Complex Original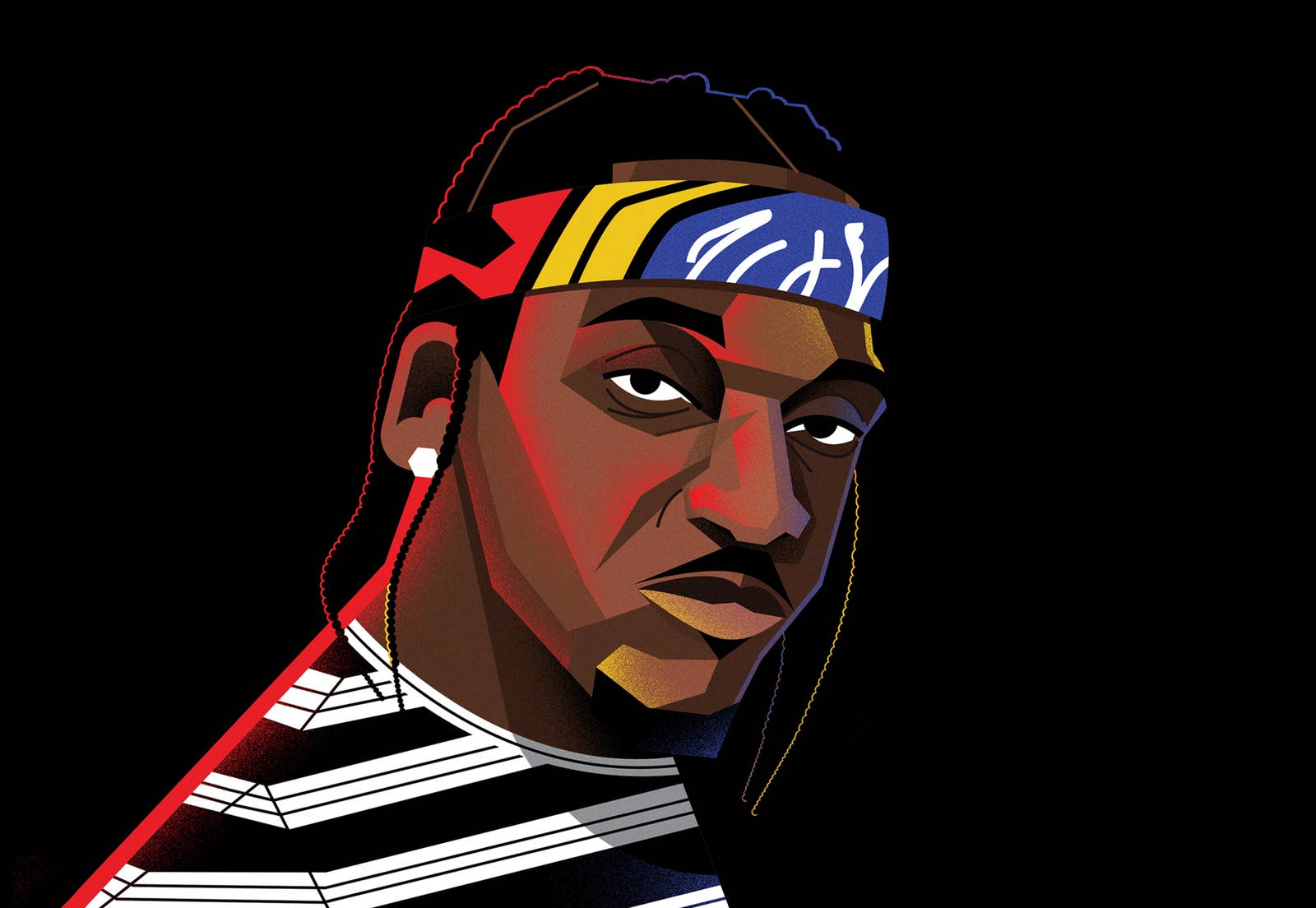 Pusha-T is the best rapper alive, at least as far as 2018 was concerned.
In the factors we measure to determine this honor—acclaim, skill, impact, and a general command of the zeitgeist—Terrence takes the crown. With DAYTONA, he made a compelling case that a thoroughly entertaining and complete body of work could be compressed into seven songs. No one could top the album's marriage of intricately crafted yet accessible bars with equally arresting production, and zero filler.
Pusha-T started declaring that he had the rap album of the year as soon as the project dropped. As reviews from critics and listeners alike poured in, very few people disagreed, and that was before he stopped the culture in its tracks with one of the most talked about diss tracks since, well, "Back to Back." A win is a win is a win, and Pusha took the W in a beef with the most popular rap artist in the game. Then he rode that wave into the fall, as age only strengthened DAYTONA's replay value.
Now, Pusha has been rewarded with a Grammy nomination that even he himself never suspected possible. The ceremony is Sunday, but the award is beside the point. Pusha knows these politics are paradox, after all. But the acknowledgment? That's the bow on a year in which the rarity that is Pusha—purist technical values amid a sea of pink-haired rappers—was proven as a commodity worth celebrating and a brand worth believing in.
To honor the occasion, Complex spoke with Pusha-T for a definitive recap of his past year, which touches on the craft that went into DAYTONA, the aftermath of its release, and where he plans to go next.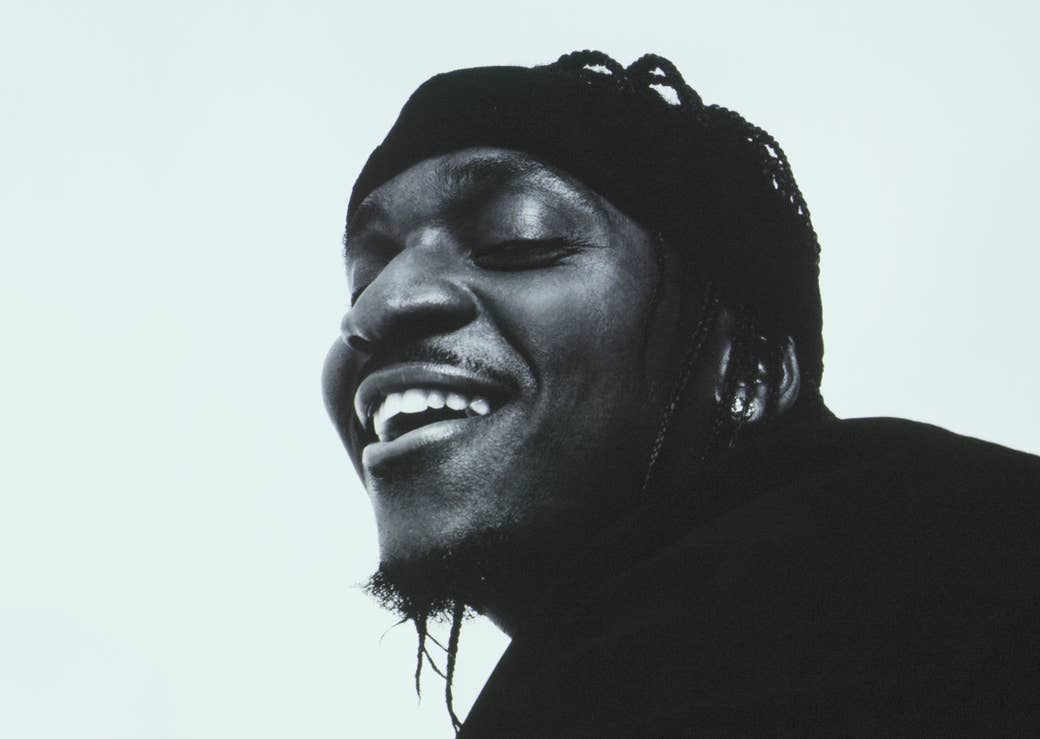 How are you feeling heading into the Grammys this Sunday?
Really good. Super excited. I've never seen anyone be nominated for such a pure, pure rap album in all of my years of life tuning into the Grammys. This is a big thing for me.
You end DAYTONA on "Infrared," which finds you acknowledging that they're not real enough to recognize an album like this. Then they turn around and nominate it for the highest rap honor. Honestly, did you ever imagine this actually happening?
Not at all. I mean, in recording this, there were a couple different revelations that I had come to. One of them was just the fact that I should be so thankful that my career has panned out the way that it's panned out. The lack of compromise that I've had in my career is... Man, it's incredible. To me, I feel like there aren't many artists who've got to be their true selves the whole way through—who have just really stuck to their guns and really dedicated themselves to street hip-hop. With that being the case, I said that in "Infrared," just thinking that, of course my core fan base would understand and get it, and think my album was great. But I never thought that it would be seen or be able to even be recognized on such a platform.
And that was ultimately OK with you?
One-hundred percent fine with me. I mean, you know, not everything is for everybody. Being honest, I think it was, like, two years ago when I first heard about the Grammys creating the committee for the rap category. I remember thinking, "Oh, man, that's dope. So now I'm not gonna see a pop hybrid with a rap verse being in the best rapper category." You know what I'm saying? Things like that have happened in the past, or things that just weren't 100 percent solely true to the title rap, best rap album. When I heard about that committee, I was like, OK, that's a dope step in trying to make sure that they got it right.
"I just don't think that any artist measured up to their true selves like I did, lyrically. Because that's what rap IS about."
We're talking today on the occasion of Complex naming you the Best Rapper Alive. What does it mean to even be the best rapper today, in your opinion? And why do you feel like that honor goes to you?
I feel like it goes to me, number one, because I don't think any artist this year, any rap artist this year, put out an album that lyrically personified them and what they stand for better than I did with DAYTONA. Everybody knows this has been my content forever, this has been my angle, this has been my approach, this has been my attack on the rap game. Like, lyrically. Other artists have put out albums that I rocked with. I thought they were good—and what I'm saying is, in whatever genre or style of rap that they do. There's so many sub-genres of rap now, whether it's more conscious, West Coast, East Coast, whatever it is. Regardless of what it is, I just don't think that any artist measured up to their true selves like I did, lyrically. Because that's what rap is about.
You've mentioned before that Kanye had to sell you on the idea of going down to seven songs from, like, 10 or so. How hard was it to pare down? Were there tracks that we didn't get on DAYTONA that were almost in contention for the final seven?
Well, to me, there were definitely tracks that could've made the cut. But it was more of a sonic thing with 'Ye. He definitely was married to those seven in a different way, and he was just very stuck on the number seven. He was like, "Man, you know, with everything that's going on in the game—they're doing, like, 20-track [albums]—we just really need to change the silhouette of what this is. This is the best thing going, and nothing is gonna be able to touch this." And he was adamant. We go back and forth about things, but when he's super adamant, sometimes I just rock with him. Like, "All right, man." Because you know, I'll do the rapper thing, and the rapper in me loves everything I say. I have an emotional connection to everything that I do. He's listening from a different point of view, so that decision, it was something I had to ride with him on. And I'm glad I did.
There's the one that he had on the board, though, that we're still waiting on. I think it was called "Sociopath." We need like a loosie for that, or something.
We do. We definitely do. And remember that these were just the titles of the beats that he had made himself. So the title of that maybe has changed by now as well. But I want the world to hear that as well.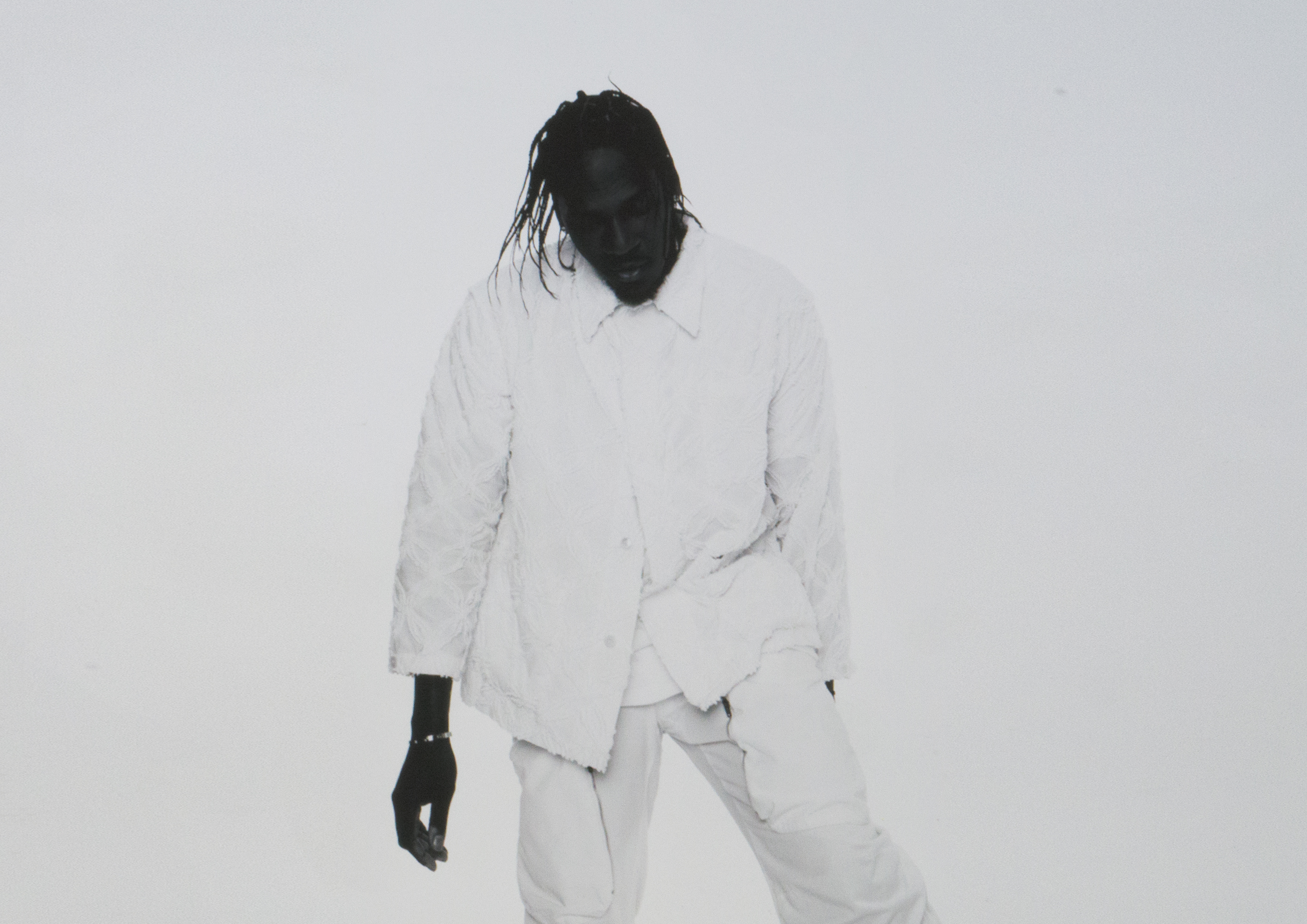 You've worked with Kanye numerous times before, and made some classic records, but something about you guys uniting for a full project feels different. What was different about the way that you locked in with him this time?
We were on a mission, man. He made sure that we—and when I say "we," it's myself, him, and his engineer at the time, Noah—he made sure that we went back to a place where we [revisited] everything that we loved in hip-hop. We made a list of our favorite [albums]: Some of it was hip-hop, some other shit was rock, some of it was R&B. Once we made those lists, we basically just listened down to all of those records. It may be a certain stab in a Lauryn Hill song, or just a certain intro to a Raekwon song, and he would stop everything and be like, "Man, this is the sweet spot of this song. Every song needs to start like this on DAYTONA." Well, we didn't have a title at the time. But "everything on your album needs to feel like this." Like, "Glaciers of Ice," that was one of the songs. He'd be like, "Man, that emotion needs to be evoked in something on your album for sure." He just really broke down, sonically, what the mood was supposed to be. We've never really done that like that.
When the album dropped, it was celebrated immediately, but even acclaimed works have aspects that go overlooked. Was there a component of the album that you always felt was underrated?
I think "Games We Play" is the best hip-hop song of 2018.
That's my favorite on the album.
That is the best pure hip-hop record of 2018, by far. I don't know if there's a better marriage of beats and lyricism. I don't believe there is. Some great verses this year and everything, but out of the whole, I don't know if anything was better than that. You have that, and you have... Man, the hardest first line of 2018 is fucking "Hard Piano." Forrrr suuuure. Also, what's being overlooked is the transition from "Come Back Baby" to "Santeria." By far the best transition in '18.
Even disregarding the short length, the replay value is so high because the sequencing is just nuts. Like, you have to let it rock.
I'm so fortunate to have so many different things that I love about the album. Even the transitions are great. Man, the transition from "What Would Meek Do?" to "Infrared" is amazing. It made it so enjoyable to perform this whole year. I felt like I was on tour forever, but it was great.
"I think 'Games We Play' is the best hip-hop song of 2018."
One of my favorite parts of "Games We Play" is how you flip "Politics as Usual," but then, later on the album, you interpolate one of JAY's bars from "The Prelude" on Kingdom Come. I love that because everyone dives on that album all the time, but it does have gems in its own right.
No, for sure, for sure. And you have to remember that Kingdom Come came out the same year as Hell Hath No Fury. So me, being the competitor, I always used to A and B them joints, 'cause you know there's no album better than Hell Hath No Fury. So discovering the gems on Kingdom Come was like, I had to. Man, I definitely lived with that album and was very, very meticulous in thumbing through it when it first dropped.
Now, to that end, you're also a self-professed huge Nas fan, and with you guys all kind of working in and out of Wyoming at the same time, I find it kinda crazy that Nas didn't end up on the album—or you didn't end up on his.
I mean, look at how everything was so up to the wire, right? I didn't have time. Like, I put my album out and I had to go on the road ASAP. When [Kanye] made the announcement of the date, man, we were booking dates from that day forward. Agents calling the phone and putting the tour together. I don't know if he gets that part of [the business]. Because, you know, he was a bit bothered, I think, that I didn't come back to Wyoming after that. But I couldn't, you know what I'm saying?
You had an album to promote.
Listen, I got press to do, and shows. It's like, I gotta run with the ball at this point, on every level. Me being in Wyoming wasn't what was best after the fact. Like I said, when you put out these dates—I don't have the Kanye West luxury of, you say a date, and you get there when you get there. I have to really support mine. You know what I'm saying? Like, really. So with that being the case, yeah, I probably missed the Nas sessions, and missed the opportunity to come back and be a part of that. Listen, for "Feel the Love," I was overseas somewhere. It was either Canada or I'm feeling, like, Sweden—somewhere overseas. But even that came about via "Hey, I need you to get to a studio ASAP." I'm like, "I don't know if I can get to..." "Nah man, you gotta get to a studio. You really do." 
But, you know, features for the sake of doing features, I'm not really into. If I feel like I don't have anything to say on my song, or after my verse, and I need another verse, then I start thinking about, "OK, who belongs on this?" But just to say that you got a feature from somebody... And listen, to be honest with you, man, everybody has a million different things going on as well. Under the time constraints we were on, I wouldn't even have pushed that onto Nas. I wouldn't have done that myself. We was running and gunning.
Your selective approach towards features for your own projects shows, but what is it about you and Rick Ross together that always yields fire?
Man, Ross is flawless. Ross is one of the only rappers who I can ask for a feature and turn my back. I mean, first of all, he's [actually] gonna send it, and it's gonna be flawless every time. He understands. When I send him things, I send it to him with my verse. The beat, the verse, the part that's open for him. I want the chemistry to be totally intact, and he marries it and matches it every time. People might get sick of me and Ross collaborating, you know what I'm saying? I'm never sick of it, ever. I wanna hear it every time.
How do you think your technique has changed from the Clipse days to now?
I feel like right now, I'm running a race with all of the greats that I feel like never gave [us] that album that I wanted from them later in their careers. You know, sometimes I just felt like, "Damn, I wish Em gave me a Lyricist Lounge album." The guys who have really achieved that success, like, fully, fully achieved that level of success, I want them to talk. I wish they made it for that core fan and for that time period. And that's just me being selfish. So it's like, with the way music is consumed, how time has changed, and where I am in my career, I feel like I'm afforded that a little bit. I'm afforded that in just how consistent I've been. So DAYTONA is the product of me just trying to do something that I felt like others haven't done at this stage in their career.
You mentioned being under the gun for the five-album rollout. Looking back on that experiment, how do you feel about it?
I thought it was awesome. The only thing that I would've changed about it is I wouldn't have let the public know we were doing it like that at all until it was time to let them know. Like, I'm not into a lot of talking these days. I wouldn't have announced it. I would have done it, and we could've kept the same albums, and I would've rolled each project out with a little bit more organization. That's the only thing. And listen, I don't even know if that's a good thing, because part of the chaos is part of the magic. You never know. But just looking back, looking at all the great material, the great music, the great production, spearheaded by 'Ye, it was like, Man. I wouldn't have told the public nothing, and I just would've hit 'em. Back to back to back, week to week to week. Whatever.
That would've been crazy if we went into that having no idea at all.
You know what I'm saying? And people just would've been being hit and not know what was happening. A bit more control of what we had going on, and not letting everybody into our world as much. That's what I would've changed.

"Album nUmber Four, I think I wanna get back into more song structure, and bridges, hooks. More of my '02 self. More of my '02 Clipse self."
What is something that you want to improve on for album number four?
Well, I think on album number four, I should just show the different chambers of myself. I feel like when you look at DAYTONA, you have the best rendition that Pusha-T could've tried to make for a Cuban Linx album. It got the acclaim, and even if they don't put it next to that—which, I don't know if too much is next to that—just know that's what I was aiming for. And with the acclaim that it's gotten, I'm happy with that.
Album number four, I think I wanna get back into more song structure, and bridges, hooks. More of my '02 self. More of my '02 Clipse self, actually. I feel like that way, if I execute on that, then you're actually seeing both sides. You're getting just the rap purist of me, and then you'd be getting the new rap artist who went through the school of Neptunes, being from Virginia Beach, seeing the Teddy Riley era, listening and loving all of this stuff. Just trying to absorb all of that energy—Timbaland, Missy. I think those are two different sides of the spectrum. And one I just executed on. The next one, hopefully, I could do just as well.
Now when you say '02, does that mean you gotta get in with the Neptunes to really restore the feeling?
Hey, man, it'd be great. It'd be great. They're only one call away.
After all this acclaim, and with the Grammy nomination, is there more pressure on you as you write this new one?
Not at all. Not at all. There's no pressure, because the one thing that has been a constant with me is attention to detail and attention to lyricism. What people think is amazing is really the criteria that I live by. I'm not ever changing that—never wavering. So it's like, I only know how to do this one way, and that's the way everyone's accustomed to.
You tweeted something a couple weeks ago that raised a few eyebrows. With new music coming on the horizon, is the plan to keep doing you until someone steps out of line? Or can we expect some smoke on the new music, regardless?
Man, I think people got that tweet a little misconstrued. I don't know why anyone ever said that was about music. I never said that. And that's just that. I never confirmed anything in regards to music with that tweet.
"The Story of Adidon" became an all-time diss track. Was being battle-tested something that you always wanted to check off your list? Is that important in the hallmark of being a great rapper?
Nah, not really. The battle culture, the URLs and the Smack[DVD] and all of that, that's something that I'm so much of a fan of that I don't even think I live up to the expectations of some of those guys who I think are phenomenal. Being battle-tested, I look at that as a whole other sport. The type of research that I've seen done on that level is just, it's crazy. So it's nothing I really wanted to check off, 'cause that's something you have to really dedicate yourself to. And I don't think I really have the time to do it to that level.
One of my favorite songs of yours is "I Am Forgiven." It strikes me that DAYTONA has a lot of aggressive energy on it, and there isn't much in the way of any quieter, reflective tracks like that or "40 Acres." Even "Santeria," which is touching on some emotional stuff, is still very hard-hitting. Are those types of songs something you might circle back to on the next project?
I would love to, man. I remember "I Am Forgiven," and I loved it. So many people gravitated towards it. It remains to be seen, but album number four, I'm only striving for greatness. That's not gonna stop.
Read Complex's selections for the Best Rapper Alive, Every Year Since 1979.