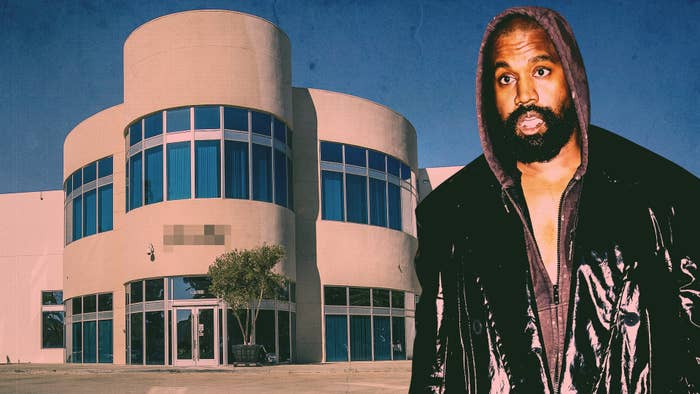 Kanye West took a giant step away from the spotlight following his controversies in 2022, but just when you thought he was gone, the rapper has made it into a few headlines yet again. The newlywed, disgraced rapper is entangled in a lawsuit related to his private school, Donda Academy. 
In April, Cecilia Hailey and Chekarey Byers—two former teachers at the school—filed a lawsuit for wrongful termination, discrimination, and unlawful withholding of wages. Hailey and Byers were both hired in January 2022 but were fired two months later after concerns about "unlawful and unsafe educational practices."
They are not the first former employees to raise concerns about the school's daily functions. Donda Academy launched in 2022 in Simi Valley, California, opening its doors to an estimated 100 students, ranging from kindergarten to eighth grade. For the most part, Kanye, school staff, and families remained mum about the school's inner workings. But outsiders quickly began to unmask what was happening, with many pointing out unusual aspects such as the dress code or curriculum. By October 2022, the school was abruptly closed and then reopened hours later following West's antisemitic comments in interviews and social media. 
A lot has happened with Donda Academy during its two years of existence. Here is a list of the wildest restrictions and requirements as told by Hailey, Byers, and other sources close to the school.
Donda Academy's lunch menu wasn't exactly what you would call balanced or nutritional. According to court documents related to teachers Cecilia Hailey and Chekarey Byers, the students were only served sushi during their lunch hour. "Students were not allowed to bring any outside food or anything other than water," the former teachers alleged. What's even more bizarre is that the children were made to eat on the floor and eat all meals without utensils.
Like many grade schools around the country, the students of Donda Academy were mandated to follow a strict dress code, but the wardrobe didn't consist of your regular plaid skirts or slacks. Instead, students were restricted to wearing all black. In many videos shared online, students usually wore baggy black pants and T-shirts. Neither students nor teachers were allowed to wear jewelry or Nike and Adidas products. 
Court documents have stated that classrooms were confined to the first floor of the building; although there was at least one other floor in the building. The reason? Kanye "is afraid of stairs," Hailey and Byers' attorneys said.
Most schools covering kindergarten to eighth grade include math, science, English, and history courses. Not Donda Academy, though. Since its launch, Donda Academy has been positioned as a Christian school. On its website under the "Who We Are" section, it suggests the school's focus is "to be a reflection of God's glory in the world." The learning model also emphasizes helping "students grow in faith and community through daily all-school worship and celebration at Sunday Service." Videos on social media as well as photos on the school website show students in robes and all-black attire participating in choir practices and daily worship meetings. As for what students are taught outside of religion, Hailey told the Los Angeles Times that "they definitely wanted to suppress a lot of information in reference to history. They didn't want the kids to know really about African-American history or Asian-American history." Hailey also noted that information about the Holocaust was omitted from the rubric. Hailey also mentioned to TMZ that she warned parents of the likelihood of their children falling behind in their education. But even then, she said it was difficult for students to transfer out of the school, because the students did not receive grades, report cards, or transcripts to mark their progress. 
There is much more about Donda Academy that we don't know and probably will never know. That's probably because many people, including teachers and families, were asked to sign confidentiality agreements, barring them from discussing anything about the school. This is the least shocking aspect of Donda Academy, as Kanye has asked guests to sign NDAs during his Sunday Service events. 
Donda Academy had a lot of restrictions. In addition to dress codes and dietary restrictions, Kanye did not permit the use of crossword puzzles, coloring sheets, or art on the walls or chairs. Unfortunately, the reason behind these restrictions is unclear other than Kanye just not agreeing with their inclusion. 
Donda Academy didn't not follow safety guidelines. According to a report from The Cut, the school did not have an on-campus nurse. Students with health-related issues or prescribed medications were told to store their belongings in a janitorial closet, Hailey and Byers said. Furthermore, the school did not have a janitor, and Kanye banned the use of cleaning products that had chemicals. Instead, teachers were asked to use "acid water and microfiber cloth." During the classes, the doors were locked from the outside, which presented a fire hazard.