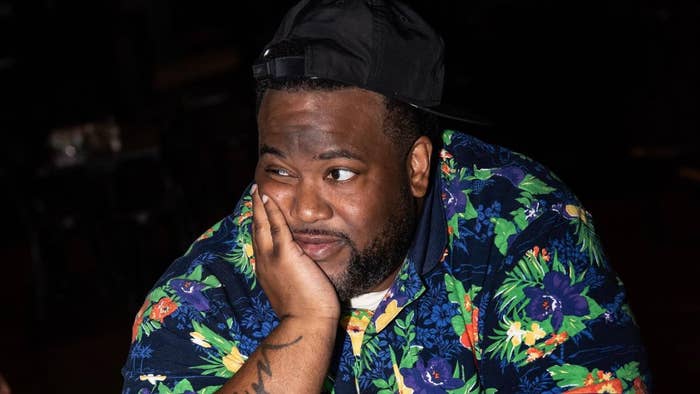 Jonathan "Hovain" Hylton didn't have to speak loudly to be heard. The prominent and beloved artist manager and music industry executive, who passed away last Friday, was known for a steadiness that got his message across. Drew "Dru Ha" Friedman, co-founder of Brooklyn's Duck Down Records, recalled to Complex that "Hovain was very even-keeled and level-headed, and practical. He didn't have to dominate a call. He wasn't a loud person. He didn't have to oversell his message," Friedman tells Complex. "He was extremely effective, but he did it from a place of calmness. In some ways, he was soft-spoken. But when he did speak or make his point, it was always well-respected and valued." 
Hylton's representatives confirmed his death in a statement through his personal social media accounts the following day. The cause of death was not shared; Hylton is survived by his wife, Kim Hylton, two daughters, and immediate family. To the hip-hop and music community at large, Hylton was a genuine and thoughtful leader who shared a deep love for the culture and garnered respect everywhere he went. 
Born in Brooklyn, Hylton began his career under the apprenticeship of late boxing promoter Butch Lewis. After following in his footsteps for some time and growing his own network and business acumen, Hylton broke into the music business. He partnered with music executive Randall "Sickamore" Medford to co-found the Famous Firm and manage Rich Hill, Tommy Hilfiger's son. The duo also launched New York's Famous Factory concert series, which featured acts like Wiz Khalifa and Curren$y before they had developed major profiles. Hylton also worked with rappers Busta Rhymes, Dave East, Young Guru, Wale, and more.
Jonny Shipes, the Cinematic Music Group founder who is credited for discovering artists like Nipsey Hussle and Joey Bada$$, met Hylton as early as 2010 when he was still managing Rich Hill. Shipes notes that Hylton, who worked on projects for T-Pain and Flipp Dinero as Cinematic Music Group's vice president, "was a friend that's hard to find in the music industry." Shipes still remembers and cherishes the advice Hylton gave him about balancing work and personal life. "He would always just want to make sure that others were happy and enjoying themselves. He would be the type to check up on you. He was real sincere and caring." 
Eventually, Hytlon would go on to establish his own company, Hovain Hylton Management, with a roster that included artists like Young Lito. He also supported artists he wasn't personally managing. In an email statement to Complex, rapper Jim Jones recalled Hylton's genuine demeanor and advice that he gave him: "My albums won't be the same. He was the first I would send a project to so he could give me his critiques. It seems like God has a better album for him to listen to… Until we meet again my friend. Long live Hovain."
What stood out to many about Hytlon was his hands-on management style and interest in elevating an artist's career. Eric and Jeff Rosenthal are brothers known as ItsTheReal and have been active in the music scene for over a decade. The duo met Hovain early in their career. Eric recalled a point in Hovain's career where he was overseeing Troy Ave's early career. 
"I remember him coming up with Troy Ave," Rosenthal tells Complex. "The two of them certainly created a whole lot of energy around a New York artist at the time when New York artists were not necessarily the cool thing. Whether that was showing up at events, showing up at birthday parties, they were everywhere and they were hard to miss." 
Hylton and Troy Ave fell out and parted ways in the mid-2010s, but "I think there were a lot of people who hungered for that type of partnership between an artist and a manager or person on the executive side," Rosenthal said. "What struck me most when considering Hovain's entire career was how he reinvented himself after he and Troy split. That's a moment where a lot of people can go one way, and a lot of people can go another way. Hovain was very classy in how he did move on."
Beyond Hovain's years of experience and dedication to the culture, he is also remembered as a genuine person. Both Rosenthal and Jim Jones referred to Hovain as a friend and "confidante." Journalist Brian "B.Dot" Miller, who met Hovain a decade ago through media mogul Karen Civil, said he was "one of the most genuine and selfless people I've ever known." Outside of artist management, Hylton was a professor at Kingsborough Community College in Brooklyn, where he taught "The Business of Music," an eight-week course that explores how publishing and business deals help an artist's success. "He shared the plug," Miller said. "He didn't monopolize information. He wanted everyone to win." 
In the days since his passing, many people have taken to social media to express their condolences and share their memories of Hovain. ItsTheReal's Jeff Rosenthall recognizes how unfortunate it is that Hylton was not able to see how much he was appreciated. "Hovain was somebody who I think always viewed himself as underrated, not accepted, didn't get the flowers that he thought that he deserved. There is a sadness that exists because we still see all the things that people have written after he has passed," he says.
Adds Duck Down's Friedman: "This is an artist-driven business, not a manager-driven business. But the respect that he's getting, I think that he is getting his roses now for how he handled himself while he was here. That's how he'll be remembered as a genuine, stand-up guy. This business is always looked at as shady, but he was one of those who talked the talk and walked it back with his actions."