'Fake' Rappers Are Taking Over the Internet (and Making Lots of Money)
Impersonators of rappers like Drake and Lil Durk have been popping up on Instagram lately, and they're turning the lookalike game into a business.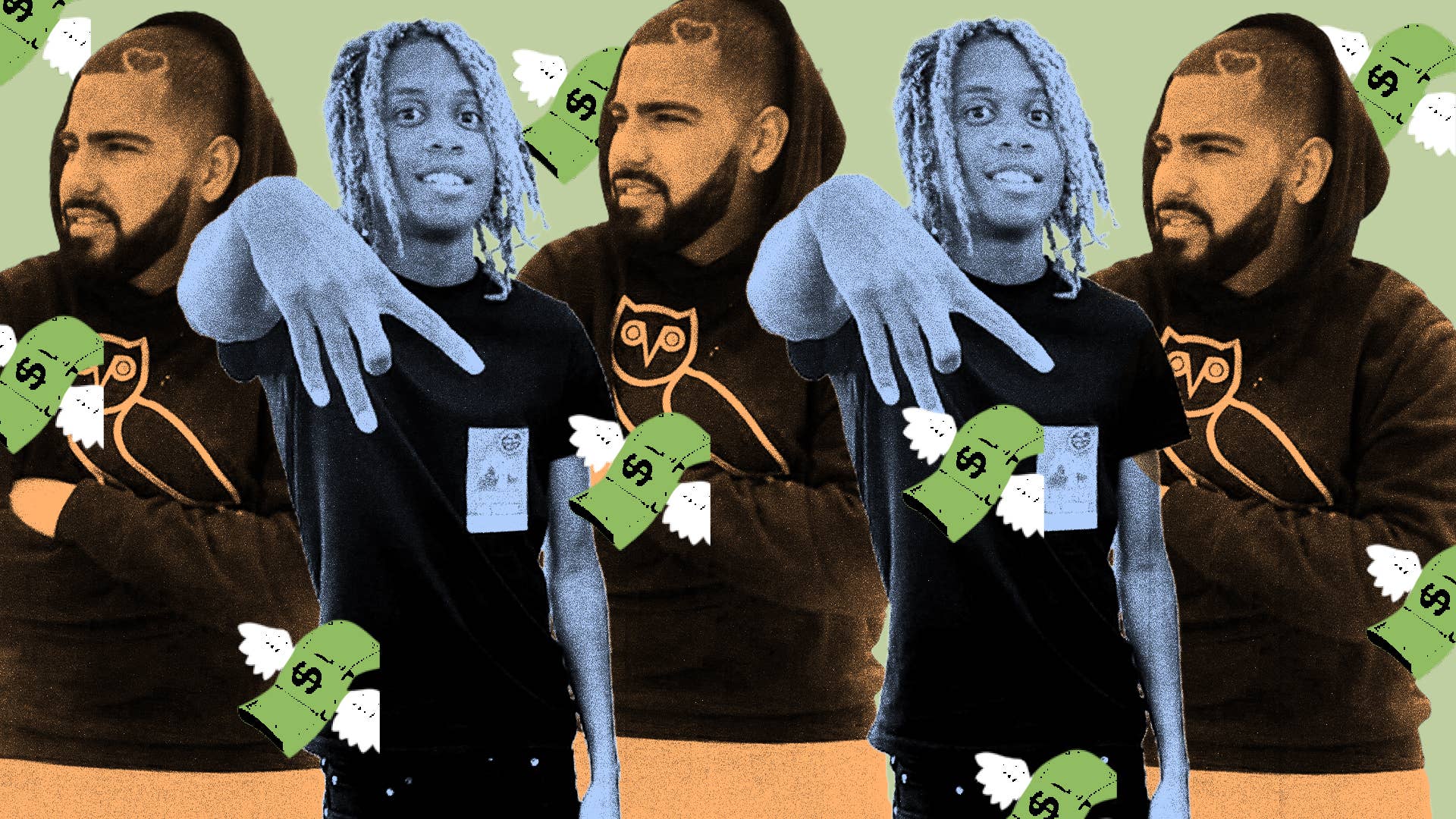 Complex Original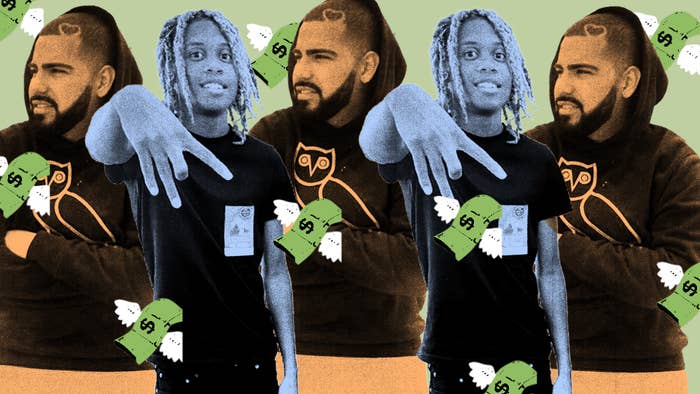 In October 2021, Drake was spotted in the upper level of Club LIV in Miami. Or was he? 
A bearded man in an OVO tracksuit was drinking and surveying the dance floor. But in videos that circulated on social media, the camera zoomed in and revealed he wasn't the real Drake at all. 
It was actually Drake's doppelganger, who has been dubbed "Fake Drake" by fans. "@Champagnepapi in Miami acting bad tonight," Justin LaBoy wrote on Instagram. Later, DJ Akademiks shared videos of Drake's "clone" club-hopping in Miami, taking selfies with duped fans. Coincidentally, Lil Wayne was also present at LIV, and Tory Lanez posted videos of both Izzy Drake and Wayne with the caption, "Lil Wayne and Drake in the club. What a night, LOL."
"I woke up the next morning, went outside, and people were going crazy about me," the 22-year-old entrepreneur, who goes by the name Izzy Drake (@izzyydrake), tells Complex. "[People] were like, 'Yo, you were just on Tory Lanez's story.' So, I checked Tory Lanez's story and he posted me." 
Nothing has been the same for Izzy Drake since that night in Miami. "Every time I go out, I get swarmed by people," he says. "People be like, 'Yo, can I get a video? Can I get a photo?' It got to be really crazy. In Miami especially, I have to walk around with security." 
Celebrity impersonators have been around for decades, and there are still dozens of active Michael Jackson and Elvis impersonators in cities like Las Vegas and New York City to this day. More recently, though, the lookalike business has made its way to social media. This year, there has been an uptick in rap lookalikes popping up on Instagram, including Izzy Drake and other doppelgangers of artists like Lil Durk, Snoop Dogg, Yeat, and DJ Khaled.
"I charge $3,000 to $5,000 with different packages. I've been booked at clubs, venues, and all that." – Izzy Drake 

"This stuff wasn't done back in the day when Biggie and Tupac were around," Izzy Drake says. "Obviously, there were Elvis Presleys, Michael Jacksons, or whatever, but it wasn't really a trending type of thing. I think it's getting bigger and bigger, and I'm seeing more clones pop up. I've been posted on Akademiks probably 15 times. Whenever I went outside, people would start videoing me and taking pictures. That's why I had to get security and start walking around differently."
In the influencer era, the trend has become very lucrative. "I charge $3,000 to $5,000 with different packages," Izzy Drake says, explaining that people DM him over Instagram to book appearances. "I've been booked at clubs, venues, and all that. I perform Drake's songs in the club, and I have a set list that I know how to perform. So I'll give them options and they'll pick the packages they want. Then I'll show up." 
Eric Finch, Snoop Dogg's lookalike who went viral in July 2021, has also taken a formal approach to his business. Finch began his professional impersonation career with an appearance on NBC's Great News. Although the attention these rap clones have received from social media and interviews brings them notoriety (and potential clients), it seems money is the top priority. When Complex reached out to Lil Durk's doppelganger Perkioo and asked about an interview for this story, he responded, "Will Complex be compensating for the interview?" 
Izzy Drake is making the most of the viral moments, and plans to turn it into a much larger business. He recently founded a record label called Rapturz Records, where he will release his own original music, as well as songs from other artists. And he's also working to expand his clone empire by creating a content creation hub for clone influencers. 
"I have a lot of clones," he says. "I have this guy, he looks exactly like DJ Khaled messaging me in Atlanta. He wants to do content. I have a Lil Baby clone. I got Lil Durk, I got the Weeknd clone. I got a Yeat clone. So I'm talking with my manager and reaching out to certain people that we think have a lot of potential, not even if they're a rapper or making music. We're looking for influencers."
He's already signed deals, too, explaining, "We have a couple artists that we have already signed and we're looking for new artists. My team handles the signing of the artists and all that."
So far, Drake hasn't publicly commented on his lookalike, but Izzy Drake says he got his blessing last year. Not long after Izzy's first viral moment, he met up with a high-profile gambler, who happened to be friends with the real Drake. The gambler was about to post about their night on social media, but he wanted to get the OVO rapper's approval first, so he made a call. "He called him right there," Izzy Drake recalls. "I was in front of him, and he told him what the situation was. Drake was just like, 'It's cool, man. Let the guy do his thing. Let him get his bag. It's not affecting my money. Just don't wrong me in a political way.' So he was really humble about that."
Perkioo received an even bigger co-sign in April when Lil Durk invited him onstage during a performance in Miami. Perkioo first went viral as Durk when he was mobbed by fans who thought he was the superstar at a Broward County shopping mall. Then he went viral again for a TikTok where he and a woman impersonated Durk and his real-life fiance India Royale. Soon, Durk invited Perkioo to guest star in his music video for "Blocklist."
"It's the attack of the clones." – Izzy Drake

The response hasn't always been positive, though. Izzy Drake recounts disappointing run-ins he's had with other celebrities, like the time he was partying in the VIP section of Exchange nightclub in Miami last year and spotted J. Prince Jr., longtime friend of Drake. Izzy Drake attempted to introduce himself to Prince Jr., but was rejected by security so he went back to his booth and ordered three bottles with a sign promoting his stage name.  
"I said I wanted Izzy Drake on the sign. So when J. Prince Jr. sees the sign, he looks at the DJ and shakes his head, like, 'Don't say Drake,'" he continues. "The DJ says, 'No disrespect to the Mob Ties' J. Prince Jr. We don't want to piss him off, but we got Izzy Drake in the building. He still said it after [Jas Prince Jr.] said not to. And so that pissed him off. I could feel the energy." Jas Prince Jr. exited the club shortly after that moment, but Izzy Drake ran into him again at two other clubs. 
Izzy Drake says he's had "fake news" stories written about him. Most recently, a publication alleged he performed at a college for $25 and a pack of beers, which he claims is "obviously fake." 
The negative side of the business revealed itself when Perkioo had a run-in with 6ix9ine last month. In a viral video, Perkioo was shown mingling with 6ix9ine. Midway through the video, 6ix9ine put a jacket (which had an image of King Von on the back) over his Perkioo's shoulders. The whole thing came across as a distasteful stunt, and 6ix9ine used it as an opportunity to continue his long history of trolling the real Lil Durk about his late friend King Von. 
When the video went viral, Perkioo claimed that 6ix9ine ambushed him, and he only showed up because he thought he was making a video with popular YouTuber SteveWillDoIt. "This was never supposed to happen. Like, never," he said in a video statement. "I was literally supposed to collab with SteveWillDoIt. Like, I literally wanted to collab with SteveWillDoIt because he hit me up first." 6ix9ine rebutted by saying Perkioo was aware of the plan and was paid $7,000 for the publicity stunt.
It seems as though even the controversies are only making the lookalikes more popular, though. Izzy Drake and Perkioo are making their own bags individually, but they've also seen the power of joining forces. The two have made videos at the club together, and they're now linking up to collaborate on musical projects, Izzy Drake says. They're currently in the process of shooting a parody music video for the remix of Drake and Durk's 2021 collaboration "Laugh Now Cry Later," which will likely be released in the next few weeks. 
Izzy Drake say is grateful for the appearances and social media love, but he's plotting more ambitious moves for the future. He wants to turn this into a bigger business. "I got this ticket and now I'm running with it," he says. "It's going to take me to the next level when I'm transitioning out of the whole fake Drake stuff. That's why I don't really like it when people call me 'Fake Drake,' because I'm not fake. My name's Izzy Drake." 
Izzy Drake isn't a full-time impersonator just yet. He still runs a home improvement business back in Toronto, but with public appearances, a solo rap career, and other business deals, his side hustle is becoming bigger by the day. 
Hate it or love it, this isn't the last we've seen of viral rap doppelgangers. It's a trend that will continue to evolve as our obsession with social media and virality grows. Whether that's a good or bad thing is still up for debate, but for now, Izzy Drake is riding the wave. 
"It's the attack of the clones," he declares. "This is hip-hop history. We're really going to take this big. I've got a lot of people reaching out to me for promos and for booking all over the world, and we've got the right team to do what we need to do. This is really trending. It's the next biggest thing."