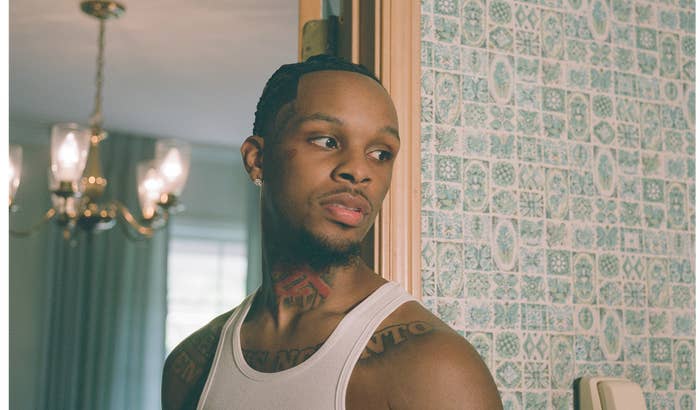 Three days after Valentine's Day this year, Toosii released "Favorite Song," the biggest hit of his young career. The 23-year-old Syracuse-born, Raleigh-raised artist has steadily been releasing music since 2017. He has scored plaques for lowkey hits like "Sapiosexual" and his Summer Walker collab "Love Cycle," but he went to a new level with "Favorite Song."
The song peaked at No. 5 last week on the part Hot 100 and is still rocking in the Top 10 this week. Thanks in parts to its melodic nature and heartfelt lyrics, "Favorite Song" has gotten over 80 million plays on Spotify and 50 million on YouTube. For a rapper who had a steady fanbase but never a chart-topping smash, "Favorite Song" is one of the year's most unexpected hits.
With his album Naujour—which derives from his government name, Nau'Jour Grainger—out now, we caught up with Toosii via Zoom. He told us about how "Favorite Song" came together, how Summer Walker inspired him to change his style, and why pretty girls love Toosii.
"When I made the song, I was in a car driving early in the morning, coming home from my son's mom's house," said Toosii of "Favorite Song," which is produced by Adelso and samples Tatiana Manaois' "You Might As Well."
"I heard the beat and I knew it was something that people would love. I remember trying to write a melody that everybody could sing to. That was the biggest thing, allowing it to be simple, allowing it to be catchy. After I got [home], I went straight up to the studio and started recording it."
Toosii was determined to write a song that was relatable, penning lyrics like, "You want somebody to come bring you flowers/Someone to talk to for hours/Wash your back while y'all sit in the shower." The song's popularity confirms he succeeded, but it turns out Toosii himself doesn't relate to the song's hook.
"Nah, I ain't never really had that moment," he said about the hook, which sees him sing about performing while wishing that a special someone was in the crowd. "I look at it as like, I'm here to do a job that I love to do."
After recording the song, he teased fans with a snippet in January. The immediate reaction let him know he had something special, but he didn't realize just how well it was connecting until the song was out and he ran into some fans.
"I was going through the Atlanta airport [walking past a] big see-through glass, I saw a girl on the other side of the glass doing the dance [to the song]," said Toosii, who ended up making a TikTok with the fans. "When I go over there, it's like a whole basketball team. They all rush me like, 'Can we take a picture?' I'm like, 'Yeah, come on.' Then I was talking to the girl, I told her, 'I seen you doing the TikTok dance.' She was like, 'We all know it.' So we ended up doing the TikTok. We live in the day and age where if you got TikTok, you got everything."
Like all popular songs these days, "Favorite Song" is big on TikTok. The track has been featured in over 400,000 videos. If you go through the posts, you're likely to notice they share something in common with the airport clip: It's mostly posted by women. According to Toosii, he estimates that at least 75 percent of his fan base are women.
"A lot of them find me attractive," he says, with a laugh. "I think that plays a part in it."
The makeup of his fanbase is by design. When he first started releasing music, Toosii was more of a street-oriented rapper. The self-professed "ladies' man" didn't want to rap about the streets because "I ain't trying to live up to that lifestyle." He recalled how going on tour early in his career led to him changing his approach.
"I came into the game talking my shit, I never was the artist who even made love songs," explained Toosii. "I switched it up when I went on tour with Summer Walker in 2018 cause I loved the way that her fan base reacted to her. Her fans used to be nothing but beautiful women. Who don't love concerts like that? [Laughs.] So we had to switch it up. Now, pretty girls love Toosii, it's 90 percent female at my shows. That's a whole movement and I love it."
His fanbase should come in handy as he gears up to go on a North American tour next month. There probably will be plenty of fans in the crowd who want to hear him croon, "I say you look good without no makeup/No lashes even better when you wake up." Though, that's not to say he wouldn't embrace the other side of things. "Favorite Song" has two remixes, one with Khalid and another with Future—both were deliberate choices.
"I wanted to get a different side to the song," he said about the remixes. "The biggest thing was getting somebody from pop [like Khalid] to hop on it and bring that light to the song. Then it was like, we gotta go hip-hop and we wanna do something that's diverse from what the song's actually like. So who better to do that than the Toxic King? [Laughs.]"
Even though he's willing to embrace toxicity for his songs, he's still romantically inclined. His advice for people seeking love in today's emotionally draining dating scene is straightforward.
"I feel like love finds you," he said. "Don't be in a rush to get nowhere that God got set for you. People rushing to love and don't even know how to love people, rushing to love and don't even know who to love. Take your time, love is nothing to be played with."
That's not just good relationship advice, but a good overview of Toosii's career arc as well. While many artists these days literally blow up overnight, his rise has been a steady grind. He's been releasing music for years, his style has evolved, and he strategically cultivated his fanbase before finally finding the song that put him over the top.
"A lot of people will say I'm at the peak of my career, they say I'm supposed to be living," said Toosii. "Me, I feel like I'm chilling. I ain't outside partying, I don't do none of that. I'm a lover, I like being in love."