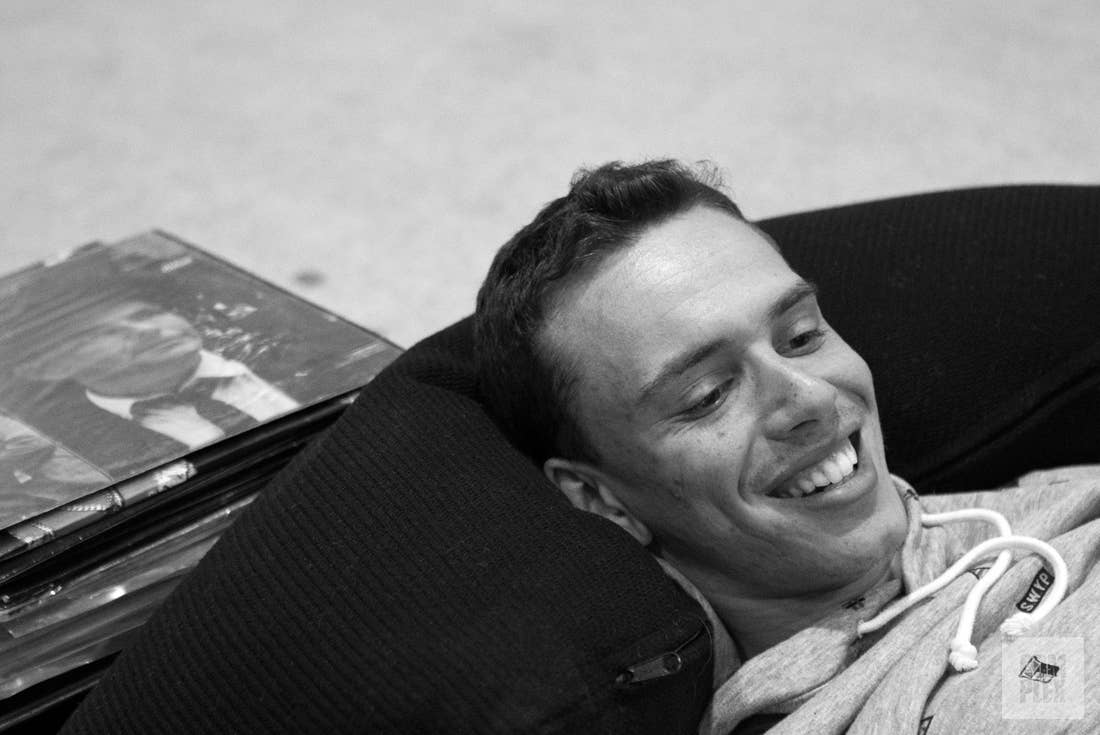 The first thing you might notice when you walk around Logic's barren new house in Los Angeles—aside from the moving boxes—are all the Rubik's cubes. There's a solved cube on the kitchen table, a cracked cube on the couch in the living room, and a neon cube by the front door. A poor math student in school, Logic learned the formulas to solving the Rubik's cube a year ago and spent 16 hours defeating it. He can now solve one with his eyes closed, while rapping, or while he's in the middle of a conversation without looking down.  
"I just wanted to conquer something else," explains the 25-year-old Maryland rapper, smoking cigarettes by the pool in his backyard overlooking the Santa Monica mountains. "When you wake up every day and you're pretty damn good at your profession, it's fun to challenge yourself in other ways. That's why I picked it up."​

Whether or not you think he's a good rapper, it's impossible to deny that he's at least a successful one. His journey began in Gaithersburg, Md., where he started releasing mixtapes in 2010, slowly cultivating a fanbase online and signing to independent label Visionary Music Group. After getting courted by Nas, he ended up being wooed by No I.D. to quietly sign to Def Jam in 2012 but didn't make it public until 2013. Last October he dropped his debut album, Under Pressure. Despite never having a song chart on the Billboard Hot 100, he managed an album debut in the top five, with 72,000 copies sold its first week—proving his online grind could translate to real-life sales. The album fueled his national and world tour, afforded him his fancy new house in L.A., and even caught the attention of Rick Rubin who recently invited Logic to do barefoot cartwheels and sip unsweetened tea in his backyard.  
"Determination, persistence, realism, wanting success more than your next breath—that's the key to success. I mean it's so simple!" he says, puffing another cig. He repeats his mantra for emphasis and explains it's based on a YouTube video he once watched around the time he started his career. "I was determined and persistent to solve the Rubik's cube; I did it. I was determined and persistent to do mixtapes and albums and tours, to do I what I love every day, and I did it." 
"Determination, persistence, realism, wanting success more than your next breath—that's the key to success. I mean it's so simple!" —logic
The next item on his to-do list is his sophomore set, The Incredible True Story. Despite the title, it's a concept album that features a sci-fi plot that Logic wrote himself. It takes place on a spaceship 100 years in the future, but nothing he raps about has to do with the narrative, which plays out in skits. Instead the music is some of the happiest he's ever made, but there are dark undertones to songs like "Fade Away," a record about death, and "City of Stars," which is a breakup record with hip-hop. He's confident he's made the album his true fans want to hear. But he admits this album is less autobiographical than his debut, which he felt he needed to make in order to explain himself to listeners who hadn't been following him.
"[Under Pressure] was received very well by a lot of people, but I think the cool kids circle in hip-hop, the blogs, didn't receive me well, and I don't know why," says Logic, who grew up reading blogs like 2DopeBoyz and IllRoots. "With my first album, I was so worried about the hip-hop community and if I'd be accepted. Certain people in the hip-hop community just didn't fuck with it. It kind of bothered me for a while, I was like 'Man, this sucks.'"

Before his debut was being dismissed by those cool kids, getting hip-hop fans to even take him seriously was its own challenge. During his mixtape rise many people (this writer included) initially dismissed him as another white rapper with a fanbase that existed outside the rap ecosystem. But we all learned that the man born Sir Robert Bryson Hall II—yes, that's his real name—isn't what you'd expect. He's biracial, with a black father and a white mother, just like two of his idols, Drake and J. Cole. Logic even recalls hearing Cole for the first time at 19 and thinking, "Fuck, who is this motherfucker with my story?!" Difference is, he looks white whereas Cole and Drake just look light-skinned. All of their fathers were largely absent, but at least Cole and Drake had loving mothers—Logic's drug-addicted white mother would call him the "N" word. So anyone who has taken the time to listen to Logic's album or any of his interviews ought to know he's not some rich white kid. He admits the stigma of being a white rapper has faded since he dropped his debut. So why do people dismiss him? Because they think he's something worse: a biter.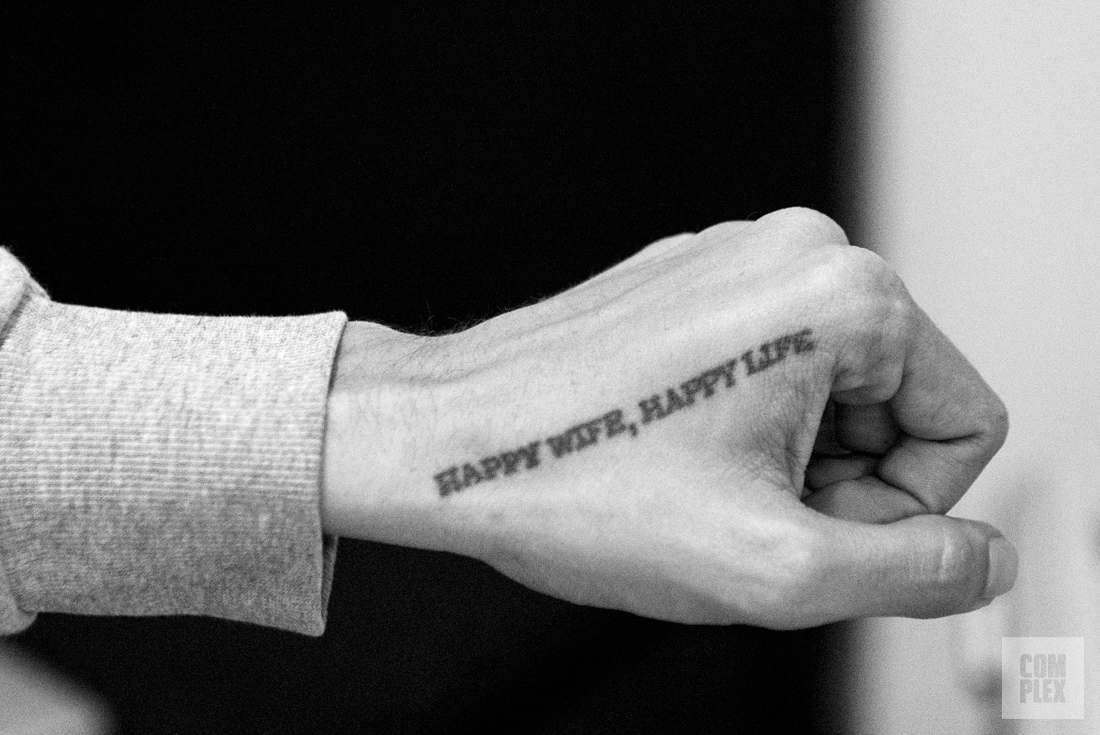 He may have felt obliged to make Under Pressure, but Logic certainly wanted to make his new album, The Incredible True Story. Last year, when he played Under Pressure in No I.D.'s studio in L.A., he had a mix of "Oh my God, my first album is dropping" excitement and "Oh my God, my first album is actually dropping" anxiety. Sitting cross-legged on his living room floor, he talks about his new album with an unbridled giddiness that sends his motor mouth into overdrive. (His frequent double-time rapping isn't just showmanship; he talks just as fast in conversation.) He interrupts himself mid-sentence just to say how excited he is.
He explains the album's plot at length. It's narrated by two characters, a black guy named William Kai and a white guy named Quentin Thomas who are on a spaceship called Aquarius III. The Earth has been destroyed, and the duo is searching for a new home and a planet called Paradise. Kai is named after Logic's AKAI MPC 2000 XL, which he produces on, and Thomas is a reference to Quentin Tarantino and the Bible's Doubting Thomas. He insists the name isn't a religious gesture as much as a reflection on the self-doubt we all have. The fact that one character is white and the other is black is no coincidence either; it's meant to represent his biracial heritage. Talia, the computerized voice that narrated his debut as an homage to A Tribe Called Quest's Midnight Marauders, returns and serves as the ship's computer.

"Paradise is a planet I created," says Logic, who wrote the album's skits in one night. An avid Tarantino fan, he once wrote a screenplay as a teenager but now calls it a rip-off of Kill Bill. For this album, he studied Tarantino's scripts as well as the script to Childish Gambino's Because the Internet. (As Donald Glover, Gambino is an accomplished screenwriter. He even co-wrote one of the best episodes of 30 Rock, "The Funcooker.") "It's like they won't accept me, this Earth is fucked up, so I'm gonna create my own planet, and people who are like-minded can come here. If you don't like me, you can still come to this planet and tell me why you don't like me as long as you don't discredit me."
If inhabitants of Paradise sound like a metaphor for Logic's fanbase, then his version of Earth sounds a lot like the Internet where commenters are quick to discredit anyone for just about anything. His fans clearly don't care much about the radio, otherwise they never would have heard of Logic, and they don't seem to be concerned with the criticism. So instead of chasing after hip-hop's sonic center to maybe score a radio hit, Logic kept things in-house and produced on 10 of the album's songs.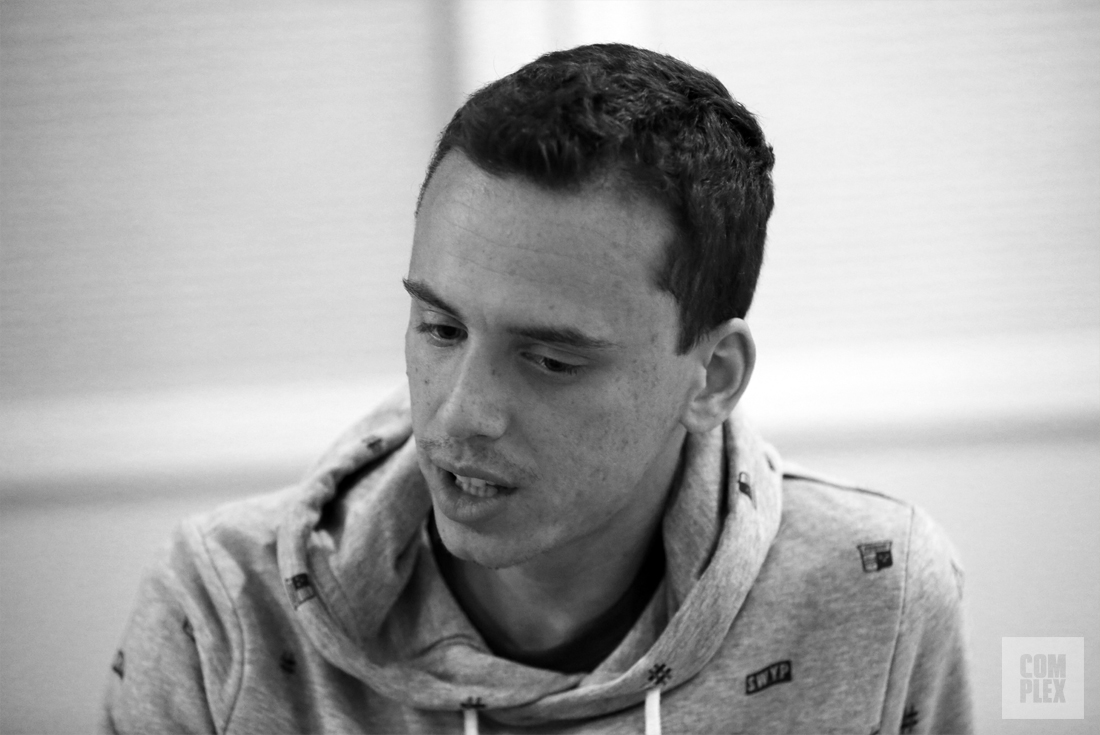 "Sales don't determine the artist you are anymore," he explains. "I'm still gonna tour the world and sell merchandise. How Chance the Rapper makes money is how I make money. It's how legitimate artists, a true artist with a fanbase, makes money." However, he still takes time to rap "Shout out to Def Jam even though they under shipped me" on the album but assures he's not angry about it, just wanted it to be known.  
If he wanted to expand his reach without radio, having some famous friends on his album could have helped. He's gotten big co-signs from guys like Lupe Fiasco, who made waves when he said Logic was lyrically better than Kendrick, and Big Daddy Kane, who told Grantland he was inspired to write raps after hearing Logic's record. Just like his debut, the album doesn't have any big-name features, though not for lack of effort. He reached out to Lil Wayne for "I'm the Greatest" and Erykah Badu for "Intermission," but neither worked out due to timing. He even attempted to reunite OutKast on "Paradise," but they declined. There's a Big Sean cameo that lasts about five seconds and six words, but it only came together last minute after Logic asked Sean about it for nine months.
"With features, I still didn't give a shit," he says. There's a viral clip of Logic saying, "I don't fuck with nobody at all," and that he just stays home all day, but that's not entirely true. He kicked it in the studio with Juicy J, hung out with Hopsin, and is text buddies with Cole, but he likes to keep that stuff lowkey. "A lot of people in my position could use that power and go knock on those doors because it might help boost them. Man, fuck that. I'd rather have so-and-so just chilling. When I feel I have the one, I'm gonna be like, 'Hey, you would fucking kill this.' And they'll know I'm not trying to use them. I'm not about to just flex on Instagram, that's stupid. I'm trying to use your wisdom, get to know you as a person and as a friend."
The people Logic has embraced are his fans, so much so he's essentially adopted two of them. One of the kids who lives with him is 17 years old, and like Logic, his parent's were MIA and he was homeless before he moved in. The kid, who looks kind of like Justin Bieber in his swagged out stage, is also a rapper. "I'm like, 'I was homeless when I was your age! Come out here, we're gonna build you as a young man, and you're gonna grow and be a good person, and then we'll talk about your music.'" Another kid in the house, Jay, has a similar story. Jay is 19 years old and met Logic three years ago when he was on tour in San Antonio, Texas. Jay was pushing tickets for the show and asked Logic if he needed a connect for weed and girls. Impressed by his enthusiasm, he told Jay to graduate from high school and he'd give him a job. Jay is now Logic's personal assistant.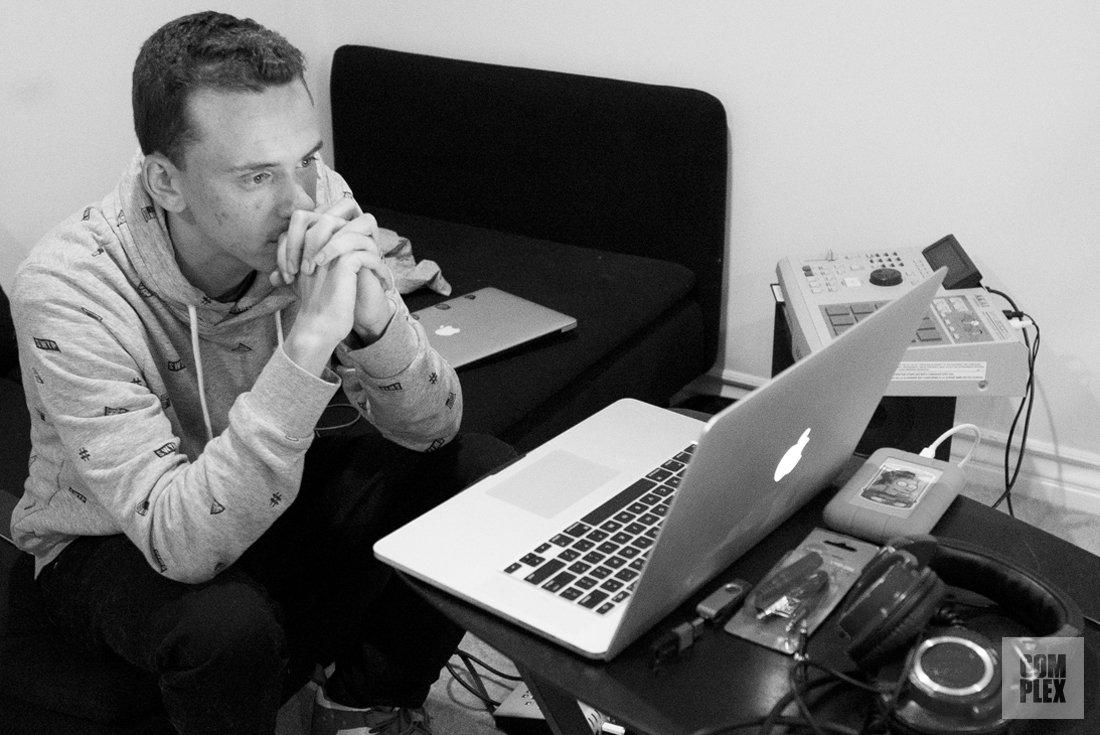 But even with famous friends, fans, and legends in his corner, that doesn't really solve Logic's problem. With a 72 rating on Metacritic, Under Pressure was generally well received. But a review on Sputnikmusic gets to the heart of what Logic means by certain people simply not embracing it. Despite saying the album has "good production and rapping from front to back" and that it's "actually a pretty good album," it was given a 1 out of 5 stars and criticized for taking too many cues from Kendrick Lamar's good kid, m.A.A.d city. The review ended saying that the album was "biting, and we've never stood for it in hip-hop."
Kendrick isn't the only rapper he's routinely compared to. When asked who his top five rappers were in an interview, Logic was quick to cite himself along with J. Cole, Kendrick, Drake, and Kanye—four rappers he often speaks of highly but also the guys he's accused of biting. And there's no denying his flow sometimes sounds like Cole's, sometimes like Kendrick's, and his occasional melodies can sound like Drake's. It doesn't help matters that No I.D. let him know where to find the same taiko drums Kanye West used on "Amazing" for The Incredible True Story's opener, "Contact"—even if the song was also inspired by "Kaneda Theme" from the Akira soundtrack. ("If you play them back to back you'll hear all the additional things I did. My version is not a sample. I redid it and added more," he says.) 
But being derivative is literally nothing new in hip-hop. Drake cribbed stic.man's flow from "Hip-Hop" on "Over" and made rappers doing a "Migos flow" a thing more so than Migos themselves. Conversely, Kendrick's breakout radio song, "Swimming Pools (Drank)," was produced by one of Drake's guys, T-Minus, and certainly has more in common with the icy soundscapes of Drake and 40 than TDE's in-house producers. And so the circle goes. "Contact" might sound like "Amazing," but Kanye has openly said he bit Dr. Dre's drums from "Xxplosive" for "This Can't Be Life," and the sped-up soul samples he popularized along with Just Blaze were certainly influenced by Wu-Tang Forever-era RZA. Maybe that's why even Logic quotes the famous Pablo Picasso saying, "Good artists copy; great artists steal."
"I've been so inspired by others from Kendrick to Drake to Cole to Kanye to everybody in a great way."—logic
"I've been so inspired by others from Kendrick to Drake to Cole to Kanye to everybody in a great way," he says. "Like, 'Oh he did this, I wanna try something like this.' There's less and less [of that]. It's still there, I'm not ashamed, I never will be, and I don't think you should be. Those same people who be like you sound like whoever—Kendrick, Cole, Kanye, Drake—Yes! If you say that reminds [you] of that, I did my job because this person is so incredible and I could stir up a similar feeling. You go to any other artists, the biggest pop stars, and they take from here and there. It's like, why should I try to explain [myself]? It doesn't matter. Fuck all that shit."
There's a good reason why it doesn't matter back upstairs where a framed photo hangs. It's a photo of a tweet he wrote on March 27, 2011, that reads: "I look forward to my interview with @nardwuar when i blow up! He doesnt know it yet! Lol." Below the tweet is a photo of Logic with Nardwuar after their interview. 
Smoking outside by the pool, Logic lands his cigarette on his lips and reaches into his back pocket, pulling out a wallet that reads "BAD MOTHER FUCKER"—just like the one Samuel L. Jackson's character had in Pulp Fiction. He takes out a piece of paper with his signature written all over it in purple marker. The top reads, "Me practicing my autograph." The paper is dated Dec. 1, 2010. "This is before I had a fan in the world," he says.
Unlike the Rubik's cube he conquered, there's no formula for success in the music business, no Zen moment when all the squares line up perfectly. But he's beaten incredible odds and accomplished once impossible goals to get where he's at now. Originality is just another puzzle he can solve, so long as he remains determined, persistent, realistic, and wants it more than his next breath.