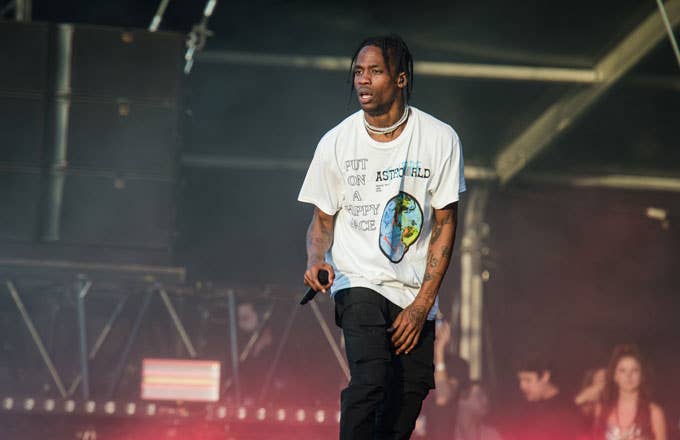 Travis Scott's been talking about his upcoming third album, ASTROWORLD, since before his second album dropped. Arguably, even the biggest La Flame Stan isn't more excited for this project to finally come out than the man himself is. Travis treats every solo project of his with a fine-tuned attentiveness to detail, curation, quality, and innovation. It's why he hasn't missed on a solo album yet. It's what made his sophomore effort, Birds in the Trap Sing McKnight, a top 10 release of 2016. It's what makes him Kanye's most direct heir since Kid Cudi, whom Travis fittingly counts as an idol.
But ASTROWORLD feels different. It feels bigger. It is, by Travis' own design, set up to be his watershed moment. In spring 2016, during the buildup to Birds, Travis told Zane Lowe, "ASTROWORLD is the album I always wanted to do," describing the impending release he was supposed to be promoting as a mere "stepping stone." He was even thinking ahead to the tour in support of the album, planning for it to be "one of the greatest tours of all time."
The question becomes, then: Can ASTROWORLD be the album that fulfills Travis Scott's self-prophesied musical destiny?
With a classic mixtape under his belt, a No. 1 album, a musical affiliation with Kanye going back to 2012, three top 40 hits to his name, and a reputation for the best live show out, Travis Scott is far from being some critical darling still in search of his breakout album. Nonetheless, despite hitting No. 1, Birds only moved 88,000 equivalent albums in its first week, while Rodeo did 85,000. Travis is big already, but he still has more than enough room to grow. What he stands on now is the precipice of ubiquity, the chance to leverage the cultural cachet he's already accrued into true A-listerdom. The climate couldn't be better, on all fronts. A high-profile girlfriend and the birth of his first child provide a wealth of new emotional depth to mine. The clout garnered from past success to pull in both huge anticipation and even bigger collaborators. An outsize need to show and prove as he plots a label of his own with Cactus Jack. Before he puts his students on, La Flame has to achieve tenure first.
Not to beat the Kanye comparisons into submission, but we're witnessing La Flame aiming for his own stadium-status moment, that era when Ye sought to marry the sound we loved him for with far-reaching, arena-decimating appeal. What's reassuring, beyond a proven track record that gives us no reason to doubt in the first place, is how Travis doesn't appear to be compromising what we, the core fans, love about him in his bid to raise his profile. Whatever he cooked up with Tame Impala likely won't be a far cry from the classic he made with The 1975. This man willed a Stevie Wonder collaboration into existence; I guarantee you it's the only album this year (or decade) that will boast features from both Stevie and Sheck Wes. He's making a sequel to what many of his Day 1s deem his best song. Content wise, if he does address his relationship with Kylie, even that won't be much of a departure (never forget that "Goosebumps" is, intrinsically, a love song). And as for Stormi, imagine if he recruited Stevie for an "Isn't She Lovely" in a more rodeo vein? Weird science is upon us. ​​​
ASTROWORLD, named for the defunct Six Flags park in Houston, stands to be the hometown ode he's been building to for his entire career. The stars are aligned for La Flame. He knows it—he's gazing at them. And he's ready to take it.