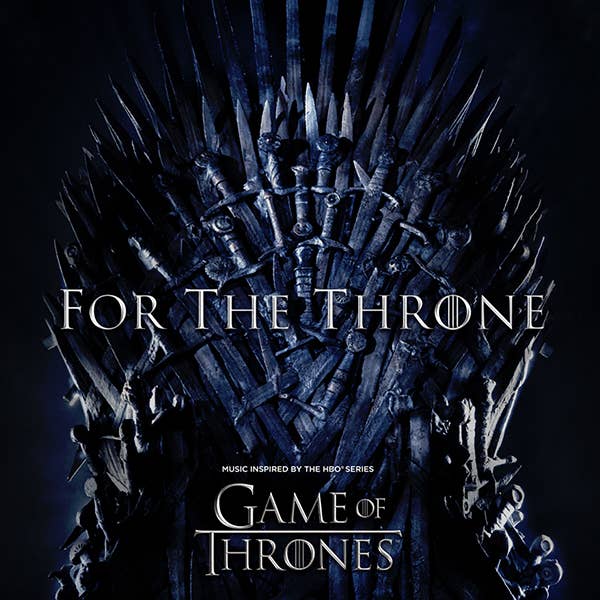 UPDATED 04/16/19 3:00 p.m. ET: HBO has unveiled the official track list for For The Throne. Check it out below.
1. "Kingdom Of One" – Maren Morris 
2. "Power Is Power" – SZA, The Weeknd & Travis Scott
3. "Nightshade" – The Lumineers
4. "Hollow Crown" – Ellie Goulding 
5. "Baptize Me" – X Ambassadors feat. Jacob Banks
6. "Too Many Gods" – A$AP Rocky & Joey Bada$$ 
7. "Turn On Me" – The National 
8. "From The Grave" – James Arthur 
9. "Me Traicionaste" – ROSALÍA feat. A.CHAL
10. "When I Lie (Remix)" – Lil Peep feat. Ty Dolla $ign
11. "Love Can Kill" – Lennon Stella 
12. "Wolf At Your Door" – Chloe x Halle 
13. "Devil In Your Eye" – Mumford & Sons 
14. "Pray (High Valyrian)" – Matt Bellamy
See the original story below. 
With all the anticipation surrounding the final season of Game of Thrones, HBO and Columbia Records have decided to join forces to give fans a soundtrack to help commemorate this iconic series. 
On Tuesday it was announced that fans can now pre-order the For The Throne (Music Inspired by the HBO Series Game of Thrones) album.
This project is set to drop on April 26, which is only a little under two weeks after the last season of Game of Thrones premieres on April 14. On For The Throne, HBO and Columbia enlisted both household names as well as bubbling superstar talents. In addition to headlining acts like The Weeknd, ASAP Rocky, and Mumford & Sons, For The Throne will also feature Chloe x Halle and the late sensation Lil Peep.
Along with the diverse talent selection, there are 11 different vinyl configurations (nine covers representing each house crest, one color symbolizing fire, one ice-colored vinyl, and one standard) which are also available for pre-order. 
See the full list of the acts set to appear on For The Throne below:
ASAP Rocky
Chloe x Halle
Ellie Goulding
Jacob Banks
James Arthur
Joey Badass
Lennon Stella
Lil Peep
Maren Morris
Matthew Bellamy
Mumford & Sons
Rosalía f/ A.CHAL
SZA
The Lumineers
The National
The Weeknd
Travis Scott
Ty Dolla Sign
X Ambassadors