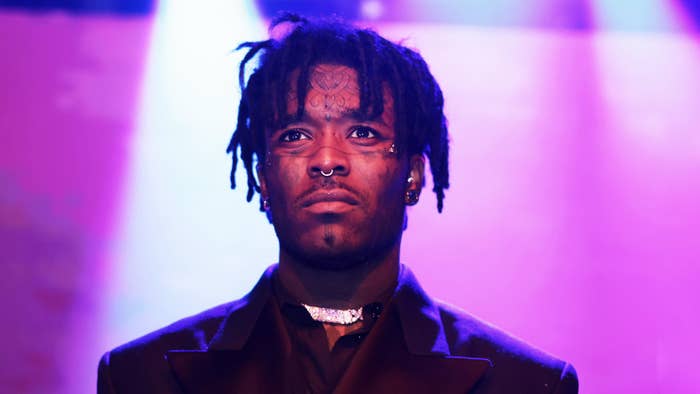 If you weren't paying close attention, you might have missed the most surprising lyric on Lil Uzi Vert's new album Pink Tape.
"Make my avi pink like my biggest opp, uzirareupdates," Uzi raps on "x2."

Yes, you read that right. Uzi dissed their own fan page. And it turns out the two have actually been in close communication with each other for years. According to recently surfaced Instagram DMs, Uzi even asked uzirareupdates for advice on the Pink Tape album artwork and tracklist as recently as last month. If it weren't for URU, the cover art wouldn't have a pink diamond on it, and the final tracklist likely would have looked different.
So how did we get here? How did the owner of a fan page get so close with Uzi that he's exchanged hundreds of messages with the rapper and helped make major decisions in the album rollout, only to get dissed on a song?
The answer to that question sits at the end of a wild saga involving cross-country fan meetups, scammers, group chats, celebrity drama, and a fascinating relationship between one of the biggest rappers on the planet and a very opinionated fan.
The whole thing started back in August 2019 when uzirareupdates created the account on Instagram.
URU had been a fan of Uzi's music since hearing songs like "WYDW" and mixtapes like Luv Is Rage back in 2015. "No one at the time was making music like Uzi," he tells Complex over (where else?) Instagram DM. But it wasn't until the pre-Eternal Atake frenzy that he thought about making a fan page.

"I made it because I was hyped for Eternal Atake and started to follow a bunch of Uzi fan pages and get into the Uzi community," he explains, pointing out that he didn't start posting frequently until December 2019 when "Futsal Shuffle" came out. But before long, he was posting countless updates during the EA rollout.

Then, somewhere along the way, Uzi found his page.
According to URU, the Philly rapper first noticed his account in November 2020 and saw his IG Stories in 2021, but it wasn't until September 25, 2022 that they had their first real interaction. And it was a doozy.

"I posted Stories of Uzi humping a Starlets stripper 😭," he writes. "And Uzi did not like it." According to URU, "JT broke up with Uzi days after that happened."
Most artists wouldn't have kept engaging with a fan page after a fraught interaction like this, but Uzi isn't like most artists. This was just the beginning of a long, complicated relationship between Uzi and URU.
"I'm too real to lie. I'm the biggest critic of Uzi you'll ever meet. Maybe less than Anthony Fantano."
After this initial communication, URU continued to share thousands of posts about Uzi on his page—including updates, news, and theories—while taking it upon himself to expose scammers in the fan community and attempt to protect his favorite artist's career. He also started to exchange frequent DMs with Uzi.
Early in my interview with URU, he sends me screenshots of many of these messages with Uzi, and I'm blown away by what I see. When most fans get personal DMs from their favorite artist, they get nervous and respond with awkward messages of effusive praise. But not URU. His conversations with Uzi are very blunt. Mixed in with compliments and messages of approval, there are also countless DMs of critiques, suggestions for improvement, and complaints.
"I'm too real to lie," URU says. "I'm the biggest critic of Uzi you'll ever meet." After pausing to reconsider that statement, he adds, "Maybe less than Anthony Fantano."
Two of URU's most common complaints involve mixing issues (he wishes Uzi would work with former engineer Kesha Lee again) and "aye" ad-libs.

"At the end of the day, I can only tell him my opinion of everything I think, and it's up to him to do what he wants with it," URU tells me. "Like the unnecessary amount of 'aye' ad-libs Uzi was doing in November 2020-2021 made me so mad and I DM'd everyone in Uzi's camp to try to tell him to stop it. Which he eventually did in 2022. And by the time I told him again in April 2023, he understood completely what I was saying."
I point out that most fan pages wouldn't be as hard on their favorite artist as he is, and URU responds, "I try not to be a complete asshole to Uzi, but he does do some stupid stuff sometimes. Like get unnecessary tattoos, like the new forehead one and a black line across his face, and cover up every single body tattoo he ever had from 2014-2022. And cover up his entire arm, just blacking it out. It just felt like he's killing off any part of his old self and purposefully trying to look uglier. People were calling him insane anytime he got a new tattoo, when he was fine 2015-2019." Then URU adds, "Realistically no one should care what Uzi does to his body, but it's just from a looks perspective when you've been a fan you just wonder why he's doing the things he's doing."
As you can see, URU has very strong opinions about everything Uzi does, and he often shares them directly. "I try to keep it positive but if I don't like something or think something needs to change or happen, I'll tell Uzi right away. When Uzi previews a new snippet that I like I'll tell him it's fire or things I think he should do to make the song even better. Or if I've heard a certain snippet I like I'll send it to him and ask him about it and try to convince him to drop it officially."
URU understands he's in the rare position of having a direct line of communication with his favorite rapper, so he says he feels a duty to speak on behalf of the Uzi community and give suggestions and feedback.
"I do feel like [I have] a responsibility to speak my mind and post daily what's going on with Uzi and the Uzi community," he explains. "To keep people updated. Uzi is very open to feedback while some songs he will not take off the album because they're special to him."
The most fascinating (and surprising) aspect of their whole relationship is that Uzi actually listens to URU's harshest criticisms. No matter how negative URU gets, Uzi seeks feedback from him all the time, actively taking suggestions into consideration.
To name a couple specific examples, Uzi has been receptive to URU's suggestions about using too many "aye" ad-libs, removing some of them from songs, and even listened to suggestions about music video shoot locations. Overall, they seem to have mutual respect for each other and Uzi admires URU's honesty.

"Uzi's called me his twin and says he loves me, but calls me his biggest opp because of some of the stuff I be posting," URU reveals. (After seeing hundreds of DMs between the two, I can confirm he's been called "twin" on multiple occasions.)
Uzi has a long history of being very hands-on with fans. The rapper routinely has 1:1 conversations with select fans, and one fan page (uziawge) has met Uzi in-person on multiple occasions. One time, Uzi even made a song that shouted out fans by name. (It remains unreleased, but you can listen to an IG Live snippet here.)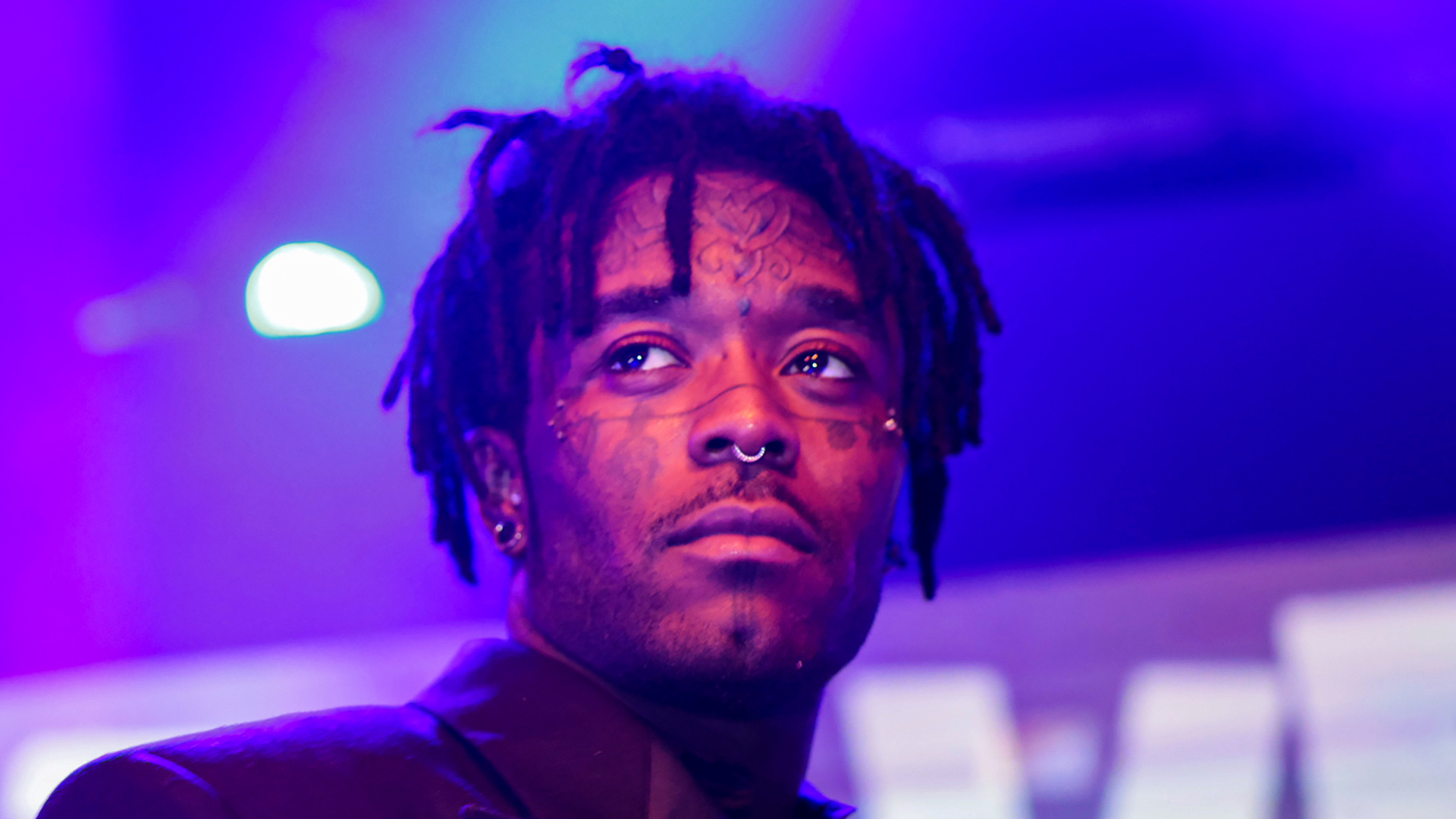 In December 2022, URU added Uzi to "Godly Chat," an Instagram group chat he started that has over 100 fan accounts in it. When Uzi was in the chat, many of the fans jumped in and gave feedback. Uzi was receptive at first, but it ultimately got to be a little too much.

"Everyone in the chat was absolutely flaming Uzi trashing his music and JT and producer BrandonFinnesin and his engineer Ben, and he had enough of the disrespect so he went on a block spree of blocking everyone." (URU later convinced Uzi to unblock most of the accounts).

JT, Uzi's girlfriend, also got added to the Godly Chat at one point, but it was short-lived. "She joined Godly Chat, got flamed for hours, and then blocked me and a bunch of other Uzi fan pages," URU says.
"Uzi's called me his twin and says he loves me, but calls me his biggest opp because of some of the stuff I be posting."
When I start asking questions about what the Godly Chat is like, URU figures it'll be easier to show me rather than tell, so he adds me to it. Immediately, I'm met with a barrage of jokes from Uzi fan accounts. The first one I see says, "Welcome to hell."
The chat is flooded with a constant flow of messages about everything from leaks that they wish had made it on Pink Tape to jokes about being blocked and unblocked by Uzi. If you look hard enough, you'll even find important updates on the world, like, "Butter at Costco was $15 today." And every so often, someone will share a lyric card of the URU diss on Pink Tape, which always gets a big reaction from the group. For the most part, it feels like any group chat you'd expect to see from a large group of friends who spend a lot of time online.
Just like any group of friends, the Godly Chat has had its share of drama, like the time its members got in a beef with another fan group chat run by symereworld.
When I ask about the beef in Godly Chat, a user named vaultofpbc breaks it down for me: "Symereworld was a page that got bought by a dude named Wesley and he somehow got Uzi in his group chat. For some reason Uzi stayed in it, even though the group chat was scamming people by saying if they paid money they could join and talk to Uzi, and also vaulted snippets and scammed with them. URU got added and typed a whole paragraph tagging uzi on why he should leave that chat."
A user named uzi.chicago chimes in, explaining, "Uzi was in it but they were literally using the chat to make money acting like if u paid then u got in but they never added people. And we were out here w a real chat and uzi wouldn't join 😭."
Drama aside, Uzi values the opinions of fan pages so much that there was even an in-person meetup this summer. Before the release of Pink Tape, a group of fan page owners were invited to meet Uzi and hear the album at Jungle City Studios in New York City on June 7.

URU was invited, but wasn't able to attend, explaining, "They all wanted me to go, but I couldn't fly to New York because my parents wouldn't let me, and it's expensive asf."
Still, a handful of other fan pages were able to make the last-minute trip. "Uziawge, uzivertfanbase, uzi.chicago, lefleur.17, and uziawge's friend all went to Jungle and met Uzi," URU says. "Uzi.chicago flew the same day to New York City and Ubered to the studio to get there. It was basically for all the Uzi fan pages that lived in Philly, Jersey, and New York City that could drive to the studio that night, even though there were 30 other Uzi fan pages willing to drive and fly. It was super last-second but we made it happen."
According to URU, "Uzi made them give them their phones before playing the Pink Tape so they couldn't leak any of it." But there was plenty of time for conversation between the fan pages and Uzi.
"I asked him hella about samples and at the end he wanted to hear our opinions on the album as a whole," uzi.chicago recalls. "I said I liked the variety of beats on the album and told him to make sure 'I'm Blue' and 'Chop Suey' are on the album at the end."
Reflecting on the experience as a whole, uzi.chicago adds, "Just know that Uzi is the rapper that interacts with fan pages the most by far. He was really cool to us and even said, 'What other rapper is gonna invite 5 strangers to come to the studio?' Which is very true. Like, he knew what he was doing was crazy and unheard of and still did it because that's the type of dude he is."
URU agrees, pointing out, "Uzi's been showing love to fan pages for years, constantly liking fan page posts and DMing some fan pages. No other artist makes dedicated songs about their fan pages and random fans in a group chat."
On June 30, Uzi's Pink Tape finally dropped after years of anticipation. Some of the changes that URU had suggested (including several tracklist updates and the addition of a pink diamond on the cover art) made the final album. And, of course, the final album included "x2," the Ken Carson-produced song with the URU diss on it.
I ask URU what his initial reaction was when the album dropped, and he responds, "Shocked." Pointing out that he'd heard the snippet before the album, he explains, "I didn't know he was actually gonna drop it. I thought he just made it as a joke like he did with the Symereworld chat group chat [song]."
URU likes the song, though, and understands it's Uzi's way of playfully shouting him out, rather than an actual diss. "Uzi could've said some outrageous shit about me, but left me off easy," he says. "Just by calling me his biggest opp. I never was beefing with Uzi seriously. It was always jokes."
It was good for business, too. URU says he gained around 5,000 followers and "broke a new story view record." But overall, it didn't do too much to change public perception of him. "My followers love it. My haters still hate me with a passion," he says.
"Uzi could've said some outrageous sh*t about me. But left me off easy. Just by calling me his biggest opp. I never was beefing with Uzi seriously. It was always jokes."
Now that the album has been out for a bit, I ask URU what his favorite songs on Pink Tape are and he says, "'x2' obviously because Uzi dissed me on it. 'Suicide Doors, 'Amped Up,' and 'Fire Alarm.'" And the worst songs? Well, that requires a longer answer: "'Aye' featuring Travis Scott. I've hated this song since the day Uzi previewed it in February 2021. 'Spin Again' is terrible to me. 'Shardai' is a useless bonus song that could've been replaced with 'Run It Up' (2017) or '1600' (2017), both 2017 Uzi community leak grails."
In a development that won't surprise you at all if you've read this far, URU has a lot of complaints about Pink Tape. Here's a list: "Mixing problems. Knowing better songs exists that I would've replaced with the mid songs on the current Pink Tape. Knowing better versions of the songs exist. Knowing I could've flown to New York to listen to the Pink Tape early and heard the album mixes and possibly changed most of the tracklist. I was just annoyed he dropped 'Zoom' instead of 'Run It Up' or '1600' like me and Uzi agreed upon. And we never spoke about 'Shardai.'"
At this point in our conversation, I can't help but push back against some of his criticisms. I bring up a recent IG Story of URU's where he said, "It's Uzi's album at the end of the day. Let the artist be the artist," and I ask if he thinks Uzi should always listen to fans or just trust their own instincts when it comes to career decisions.

"Depends on what fan you're talking about, because so many fans have differing opinions on what songs they like and dislike," URU responds. "That's the whole reason I wanted more Uzi fan pages to go to Jungle to meet Uzi to listen to the Pink Tape early to give feedback and differing opinions. Like, Uzi sent that chat an unheard snippet called 'take the molly' that night and I called it mid so Uzi took it off the tracklist and replaced it with a better song."
I challenge him on this, too. If we weren't in the leak and snippet era where fans get to hear hundreds of unreleased songs before they come out, would URU have this many issues with Uzi's music? I reference another recent post of URU's where he said, "I wouldn't be mad or care if I didn't know there was a wayyyyyyyyy better version of the song that exists," and ask if he'd have different feelings about the album if he'd never heard any snippets or leaks.
"No, if we're talking about 'Flooded the Face' 808s," URU replies. "They couldn't clear the original beat because the band is dead so they had to remake the entire beat but still the 808s weren't hitting in the mastered released version compared to all the snippets. In general, my opinion would stay the exact same because I just know how many amazing songs Uzi has in the vault that will never be previewed or officially released or see the light of day, so there's always the what if. Uzi has the capability to drop a perfect 26 song album but he doesn't even like some of his best songs and usually ends up going with the mid."

If you ask URU, he'll say most of his decisions are made with Uzi's best interests in mind, like the time he helped protect Pink Tape from being leaked by an infamous leaker named Waterfalls, by putting him in direct contact with Uzi. ("I think Uzi's smart about how to not anger hackers and leakers saying he loves them," URU tells me later. "But in reality it affects his well-being.")
URU is undoubtedly a controversial figure in the Uzi fan community. Some look up to him for sharing constant updates, having strong opinions, and forming a direct relationship with Uzi. Others dislike him for being so negative and bombarding Uzi with so many complaints. In reality, there's merit to the opinions of both sides.
So before our DM conversation comes to an end, I figure I might as well hand things over to URU and let him address any misconceptions people might have about him.
"The main misconception is that all I do is sit on Instagram all day and complain about Uzi. If you really knew me since day 1, the complaining really didn't start until March 13, 2020 after Uzi dropped the EA deluxe and I felt the '2015-2018 grails' that fans still want Uzi to drop every single album cycle had gotten their mixes ruined completely by a random engineer that had nothing to do with the songs in the first place."

URU adds, "I do in fact have a life outside of Instagram and I'm just a normal Uzi fan like the rest of everyone else that happened to work his way up to be able to talk to the artist after being active on a fan page for 3 whole years. But realistically the complaining and the endless ranting stories didn't start until November 2020 when Benjamin Thomas, Uzi's new engineer, became well known in the Uzi community and you could hear a drastic mixing difference with so many 'aye' ad-libs being on each song Uzi recorded, a mixing style that Kesha would clean up and get rid of the unnecessary ad-libs on top of Uzi's vocals because she had been working with Uzi for so long that they had developed a chemistry that no other engineer could replicate."
He goes on to criticize the engineering and mixing in more detail, before bringing up Uzi's relationship with JT and correlating it with a shift in the sound of the music. Then he points out, "The only reason I stayed active on this page for 3 whole years was to make sure Uzi was dropping the best possible music with no mixing problems because that's all I cared about at the end of the day." Uru adds, "The more I talked to Uzi's camp, the faster things changed for the better so the months of complaining did eventually pay off. Even though I may not like the Pink Tape as much as other previous Uzi albums, it could've been a lot worse if it had dropped in 2021 or 2022."
Then he cuts to the chase, explaining, "I think the problem is that everyone thinks I'm some weirdo stalker that only shits on Uzi and his camp daily, when in reality if you knew me in real life, that's not how I am and never want to be described as that. If people just talked to me all the problems could be solved so easily and I could move on in life and not care about being active on this page at all, but because everyone in the Uzi fan page community is so afraid to say the truth to Uzi directly, I have to step up and say it myself and I'm not afraid to speak my mind when I'm mad about something compared to everyone else that would just be yes men and let Uzi do whatever he wants to do. Artistically, I'm open for Uzi to jump in any lane and sound he wants to do. It's fine, but at the end of the day does it sound good? Regardless of who is reviewing the new music, it'll always be compared to his previous 2015-2019 music because those are considered his prime years of making music."
Following my day in the Godly Chat, though, I get the sense that there's something else going on here, too. Beyond all the posts, viral moments, and interactions with Uzi, URU also found a real community. He stumbled on a group of new friends who were just as passionate about Uzi's music as he was.
"The reason I made 'Godly Chat' was to keep the remaining uzi fan pages on IG together for the next albums," he tells me. "The 100 or so people in Godly Chat have stuck together and have become nice online friends to talk to about everything in life and in general because we're all just normal fans of Uzi's music at the end of the day, and I just happen to be lucky enough to talk to Uzi directly one on one after all these years, and people care about my opinion because I can see it from both sides: from an old Uzi fan that loves his old 2015-2019 music and a new fan that loves his 2020-2023 music."