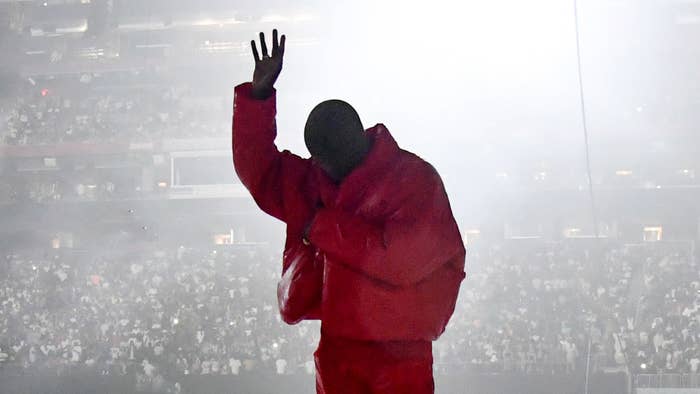 It's not even 5 p.m. in Atlanta, and my Lyft driver has already lost her composure.
We're flying down Andrew Young International Blvd in her old Nissan Sentra, and just as we get within sight of Mercedes-Benz Stadium, she takes a sharp turn and proudly yells to no one in particular: "Kanye West in the ATL! It's really going down tonight!"
Moments earlier, she shared her opinions about Kanye with me as we made our way to his Donda album listening event.
"I love Kanye!" she said, explaining, "His music is OK, but I just really like his demeanor. You know, the way he carries himself."
I look up just as her car skids out in front of an orange barricade, and a security guard informs us we can't drive any farther. I get out of the car and immediately walk past an SUV full of people blasting "Blood On the Leaves."

Atlanta is ready for Kanye tonight—to say the least. And as I soon find out, Kanye is just as eager to see the people of Atlanta. 
He's here on this Thursday evening in late July to play his 10th studio album to the world for the first time, and he's doing it in front of tens of thousands of people (while millions watch at home on an Apple Music stream). Tonight is about more than just a listening session, though. It represents Kanye's return to the public eye after a year marked by a divorce with Kim Kardashian.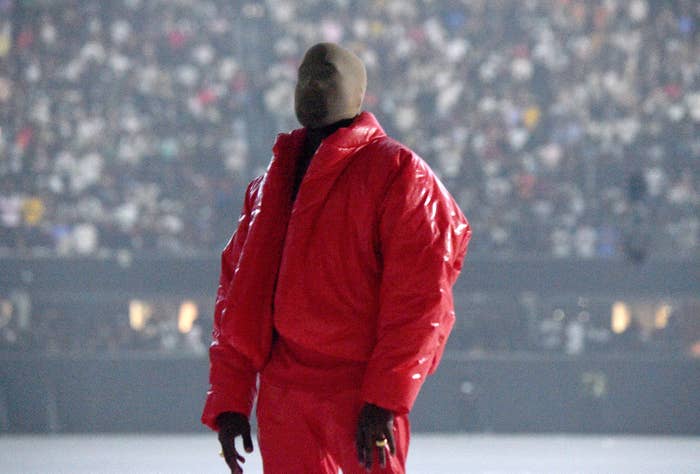 Kanye isn't the only one reemerging in the world. As major live music events slowly make their return across the country, the Donda listening session represents one of the first stadium shows of the year. 
The Mercedes-Benz Stadium staff understandably needs to shake off some rust as we all try to remember what to do when tens of thousands of people try to enter the same building at once. And, of course, a Kanye album party is anything but an ordinary show. 
"We haven't done this before," a security guard tells me as she frantically calls her boss and tries to figure out where the press section is. 
As I finally make my way to my seat, I walk past people lining up to buy Mercedes Donda merch commemorating the event. A young fan in front of me pulls his new long-sleeve shirt over a homemade "Kanye for President" hoodie. 
I see Kim Kardashian and all four of her and Kanye's children out of the corner of my eye. Moments later, the rest of the crowd does, too, and they're greeted with a round of applause.
Then, we wait.
The album playback is scheduled to begin at 8 p.m., but anyone who has been following Kanye's career knows it was never going to start on time. By 8:30, stadium staff is still working to get everyone into the building. The seats still aren't full.
Thirty more minutes pass and people get restless. A man in his 30s stands up a few rows in front of me and starts an impromptu singalong of "Runaway." Later, someone starts the wave. The wave! In a full stadium! Maybe life really is getting back to normal.
By 9:30, restlessness turns to confusion as people debate whether the delay is being caused by stadium staff or if Kanye is still recording the album in the basement. Probably both.
As we sit, a hilariously timed advertisement from the Georgia Lottery keeps flashing the words "Today Could Be the Day!" over our heads. Morale declines.
Then, finally, Kanye's voice blasts through the stadium speakers. It's loud to the point of distortion, and it's immediately clear that the in-stadium sound quality won't match his other listening events.

When Kanye walks out on the field, we see he's wearing all red, an apparent nod to the My Beautiful Dark Twisted Fantasy era. And of course, he's wearing a mask, like he's done all year.
There's a stark contrast between this session and the last time Kanye debuted his album for a stadium full of people (The Life of Pablo at Madison Square Garden in 2016). This time, Kanye isn't surrounded by a group of collaborators. He's all alone in the middle of the stadium under a single spotlight. From the stands, all we see is a small silhouette in the middle of a massive stadium. The contrast is striking. 
Kanye stands motionless with his arms by his side and his head tilted forward. Visually, the show evokes a feeling of loneliness as he stands solo on the field, gazed upon by tens of thousands of fans. This was undoubtedly intentional.
As the second song begins, I remember what Kanye's cousin Tony Williams told me a few years ago after the Ye and Kids See Ghosts listening sessions. Whenever Kanye puts the finishing touches on his albums now, he likes to play them for people and feel for himself how the music connects with fans in a live setting. What's working? What isn't?
Tonight, the energy takes sharp swings up and down. After an initial surge of excitement, everyone gets quiet at the end of "24" when Kanye repeats the same phrase over and over: "We gonna be OK." It doesn't connect, but he keeps moving.
The crowd inside Mercedes-Benz Stadium really starts moving for the first time during the third song, which features a verse from Playboi Carti. But what connects with the audience the most all night is easily the fifth song, tentatively titled "Praise God," featuring Playboi Carti and Baby Keem. Inside the arena anyway, it sounds like a hit. This is the first time of the night when the atmosphere really starts to feel like a concert instead of just an album playback.
For the next 30 minutes or so, Kanye's movements mirror the ebbs and flow of the album. He stands motionless for long stretches at a time, staring at the floor. Still, it's clear he's here to engage with his fans. Throughout the whole session, he never utters a word—in keeping with the silent nature of his entire year—and he keeps his mask on. Instead of speaking, he engages with his whole body, running in exaggerated movements across the field and occasionally lifting his arms to encourage everyone else to do the same. He's here to feel the love after two years of distance. We all are.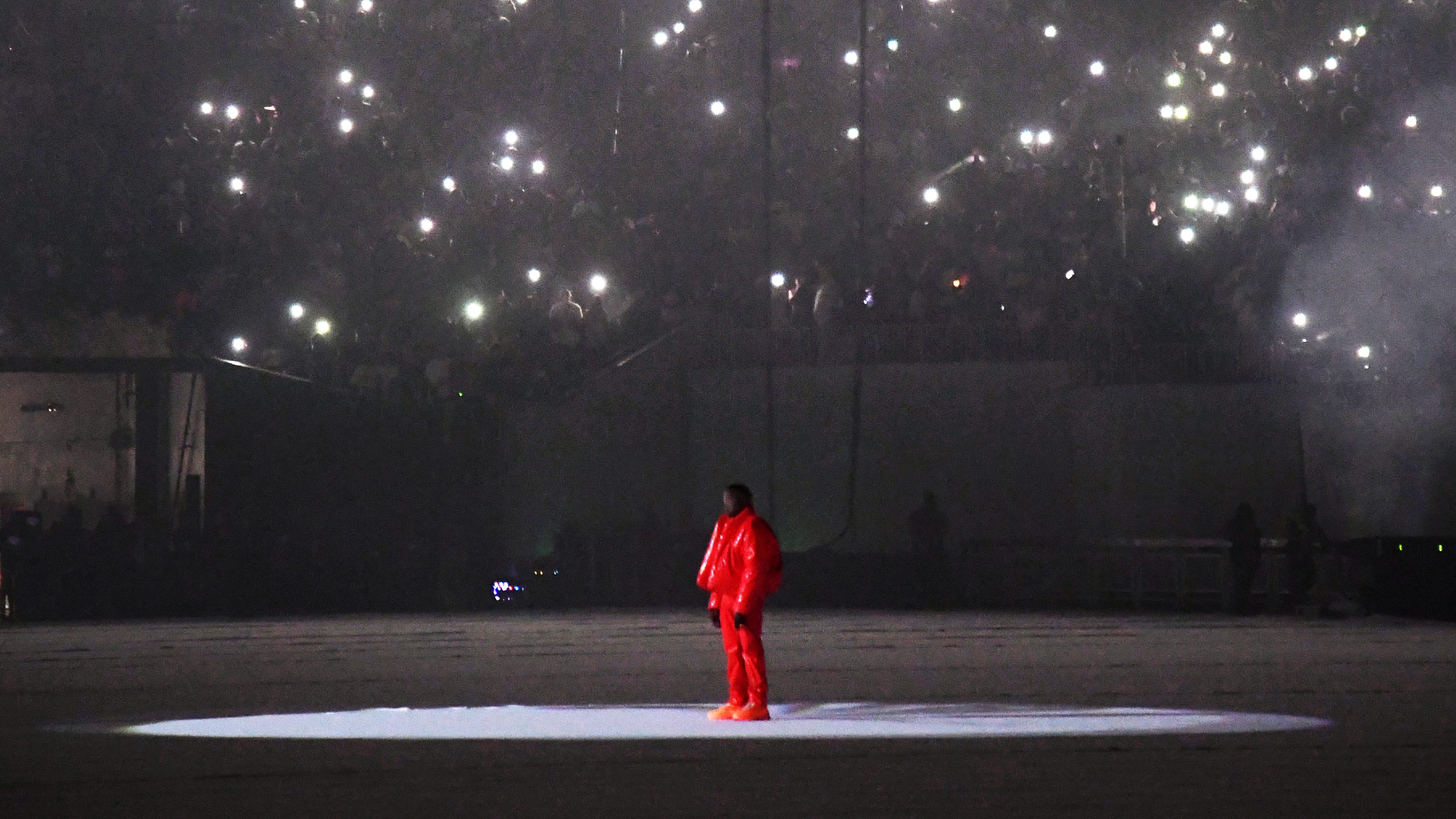 Back in 2019, I was at the Jesus Is King listening session in New York, an evening that felt like a hybrid church service and rap show. But tonight, the experience falls much further on the "rap show" end of the spectrum—although there are moments that feel orchestral. At one point, I see dozens of hands lifted in the air as though they're in the midst of worship. Some of Kanye's lyrics help set this mood.
The most headline-worthy moment of the night takes place near the end, as Jay-Z reunites with Kanye for a verse that he supposedly recorded just four hours beforehand. It's a Kanye album rollout, after all. Everything is last-minute. 
Throughout the evening, there are whispers about collaborators like 2 Chainz and Rick Rubin pulling up to the stadium to record finishing touches on Donda. Some of the songs we hear sound a little unfinished, as if Kanye left a handful of his own half-mumbled reference verses in the mix. So it came as no surprise when the album ultimately didn't arrive at midnight like many expected.
For now, it's difficult to offer an appraisal of an album that's still evolving by the hour. And the sound quality at the stadium made it difficult to catch all the lyrics. Still, the dominant storyline to emerge from Thursday is that people are in Kanye's corner again. Sitting in the stadium and watching the reaction unfold online, you can't help but get the sense that while many are tired of Kanye in certain aspects, they still can't help but root for him. "Do you think he's really back?" is the most common conversation I overhear at the event.
When the final note of the album finishes playing, Kanye takes a very long look at the crowd, lingering a few extra beats, as if he doesn't want to leave. Eventually, he walks off the field in silence and the lights turn on.
"We want more" chants fill the arena.
As I walk out of the stadium alongside thousands of gassed-up Kanye fans, morale is high. Fans generally like what they heard during the session, although most acknowledge that the final product will have changes. Travis Scott's verse and Jay-Z's surprise appearance are easily the most talked-about moments. 
Two hours later, I check into my hotel and a staff member tells me she went to the show, too, so I ask her what she thought.
"It was different than I expected," she says, pointing out the isolated, lonely visual aesthetic. "I really liked it, though. I hope he's doing well. I feel for him."
From Lyft drivers to hotel staff, it seems most of Atlanta wants Kanye to win. 
We should find out soon enough. The album still hasn't arrived at the time I'm writing this in an airplane on my way to Rolling Loud, but we will likely know a whole lot more when he's rumored to take the stage Sunday night. The weekend of Kanye continues.