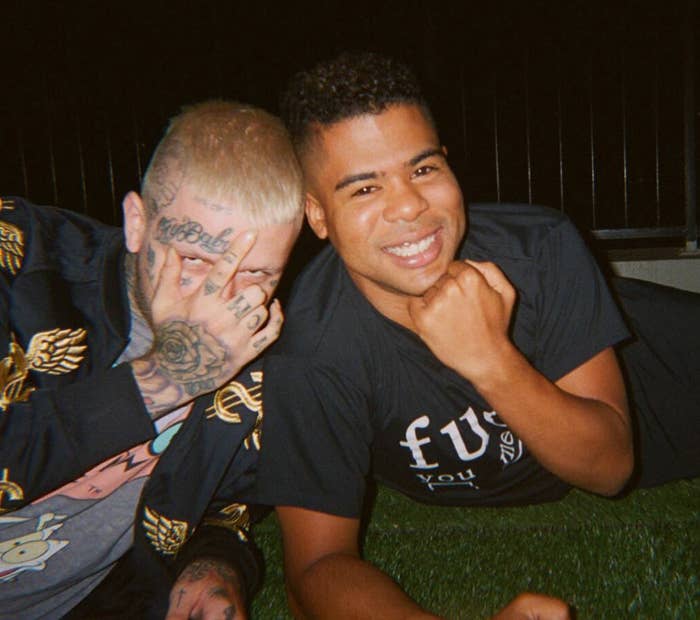 Several myths and legends about ILoveMakonnen have developed over the past five years.
Rumor has it, he introduced ASAP Rocky to acid at SXSW in 2015, which led to Rocky's infamous orgy with nine women and the beginning of a psychedelic era that shaped the sound of both AT.LONG.LAST.A$AP and TESTING.
There are also whispers about his impulsive decision to move to Portland, Oregon. As the story goes, he was stretched out on a couch after taking acid, and a small puppy ran up to him with a University of Oregon pillow in its mouth. Makonnen took one look at the pillow and decided to move to a state he had never stepped foot in. A month later, he was living on an Oregon farm and taking care of chickens.
Each ILoveMakonnen story paints the picture of an artist who approaches life minute by minute, with few worries about the future. "I'm just taking it one day at a time, about to celebrate the Chinese New Year, and figure out how to move accordingly," he tells Complex on the eve of the release of his new single with Lil Peep and Fall Out Boy, "I've Been Waiting."
During our conversation, Makonnen confirmed that both of the stories mentioned above are, in fact, true. He also spoke about his long-awaited collab album with the late Lil Peep, his Gucci Mane-assisted "Spendin" single, his influence on 2019 rap, future collaborations with Vampire Weekend, and more. The interview, lightly edited and condensed for clarity, is below. 

You have a new song with Lil Peep and Fall Out Boy, "I've Been Waiting." When and how that song was created?
That song started in 2017. Me and Lil Peep were working on our album, and it was an idea I previously had before I met Peep. As we worked on the album, we were playing each other ideas, and this was one of the song ideas that he gravitated towards. So we started working on it in LA. Then we went to London and had some sessions over there to work on the album. During that time in London, we were just bonding with each other, talking about doing collaborations, and artists that inspired us and stuff like that. And then we made it back to America, and he unfortunately passed away.
After his passing, Pete Wentz from Fall Out Boy reached out to me, extended his condolences, and said, "Is there anything I can do?" I was telling him, me and Peep were working on our album. And I told him Peep had said that [his style is like a combination of] me and Fall Out Boy.
I was asking him if they wanted to check out any of the music, and see if they'd be a part of our project. I sent him the song, "I've Been Waiting," and they were into it. So they added some elements to it and sent it back. We kept communicating, figuring out how we could make it into a full masterpiece the way it is now.
Lil Peep told XXL back in 2017 that one of his favorite hip-hop artists was you, and one of his favorite bands was Fall Out Boy, so it seems like this was a perfect collaboration. Was that something you had in mind when you put this together?
Yeah, definitely. He mentioned them as artists that he wanted to work with. And he always told me I was one of his favorite artists, and it was a dream come true working with me. We were mutually fans of each other, and respected each other very much, so I think it's a great collaboration for all of us.
I just came here on earth to do me, and hopefully others are inspired by it to do them.
This song will end up on your collaborative album with Peep, right?
Yeah, this is a single from that project. That project should be slated for later this year.
I feel like your career has already had several different chapters, and the release of "Spendin" this month felt like the beginning of another new chapter for you. How would you describe this phase of your career?
Yeah, this chapter, I guess is the start of a new one. That was my first release in over a year. I don't really know what this chapter entails yet. I'm just going with it, and that's usually how my chapters are made. I just start with it and go with it, and whatever happens, I adapt to and react to. That's how I try to approach my goals and dreams. That was definitely a goal, to make a song with Gucci Mane when he got out of his incarceration. We were able to do that, and hopefully we can make a video soon for that song as well. But I just want to keep being myself, collaborating with artists that I respect and appreciate, and hopefully extend what I can of me that they enjoy.

One of your interesting life chapters was when you moved to Portland, Oregon. There's a legend going around in that city about how you arrived there: I heard you were in Atlanta, feeling down about the music industry, and you took some acid. Then a dog came up to you with a University of Oregon pillow in its mouth, and you decided right then to move to Portland. Is there any truth to that?
Yeah, it is true. It was actually in Los Angeles, though. I was in Los Angeles at a friend's house, recording music and stuff. And yeah, having a little fun on the psychedelics. There were two puppies actually, that I had at the time. It was a neck pillow, and it had the "O" on it, for the University of Oregon. I was like, "What is this?" I've never been to Oregon before. I don't even know what it looks like. And I was like, "Wow." So I started looking it up and it was a friendly place for dogs. Dogs are treated better there, and all this stuff. So I was like, "Oh great, the dogs can go with me, we're going to Oregon!" 
That's amazing. How long after that did you move?
It was in August when that happened. And September 1st, I moved into my place in Oregon.
My friend from Oregon told me you were living on a farm with chickens. How was that?
It was fun. It was good just getting away from all the internet trappings that I had gotten myself entangled in somehow. I got in touch with nature, seeing how life happened before the iPhone. I was just helping my family out there. They were working on their marijuana farm, like for dispensaries and all that stuff. It was farm-to-table, so I had a lot of chickens and pigs and cows and all these animals that I only saw in children's storybooks. So I finally got to go and be the farmer that I wanted to be—or at least have a trial run.
How long were you out there?
About a year and a month. I think I'm heading back though, in April.
Hell, yeah. That's awesome. You're in LA, now, right? 
Yeah, unfortunately. Land of the lost.
This month, Soulja Boy started a conversation about how much influence he has on today's rappers. When I look at today's wave of DIY, experimental rappers who directly upload their music on the internet to places like SoundCloud, I think of you as one of the pioneers. Do you agree? What do you think is your biggest influence on rap today?
Yeah, I don't know. I'm hoping the influence is for them to be themselves and not be afraid to express themselves—love themselves for whatever they truthfully are, or whatever they believe the truth is. If anything, it's like a fence that everybody was trying to hop over, and I just showed the way. And, of course, I was the guy who was overweight and stuff, so it's like, well, "How did he get over that fence?" Well, I did. So it gave people inspiration that they can do it too. People are like, "Oh, well I may not be like Makonnen, but at least he did it, so I can do it like him." I just take it with a grain of salt, though, because I'm not God or anything. I'm just Makonnen, I just came here on earth to do me, and hopefully others are inspired by it to do them.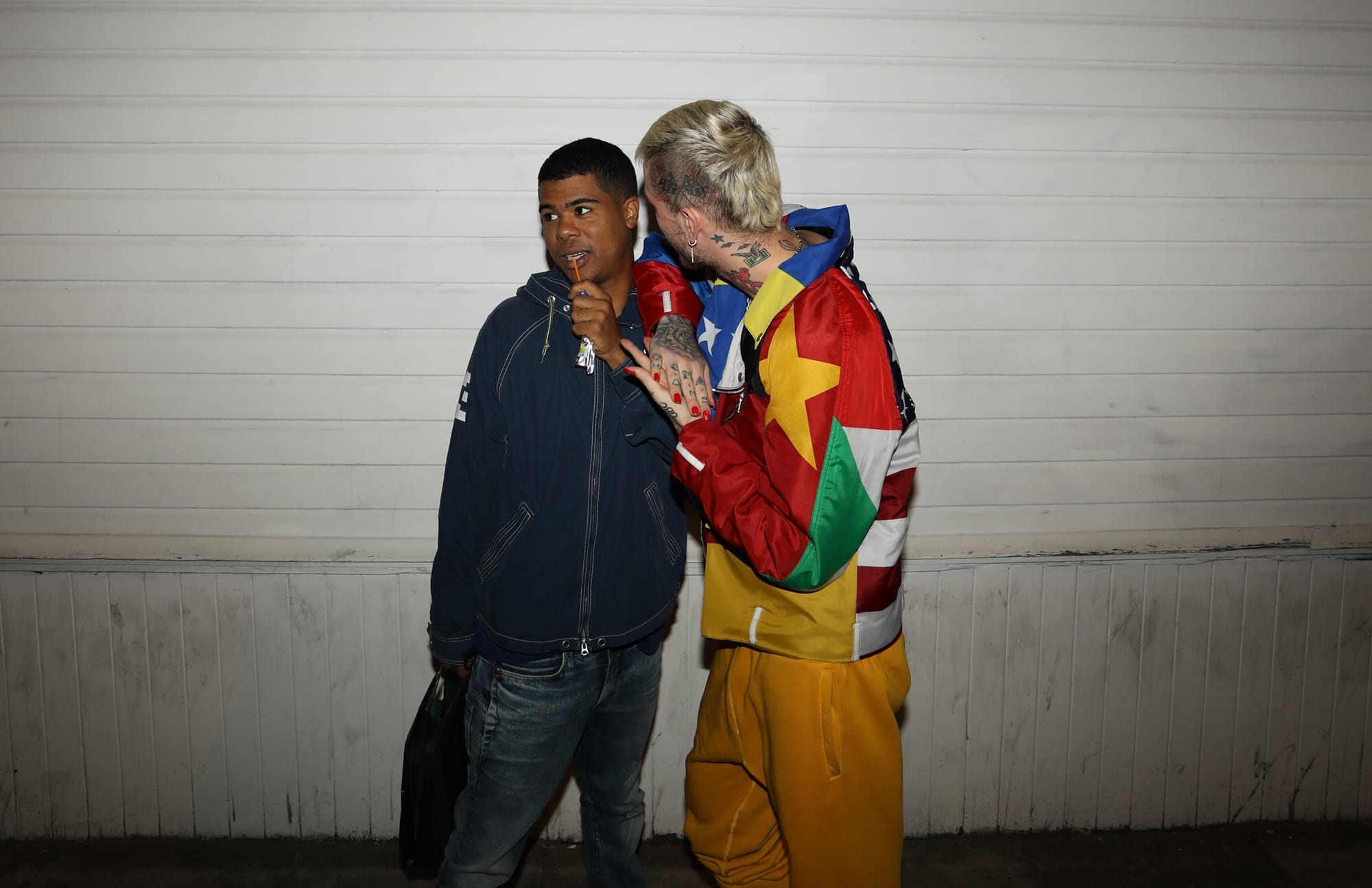 There is a story floating around about you introducing ASAP Rocky to acid at SXSW 2015, and he had an orgy with 9 women right after. Is that all true?
Yeah, that's all true. I gave him a tab.
I've noticed since then, his music has changed and taken on a more psychedelic-inspired sound.
Yeah, it looks like he's taken a turn for the best, so, I'm proud to have helped sprinkle any water on the plants to grow.
I have a theory that psychedelics changed how rap sounds today—that a lot of the reason that the genre moved from a boom-bap style to more experimental, melodic sounds is because the drugs of choice changed. You were one of the more influential artists in bringing that change. Do you agree with any of that?
Yeah. I don't think many people are doing psychedelics in hip-hop. But they love the way the colors and shit look from others that have done psychedelics, and have brought their art into the thing. A lot of people are sort of afraid to dabble in it themselves, but they do love the work of one that has dabbled in it. [Laughs]. So, I feel like it's changed a little bit, but I don't know. Hip-hop is very... The drug use has changed it a lot. I guess a lot of people are on downers now, and opioids, and depressants, or whatever you call them. Hopefully they can make America trip again, you know?
What people can look forward to from you next? What you're excited about the rest of the year?
I'm just taking it one day at a time, about to celebrate the Chinese New Year, and figure out how to move accordingly. And hopefully releasing more music—a few projects on Warner Brothers, and the Peep and Makonnen project should be coming out soon as well. And hopefully some more surprises, more collaborations, like with Vampire Weekend and Portugal. The Man, and all these other great artists.