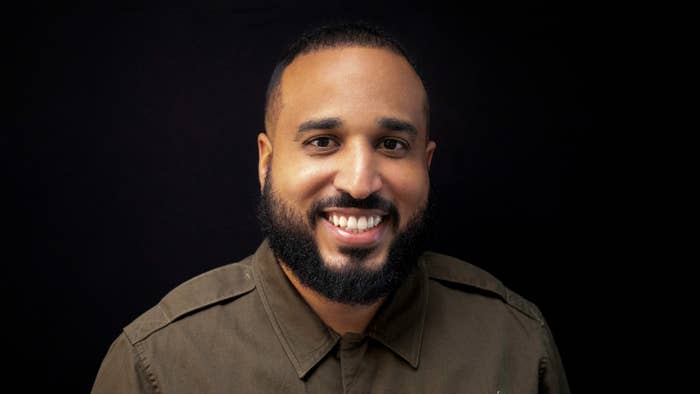 Veteran A&R Dallas Martin has been appointed president of Asylum Records, an imprint of Warner Music Group. 
After establishing himself as one of rap's most prominent A&Rs of the past decade—playing a pivotal role in the careers of artists like Meek Mill, Roddy Ricch, Wale, Rick Ross, and Nipsey Hussle—Martin will lead Asylum alongside co-president Gabrielle Peluso. He joins a team at the label that includes vice president of A&R, Wayne "Wayno" Clark.
"Gabby has done an amazing job with Asylum, with Wayno as a lead A&R, and I'd continue building on their momentum," Martin tells Complex. "I see Asylum as a place for raw talent. I want to focus on signing artists who have potential, even if they don't have big streaming numbers. Asylum will be synonymous with artist development."
Martin will report to Eliah Seton, president of independent music and creator services of WMG, and Craig Kallman, chairman & CEO of Atlantic Records. As he begins his new role at Asylum, Martin will remain a member of the Atlantic Records executive team as EVP of A&R.
"It's always been my dream to head a label as iconic as Asylum," Martin said in a statement. "I'm grateful to Craig Kallman, Julie Greenwald, and Mike Kyser for believing in me and giving me the space to grow at Atlantic, and I'm excited to work with Eliah and Gabby to continue to evolve Asylum. There's no better feeling in our business than discovering and breaking a new artist, and I learned early on that it's important to log as much time in the studio as you do in the office. There's incredible untapped independent talent in the world, and I'm confident that we have everything it takes to be the best home for the stars of the future." 
Beginning his career in 2008 as an intern at Def Jam Records, Martin went on to join Warner Records in 2011, where he A&R'd Rick Ross' projects and helped grow the Maybach Music Group roster to include signees like Meek Mill, Wale, and Omarion. There, he A&R'd all of Meek Mill's releases, including Dreams and Nightmares, Dreams Worth More Than Money, and the Grammy-nominated Championships, which he spoke about in-depth with Complex following its release.
After moving to Atlantic Records in 2013, Martin helped bring Nipsey Hussle to the label and A&R'd his celebrated album, Victory Lap. As SVP of A&R at Atlantic, Martin also signed breakout stars like Roddy Ricch, A&R'ing his chart-topping debut studio album, Please Excuse Me for Being Antisocial. Providing Roddy with an invaluable support system, Martin made it a point to bring the young star around the right mentors. "I kind of introduced him to all the key players in my life and the rappers who I was working with at the time, which was Nipsey Hussle, Meek Mill, and artists like that," Martin explained to Complex in early 2020. "They gave him advice and just kind of showed him ways to be successful in music. They were supportive, like big brothers." At Atlantic, Martin also mentored rappers like YBN Cordae and Symba.
Leading Asylum Records, which was relaunched in the U.S. in 2017, Martin is excited about the future of the imprint. "Asylum in the U.S. is still an evolving label, so to be able to work with up-and-coming artists to make great music and shape the future of the company, as a leader, that's most exciting to me," he tells Complex.
In a statement, WMG's Eliah Seton spoke highly of Martin's abilities, praising his hands-on approach. "Dallas is a true champion for his artists, with an unflinching commitment to helping them realize their musical visions," he said. "He's the consummate A&R, who's not only able to spot great talent but nurture that talent by spending endless hours in the studio crafting hit records. That's exactly the sort of artist-first philosophy that we're cultivating at the new Asylum. Together, Dallas and Gabby will make a fantastic leadership duo, backed by the brilliant Asylum team, as we continue to build the label into a coveted destination for the best in indie-spirited talent."
Martin is beginning his role as president of Asylum at full speed, already signing Justin Laboy. Looking to the future, he adds, "In this first year, I want to make one act a household name. There is nothing more rewarding than breaking an artist, especially when you really believe in them. I'm already in the studio, with safety measures in place, and I'm ready to put the work in. Let's go!"