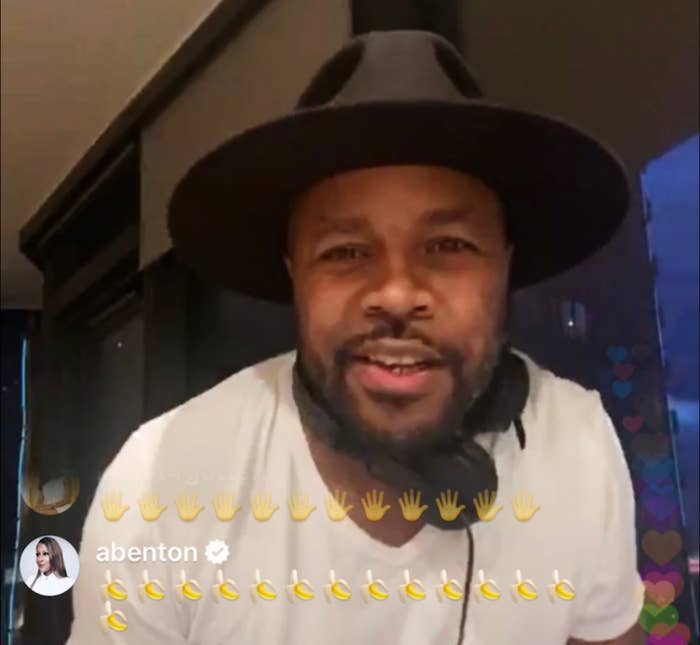 At 8:20 p.m. on Friday night, Chase B jumped around behind his turntables, spinning songs from fellow Cactus Jack artists like Travis Scott and Don Toliver.
Moments later, he got so hyped up that he broke a glass on his equipment. An onlooker blurted out, "It's lit!"
But Chase B wasn't inside a club, where we'd usually expect to find him on a night like this. He was at home—just like the rest of us. 
Joining other DJs around the world who have been broadcasting on Instagram Live from their own houses, he helped bring a much-needed sense of normalcy to our surreal new reality, in the midst of a global pandemic.
The spread of COVID-19 is a dire situation that's only going to get worse, and there are much bigger things to worry about than avoiding boredom, but keeping up morale is going to be vital for us all to make it through this. And as we entered a full weekend of quarantine lockdown in the United States, most of us didn't know what the hell we were supposed to do on a Friday night, stuck inside our homes.
This is where DJs came in. Unable to play in clubs or music venues, they could sense there was still a need for everyone to congregate and hear music. So they adapted.
Veteran rapper and DJ D-Nice was one of the first to start doing Instagram Live sets. With experience as a performer dating to his days in '80s hip-hop crew Boogie Down Productions, he knows how to control a room as well as anyone. And he quickly took the concept of quarantine dance party livestreams much further than anyone could have imagined.
It started small. When D-Nice began his virtual dance parties on Wednesday, March 18, they were watched by a few hundred of his followers who tapped in to hear a mix of hip-hop, soul, and R&B hits from all eras.
"Sitting at home during this quarantine, I started to feel empty," D-Nice told The New York Times, explaining the inspiration behind these streams. "There is nothing like playing the music and feeling the music."
So he kept it up. After that first live stream, he gave these parties a name: Homeschoolin' Social Distancing Dance Party. Word spread quickly that if you needed a jolt of feel-good energy after sitting at home all day, D-Nice's Instagram Live was the place to go. 
On Saturday night, magic happened. D-Nice began streaming around 5 p.m EST, with a few thousand people in his room. But within a couple of hours, that number had jumped to 20,000.
An emotional D-Nice briefly paused the music and addressed everyone who was watching at home. "We started this five days ago, and there were only 200 people in here." he explained. "And to see 20,000 people in here is amazing. Let's keep dancing!" Then he joked, "The line outside is crazy right now!"
That was just the beginning of what soon became a historic night. Just as he hit 20,000 viewers, Chaka Khan entered the room, inspiring him to play old classics like "I'm Every Woman."
Within a couple hours, D-Nice's party had attracted an unprecedented guest list. Can you think of any other scenario that could have possibly brought this collection of people together at once? Michelle Obama, Mark Zuckerberg, Rihanna, Oprah, Bernie Sanders, Joe Biden, Stevie Wonder, Will Smith, Ellen DeGeneres, Janet Jackson, Steph Curry, Diddy, Jay Electronica (and so many more).
As each familiar name entered the room, D-Nice couldn't help but show his astonishment as he dedicated songs to certain guests.
One particularly touching moment came when legendary rapper Eric B arrived and D-Nice took a moment to pay tribute to his daughter, who recently lost her life in a car accident. "Rest in peace to your daughter, Eric B."
By 10 p.m., his room had over 80,000 people in it, and everyone anxiously awaited the moment that number would hit six digits.
Then, at 10:24 p.m., as the Spinners' 1973 hit "I'll Be Around" was playing, the room's guest list reached an unbelievable figure: 100,000. Overcome by the weight of the moment, D-Nice clapped his hands and said, "This is so crazy! We've got 100,000 people in here rockin' with us right now. This is absolutely insane. We started this party five days ago. One hundred thousand people. Let's go!" 
For the rest of the night, the room size pinged up and down as D-Nice had to restart the stream a few times, but he kept the good energy rolling for several more hours. By the time he signed off, he had been spinning for over 10 hours.
Anyone who made it into the room on Saturday night knows how special of an experience this was. Everyone had been starved for a truly unifying cultural moment in the midst of an unnerving time. We should have known it would come from a DJ who has dedicated his life to lifting people's spirits with the power of music. Now, his gift is more necessary than ever.
D-Nice's Saturday night party served as the high water mark for what's possible with streams like this, but he wasn't the only one spinning in front of virtual rooms. Diplo is streaming five DJ sets from his house every week. Each night, he focuses on a different theme, from A Very Lazer Sunday to Coronanight Fever rave nights on Saturdays. Publishers and labels are even allowing the archived streams from Diplo's sessions to stay on YouTube after he goes live, and royalties will be paid to the artists' whose music was played. Meanwhile, in Puerto Rico, DJ Yamil started a reggaeton live stream on Facebook that attracted over 60,000 people on Friday night. The list of DJs doing these streams is already expansive, and it'll only grow over time.
Of course, it's impossible to entirely replicate the feeling of being in a club—Instagram comments of "OPEN THE PIT!!!!" didn't hit quite as hard in Chase B's stream as they do when he's DJing Travis Scott shows—but these Instagram Live sessions are certainly helping to fill the void.
Live video technology is being leaned on more than ever in this time of isolation. Before D-Nice started his stream, I watched as my girlfriend joined four of her college friends for "virtual happy hour" over video chat. And people all over the world have been adapting their usual weekend plans to have virtual game nights and dance parties over Skype and similar services.
It should come as no surprise that DJs and other performers were the ones to reveal the real power of technology like this. As we're faced with the daunting reality that this pandemic could last for much longer than we first realized, we can at least take comfort in the fact that people like D-Nice, Diplo, and Chase B will keep us moving.
See you in the next quarantine dance party.