Chicago rapper Supa Bwe hits fans with some big news Wednesday: his new album Finally Dead is dropping in December. The announcement also comes with the release of his new Cole Bennett-directed video for "I Hate Being Alive." 
"I'm trying to convey that my island is hostile to invaders, so stay away," Supa Bwe said of the meaning behind the video. "I'm expressing my disdain towards the labels I've inherited through actions misunderstood by those whose opinions shift with the winds. I'm encapsulating the expression, 'If you rob me, you better kill me.'... Cole [Bennett] is my brother, working with him isn't work, it's just doing what we do. I let him manifest what he sees because I trust his vision."
As far his upcoming project, Supa Bwe explained Finally Dead will showcase his growth over the last year.
"I've been working on Finally Dead for over a year and a half now, trying to make sure I put together something that's genuinely me without doing my usual 'angry emo boy' approach... as every rapper with a face tat is fighting for the lane that was once only mine. I birthed a genre once, I'll do it again. Finally Dead morphed over the last year from what was supposed to be my 'suicide project,' into an incredible display of my talents. It's a creative tomb - literally. It used to mean, 'You couldn't kill me, so just give me the gun,' but now it represents my new lust for life. I've reached that point I've been trying to get to. The new music is both sonically and lyrically better as I've grown so much in the last year, both personally and skill-wise."
To those who are still sleeping on Supa Bwe, just know he's keeping tabs:
To those who ignored me, thank you. When I drop Finally Dead, just know it's too late.
Check out the video for "I Hate Being Alive" above and the cover and tracklist for Finally Dead below. The project is due out Dec. 6; you can pre-order it here.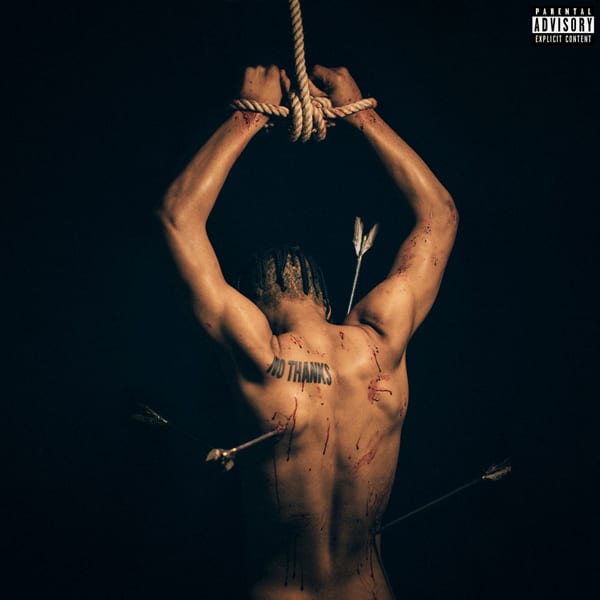 1. "Thot Goddess (Sailor Moon)" (Prod. by TayMasterChef)
2. "Black Goku (I Really Like You)" (Prod. by Yoga Flame)
3. "Up Right Now" Ft. Xavier Omar (Prod. by Derelle Rideout)
4. "The Moon (Run It Up)" (Prod. by ChaseTheMoney)
5. "Big Dummy" (Prod. by Supa Bwe & Shepard Hues)
6. "Wok Wok" Ft. Juju (Prod. by Jay-R Beats)
7. "Down Comes the Spaceman" Ft. Saba (Prod. by MoneyMontage)
8. "Numbers & Colors" (Prod. by Supa Bwe)
9. "Supa's Sweater Song" (Prod. by TayMasterChef)
10. "Stolen Hearts (Thanos)" (Prod. by TayMasterChef & Lord Fubu)
11. "Clout Daddy" (Prod. by Supa Bwe)
12. "I Hate Being Alive" (Prod. by John Scott)
13. "Supa Bwe​" (Prod. by Luke Almighty) (BONUS TRACK) 
14. "4 Stacks" (Prod. by Luke Almighty) (BONUS TRACK) 
15. "Hating On Me" Ft. UG VAVY (Prod. by UG VAVY) (BONUS TRACK)
16. "Still Can't Find Happiness" (Thanos) (Prod. by Luke Almighty) (BONUS TRACK)