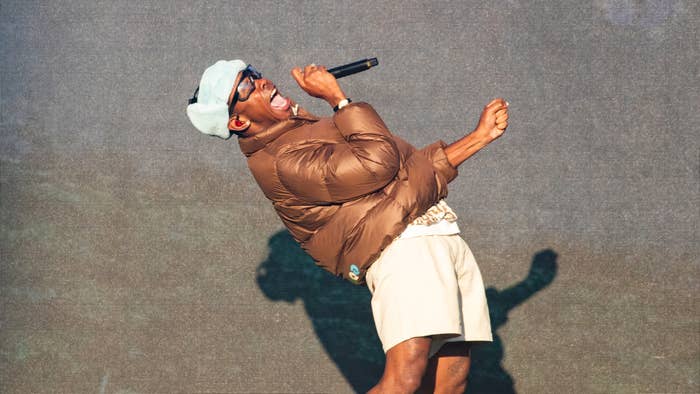 At 20, Tyler Gregory Okonma (more widely known as Tyler, the Creator) left Los Angeles for the first time. He reviews the experience on "MASSA" from his sixth studio album spitting "I got out my bubble, my eyes, just wide/My passport is the most valuable." His next lap around the country—a lucrative tour—was then fueled by the very music inspired by that exodus. A beautiful and well-chronicled full-circle mindfuck of a moment (I imagine) for him came a few weeks shy of a year to the date of the project's release as a newfound layer of earnest gratitude beamed from his pores when he sang "HEAVEN TO ME" in the intimate El Rey Theatre. "That's heaven to me," he sang. "What's heaven to you?"
It's a random Wednesday—or not so random, actually, considering he released eight new tracks as part of the deluxe version of his latest album nearly a month ago—and Tyler's in an off-kilter setting. His latest, albeit brief, artistic appearance in California was in front of tens of thousands of people at Coachella, where he joined Kali Uchis for "See You Again." The last time he performed at home prior to that was in front of a crowd of nearly 15,000 at the now criminally-named arena downtown. He announced The Estate Show that morning with a simple graphic and minimal text that included "just me and a mic"—a scenario that proved coveted, selling out in under two hours. The venue holds a little less than 800 people, max.
Tyler loves an intimate moment and he takes momentary amity further every chance he gets whilst on stage, too—a warm truth perhaps best exhibited by check-ins on attendees' heat levels and an admittance early on that he'd likely get "sweaty dick" throughout the night. It was a full house and smoke guns were keeping him enveloped in a both dreamy and sweat-inducing haze. I wondered if I heard him correctly the first time, only to be met by loud chants of "sweaty dick! sweaty dick!" from the first few rows of folks near the stage. "I fucking love you," someone yells off stage left.
DJ Drama's familiar, story-anchoring voice on "SIR BAUDELAIRE" kicked things off as a glowing, Golf Le Fleur-sporting Tyler, the Creator appeared behind red velvet ropes. He took it forward, back, and left as the night went on with a special moment being the rendition of "Penny," an unreleased track that's made the rounds on TikTok and should absolutely be officially publicized. Vince Staples, fresh off wrapping up shooting The Vince Staples Show, later made an appearance to perform their track "STUNTMAN." From the new crop of arrivals, Tyler also performed "SORRY NOT SORRY" to close out the night, and "DOGTOOTH" (perhaps the best of the new batch) for the first time.
My friends came back to dance around me from the bar at just the right moment—between "What's best for us? Why am I here/Standing alone?" and "I thought, I thought you wanted to dance"—during "SWEET." The first time I heard Call Me If You Get Lost was the midnight of its release (June 25, 2021) in a friend's mom's Benz, cruising up Mulholland Drive. It remains my favorite Los Angeles drive, and that would go on to be that summer's favorite album. Nearly two years later, I unintentionally ran through The Estate Sale in that very same car last week and realized it felt made to listen to here in LA. On Wednesday, Tyler implied it was. 
This night was planned a week ago and lived on the complete opposite spectrum of the well-praised, lavish set/world he built on tour, quickly deemed one of the best shows in live music. A steep budget allowed for a dream situation then, and after seeing the world and encouraging others in the country to do the same, Tyler is home—and appears to be in as much of a dream situation now. His sharpened chops took center stage as nothing but his bars and their echo bounced both off the walls and the mouths of fans who filled the classic theater.
"Don't call me King, I'm not your twin/I'm not your brother, we just met," he raps on its standout. But, for the night, he speaks to the crowd as if they were just that—doubling down on the body count question, calling it "insecure," and offering advice to the next generation of talent: "Protect yourself… Numbers are awesome but that should not be the first thing that you care about. So please, all the creatives and people who make things, trust me, stay focused."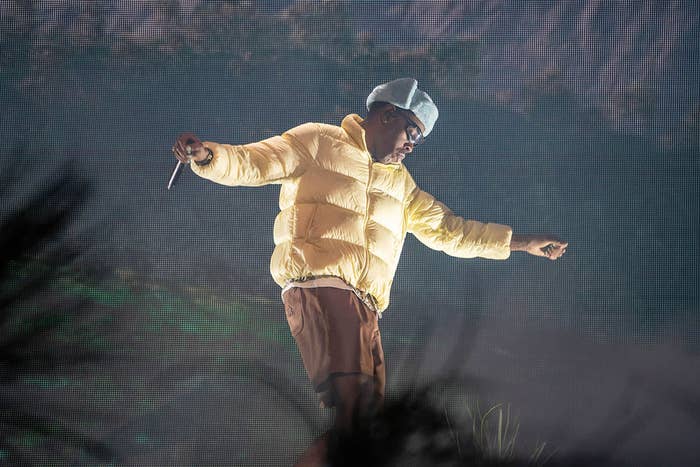 At his most stripped down, at a ripe 32, with 12 years in the industry, Tyler is a young vet with nothing to prove. He brought an air of lightness and ease that comes from the confidence and comfort of knowing you found home both without and within the walls of a genre. His new offerings are for further fun and play—an extension of the already good thing he found. Before he sang "HEAVEN TO ME," his longtime friend Jasper Dolphin brought out the stool he'd end the night on with an aura of a cool elder statesman. On the track, he recalls their foundational days: "Brainstormin' ways to get our pennies up/Me and Jasper spending last bucks on the city bus… I didn't have much, but for certain I had a dream." 
On "SORRY NOT SORRY," Tyler raps, "A bank account could never match my worth." In April 2022, nearly a year after the release of his best album to date (debatably on par with IGOR), the rapper explained the meaning of its title, clarifying that he means "lost" as one might use the word "gone." Call me when you're "lost doing your shit," doing what you're meant to do in places you never thought you would.
Although he himself hasn't explicitly explained The Estate Sale add-on, that is, by definition, the relinquishing of one's home assets, to be sold or liquidated. It's an act, or more literally a sale, that usually happens in the deceased's home after they pass. But that's not an option for Tyler; as he made clear in The Estate Show, he's leaving it all on the page and stage as no one will be allowed to release his music posthumously. With all else gone, and nothing but a mic (and stool), who is Tyler, the Creator? The answer is in the question itself. What's better than living the dream but coming home to enjoy its fruits with friends? 
"That's heaven to me. What's heaven to you?"