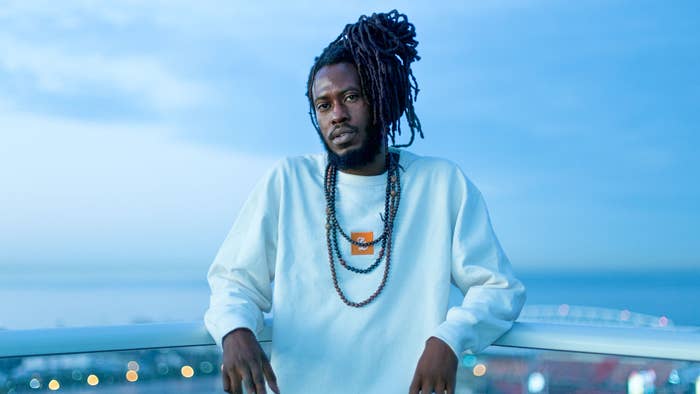 Junia-T's solo salvo Studio Monk was a record that almost never came to fruition. Mired in a creative funk in the wake of the release of his 2014 album Eye See You, the Toronto via Mississauga MC was on the brink of quitting music for good. However, linking with Toronto music maven Addy Papa's Riot Club sessions at a Los Angeles house—where a carefully curated crew of talented musicians congregated to cook up music—proved to be a turning point. Junia-T returned to Toronto refreshed with the first few tracks from Studio Monk and a newfound confidence and inspiration, leading to a deal with Pirates Blend and a liberating creative hub at Toronto's Soleil Sound studio (née The Hive). "To be fair, this is the first time I've ever heard my music. For real," Junia-T says enthusiastically. "Because I make music every day but this is the first time I've heard it go through all the stages that I put it through. The one thing about Studio Monk that is special to me is that every song was made from scratch."
You might have recognized Junia-T more recently as Jessie Reyez' tour DJ, but his musical history and indeed his association with Reyez goes back much farther than what meets the eye. An accomplished MC, producer, and engineer, all-around renaissance man Junia-T first grabbed attention as one-half of Toronto rap duo the Smash Brovaz. After the group released Think It's A Game? at the tail-end of 2012, Junia-T then became a solo artist, dropping the criminally underrated Eye See You in 2014. That album's soulful boom-bap complimented Junia-T's nimble wordplay and actually featured a pre-fame Reyez on two tracks ("Asi" and the single "We Got This"). So, when her "Figures" single blew up, Reyez returned the favour bringing Junia-T on her global jaunt as her career took off.
Reyez is the vocalist on Studio Monk's groove-laden current single "Sad Face Emojis" and is one of many guest artists featured on the album. Junia-T's collaborative nature foregrounds the palpable authenticity oozing from the soulful sheen of the album, engineered by wily Toronto R&B veteran Beatchild. Featuring an array of wildly talented Toronto singers like Storry and Faiza alongside high-profile names like Reyez, River Tiber, and Sean Leon, the creative hunger manifested on Studio Monk is impressive and infectious. Given the fact that Junia-T almost gave up music completely, we're extremely fortunate that this record has blessed us with its existence. 
(This interview has been condensed for clarity.)
 Listening to Studio Monk, I'm thinking, 'Where's Junia-T's rhymes? What happened?'
It was me learning that I had a different talent all along. When I was just making beats for me rapping, whatever I was making was so limited to the beats because I was always envisioning myself rapping on them or needing someone to rap on them. It was always a dope rap beat before it was a 'singer' beat, if you get what I mean. It really started at Riot Club, 'cause when I was there I was just creating for what was happening in the room. Even the people in the room weren't telling me, "I want this." I was just inspired from what I was feeling and they would trust me enough to just do what I was doing, and it would always inspire someone in the room to convince them to write to it. They would already be writing halfway through my idea, so when I got back to the Hive, I just stuck to that formula and I just started inviting people to see what would happen. And then I just started banging out all of these songs every single time.
Vibing off of different artists seems to be your thing. I remember seeing you at the Toronto TD Jazz festival in 2015 doing a showcase called Dopalicious that featured you as the host with guest artists. This album feels like a refined studio version of that show. Would I be off base?
No, you're very on base. What I realized after doing Eye See You is that I will always love rapping and that will never leave me but it didn't give me the chance to explore what I could make, being this kind of creative. And what it led me to was to make, like, 350 songs that were a variety of me. And I feel like this new body of work is just fun for me to experience it. I'm such a nerd in that regard, that this is very much me. For the people that know me very well, [they would say] "That's Junes!" I just want to give myself the chance to be that kind of artist, too. For the people that may want to visit my old MC stuff, it's there, but I think this is what's exciting to me now, 'cause I'm getting to do something different. 
"The universe just puts dope people in front of me naturally."
How would you describe your growth from Smash Brovaz until now?
I would say before, I was definitely at my peak understanding of what it takes as an MC. And then when I evolved into being Junia-T, Junia-T was like closing this [part of] my artistic expression and evolving into, like, the Quincy Junes [laughs] version of me, where I'm truly a producer producer and not just a beat maker. I'm, like, really crafting the whole soundscape and the whole experience. And that whole Jazz Fest configuration is a lot where I see myself headed, and also doing the DJ thing as a performer as well, because I come from DJing so I'm enjoying this full circle of creativity. I did many years of MCing and I've done a lot of great things MCing too. I got to tour the country, got to get videos on television, got to travel the world. Now I want to be a producer as an artist for the first time.
Was there at any point a temptation to go for really high-profile, A-lister artists? I know Jessie Reyez is on here, but that's because of your previous connection.
I never really felt the need to. The universe has really blessed me with dope people and dope creatives, and if ever I worked with anybody they were all just serious with their art or already destined to be dope. When you look at the roster on Eye See You, Little Simz is on that record, Jessie Reyez is on that record. And look at what they are doing now. I'm actually happy to be that producer for our times, 'cause I feel like I will leave more of a lasting impression that way. I'm really in the pursuit of making a sound and a legacy for myself and I think the true testament of that is to break a sound and to break in a new artist. I want people to be able to listen to my album and be introduced to a whole bunch of new dopeness and I know they are all going to be destined for greatness, too. [I] keep in touch with all these artists, so I didn't have to reach far. Benjamin A.D's about to do great stuff, Faiza's about to do great stuff, same thing with Superdramago! and Storry. Storry's about to be a thing. Nate Husser [too]. The universe just puts dope people in front of me naturally. There's a lot of people by proxy that I've just met just on doing me. So I think I'm happy to just keep that going, 'cause there's room for other producers to take that [other] route and there will never be a shortage of that. But I'd rather just hold down my space and be confident in what I'm making and I can help anybody find themselves better.