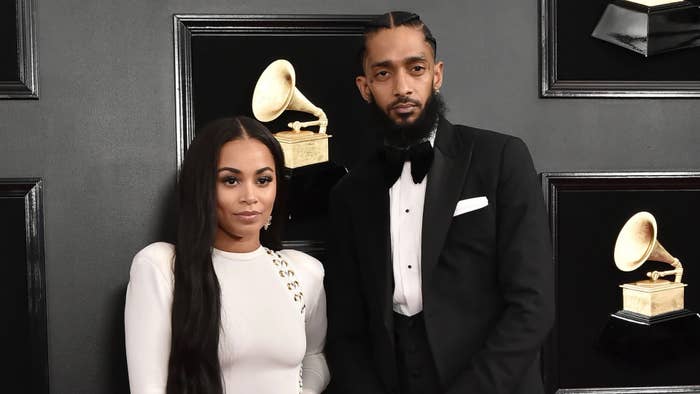 Lauren London is taking a moment to honor Nipsey Hussle's memory four years after his passing.
In a touching Instagram post, London recalled the heartbreak she felt on March 31, 2019, after learning about Hussle's fatal shooting.
"I hold my breath all of March knowing I have to face the memory of the day you transitioned," she wrote. "Holding on to ancient wisdom but the pain is the pain and nothing was ever the same... Eternal Being. Ermias Asghedom. I Love You."
She then concluded her message with a passage from Bahá'í sacred writings: "To consider that after the death of the body the spirit perishes is like imagining that a bird in a cage will be destroyed if the cage is broken, though the bird has nothing to fear from the destruction of the cage. Our body is like the cage, and the spirit is like the bird."
Last month, Eric Holder Jr., who fatally shot Hussle outside his Marathon Clothing Store in Los Angeles, was sentenced to 60 years to life in prison. The sentencing came less than a year after Holder was found guilty of first-degree murder and attempted voluntary manslaughter, per the Associated Press. He was also convicted on two counts of assault with a firearm and two counts of attempted voluntary manslaughter.
Hussle's memory continues to live on. On Friday, the late rapper posthumously appeared on DJ Drama's I'm Really Like That album with a track titled "Raised Different." The song also features Jeezy and Blxst.