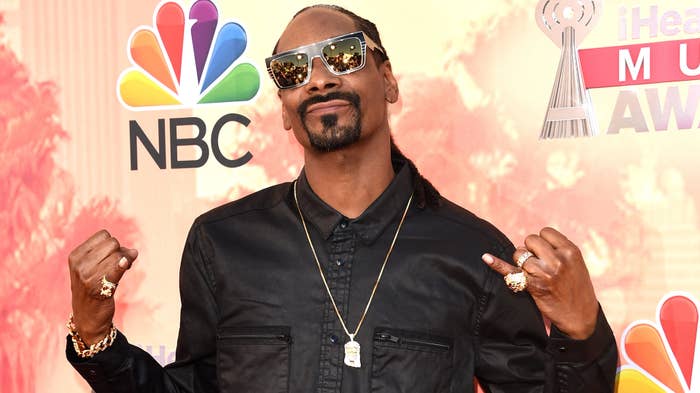 Snoop Dogg has made an effort to explain his nasty comments toward Gayle King in wake of her controversial interview with Lisa Leslie.
On Saturday, Snoop took to Instagram to clarify that he didn't make violent threats aimed at the 65-year-old CBS This Morning co-host.
"I'm a non-violent person," Snoop said in the clip. "When I said what I said, I spoke for the people who felt like Gayle was very disrespectful towards Kobe Bryant and his family."
"Now with that being said," the rapper continued, "what I look like wanting some harm to come to a 70-year-old woman? I was raised way better than that. I don't want no harm to come to her and I didn't threaten her, all I did was said, 'check it out, you outta pocket for what you doing and we watching you. Have a little more respect for Vanessa, her babies, and Kobe Bryant's legacy.'"
Last week, the rapper shared an Instagram video where he obliterated King over her interview with former WNBA player Lisa Leslie. King was interviewing Leslie about her friendship with Kobe Bryant, and the two spoke in particular about the NBA player's 2003 rape case.
Snoop unleashed on King, calling her a "funky dog head bitch" and charged her with trying to "tarnish my motherfucking homeboy's reputation." Snoop ended the clip cautioning King to "back off, bitch, before we come get you."
During the interview, King asked Leslie if Bryant's legacy is "complicated" due to his sexual assault charge. Leslie said she thinks the media shouldn't use this moment to defile his legacy, especially after his death. "I think the media should be more respectful at this time. It's like if you had questions about it, you've had many years to ask him that," Leslie said.
King later denounced CBS for posting the clip "out of context." 
The case against Bryant was dismissed in 2004 after the purported victim decided against testifying. Bryant died on Jan. 26 in a tragic helicopter crash.