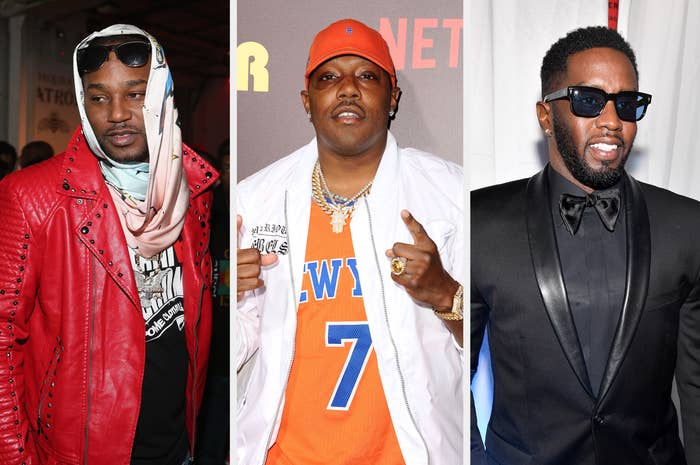 Mase is celebrating a win—at least according to Cam'ron.
The Dipset rapper took to Instagram on Wednesday to celebrate the Mase getting "his publishing back from [Diddy]. Just finished the paper work for that yesterday. Congrats @rsvpmase," Killa Cam wrote.
In the same breath, Cam'ron also pushed the upcoming release of his next tape, The Lost Files Vol. 1, set to release on Sept. 8, alongside a clip of a new song from the project. The Lost Files apparently doesn't include a feature from Mase: "My n***a murder had to sit this one out," Cam wrote.
"I turn your little princess into a happy ho / 'It Is What It Is,' $30 million, el rápido!" Cam'ron raps in the clip. "They threw us $3 million, man, I threw it back (huh?) / They looked at me like I looked at Mase, 'What we gon' do with that?"
Mase was signed to Bad Boy Records in the last '90s and early '00s, when he gave his publishing rights to Diddy for $20,000.
Mase has been forthcoming about his troubles with Diddy for the last few years, particularly when Mase slammed Diddy on social media about his publishing rights. In January 2020, Murda Mase was prompted to call Diddy out when he turned down Mase's offer to buy back his catalog for $2 million. Mase's social media rant also followed a speech Diddy gave at Clive Davis' pre-Grammy gala, when the media mogul reprimanded the Recording Academy for not "respecting" Black hip-hop and R&B artists.
"Your past business practices knowingly has continued purposely starved your artist and been extremely unfair to the very same artist that helped u obtain that Icon Award on the iconic Badboy label," Mase wrote.
Mase said he tried to buy back his publishing rights, but was told he could only do so if he was able to match "what the EUROPEAN GUY OFFER him." He said the only other option was to wait til the rights revert back to him.
"You bought it for about $20k & I offered you $2m in cash," he wrote. "This is not black excellence at all. When our race is enslaving us. If it's about us owning, it can't be about us owning each other."