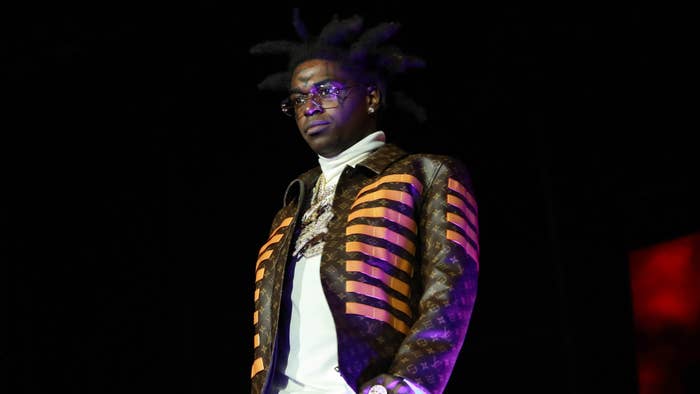 Kodak Black is making sure everyone knows that he isn't the difficult artist who wouldn't let Latto clear their feature for her upcoming project 777.
"That Mulatto Girl IS NOT Talkin Bout Me Homie," he tweeted. "I See Y'all Steady Reachin Lol … Shawty Ain't Even Say A N***a Name On Dat Shit Ion Know Why Tf Y'all Tryna Make A N***a Wear Dat Jacket I'm Too Fly Fa Dat Shit Homie."
Late last week, Latto joined Big Boy TV to discuss her sophomore album, when the host asked her what her biggest obstacle is as a woman in rap. She explained that one of her biggest "letdowns" with the album is that an artist initially wouldn't let her use their feature because she did respond to a DM from the artist.
"I'm clearing my album right now and it's been, like, difficult to deal with these men, you know what I'm saying? They don't know how to keep it business," Latto said. "I'm just keeping 100. It's a feature on my album that it was difficult to clear, and they like trying to drop their nuts on me because I won't respond to a DM."
She ultimately was allowed to keep the feature. "I love the song so much and I had to turn it in yesterday, so I didn't really have a choice," she continued. "So I was backed into a corner, like, bullied. But I wish more females would speak up on stuff. I know like the label didn't [step up]; they say, 'You know, don't do that. It's bad business,' or whatever. Man, these folks be trying to drop nuts on female rappers, like I'm not gonna shut up about it."
People online thought she was talking about Kodak, who appears on the 777 album cut "Bussdown." The speculation follows unseemly comments he made last month about collaborating with women in rap, telling The Breakfast Club that he has to have sex with his collaborators, and especially with women he signs.
"Look, my female artist, this is just how it is, right. … 'Cause I know n***s and shit like that, I gotta bust 'em," he continued. "They ain't gotta be my girlfriend, but it's like, I'm gonna bust 'em."
Latto hasn't revealed the name of the artist who was in her DMs. 777 is slated to arrive this Friday.