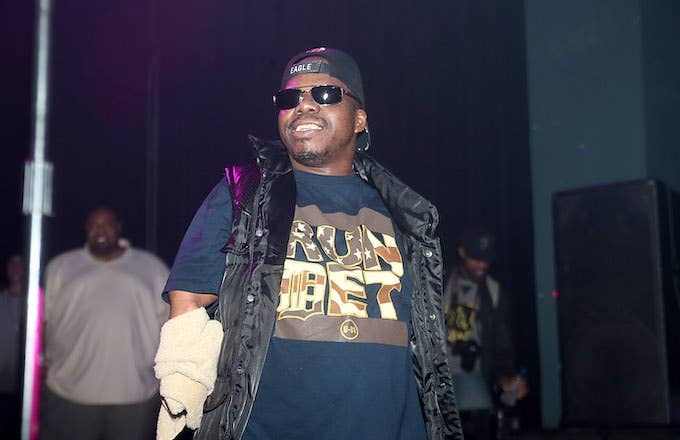 UPDATED 06/9/19 11:52 p.m. ET: Bushwick Bill's publicist, Dawn P., confirmed that he passed away on Sunday. "Bushwick Bill passed away peacefully this evening at 9:35 p.m. He was surrounded by his immediate family," she told Rolling Stone. "There were incorrect previous reports that he had passed away this morning. We are looking into doing a public memorial at a later date. His family appreciates all of the prayers and support and are asking for privacy at this time." She also shared the news on Instagram.
UPDATED 06/9/19 3:15 p.m. ET: Bushwick Bill's son took to Instagram Sunday afternoon to clarify that his father isn't dead.
"Contrary to what has been prematurely, insensitively, and inaccurately posted/reported—My dad IS NOT dead, he's still alive and fighting for his life. He needs your continued prayers and support," he said in the caption.
UPDATED 06/9/19 12:20 p.m. ET: Bushwick Bill's publicist has revealed to TMZ that the rapper is "still alive and fighting cancer" in a hospital. Hospital staff have confirmed he isn't dead, and that some of Bill's family members are with him now, with more on their way.
Bill's publicist shared that someone received incorrect information and is spreading it online. Rumors likely stem from his absence at a show in Dallas on Saturday night. He was scheduled to make a special appearance, but couldn't make it because of his hospitalization.
See original story below.
Bushwick Bill has died at 52 years old. Fellow Geto Boys member Scarface announced the news on Instagram.
Bushwick Bill revealed in early May that he had been diagnosed with stage 4 pancreatic cancer. He explained that his doctor had found a mass on his pancreas originally assumed to be benign, but they found it that wasn't the case during a February test. The rapper began intense chemotherapy, admitting that at that point, it was too early to tell how his body was reacting to the treatment.
Bill told TMZ that he didn't tell collaborators Willie D and Scarface before he went public. "I been keeping it to myself, but I'm getting ready to tell Scarface and Willie D," Bill explained to the outlet. "I've only told close family members, that's about it, but I figured keeping it to myself is not really helping nobody."
Bill was hoping to raise awareness and highlight just how important health is by disclosing his diagnosis.
"It's not like I'm afraid of dying," Bill said. "It's about life and living life and being there for family... I just want people to be aware so when they set dreams and goals they're healthy to fulfill and live."
Bushwick Bill first joined Geto Boys in the last 1980s as a dancer, who went by the name "Little Billy." The crew first gained notoriety with their 1991 album We Can't Be Stopped, which included a cover that featured an explicit image of Bill in the hospital after losing an eye in a shooting incident. Bill released six solo albums, dropping his debut Little Big Man in 1992.
Earlier this year, a Geto Boys farewell tour was announced, though it fell apart. Bushwick Bill was allegedly bothered by the tour's title—The Beginning of a Long Goodbye: The Final Farewell—because he thought it was exploiting his cancer diagnosis to sell tickets.