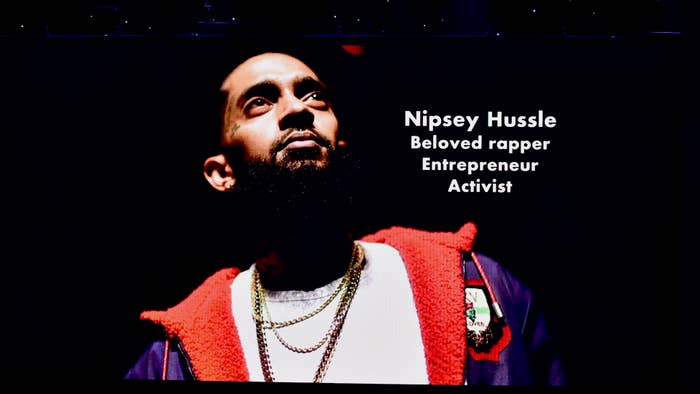 Nipsey Hussle's impact reached far beyond the hip-hop world.
On Thursday night, Nipsey's good friend Young Guru took to Instagram to share an encounter with a stranger he had met on a plane. The producer/audio engineer said he was sitting next to the older man during the entire flight, but had not spoken one word to him until after they landed. Guru said the conversation began once he took out his Leica and starting shooting photos through the plane's window, prompting his fellow passenger to ask about his camera.
"He says, 'Is that a Leica?' I say of course," Guru recalled, before pointing out that the man was wearing a cap from Nipsey's Marathon Clothing brand. "I then ask him 'Do you know what hat that is you have on?' And he says, 'Of course, Nipsey gave it to me!!'"
Guru was seemingly surprised by the man's response, and then pushed for additional details.
"He says 'I'm from New Jersey but my son loves Nipsey. He asked me a couple years ago to stop by the Marathon Clothing Store and get him merch,'" Guru continued. "He said he went in got the clothes and on his way out Nipsey stopped him and spoke. After the convo Nipsey gave him a hat."
Guru then asked the man if he was a fan of hip-hop.
"He said, 'No. I just loved the way the young man carried himself, so I put it on every time I come to LA!'" Guru said. "Wow The Marathon Continues!!!! #leica."
You can read Guru's full account below.