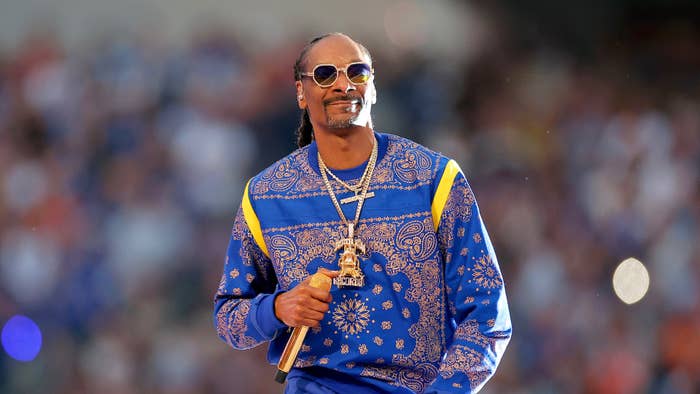 Snoop Dogg's takeover of Death Row Records is officially complete.
According to Billboard, the rapper/entrepreneur has finalized a deal to purchase the iconic imprint's recording catalog. The news comes just weeks after Snoop confirmed he had purchased the Death Row brand from MNRK, the NYC music company that acquired the label in 2013.
Though the terms of the catalog deal have not been disclosed, it was previously reported that Snoop's acquisition will not include some of Death Row's most popular records: Dr. Dre's The Chronic or 2Pac's All Eyez On Me and The Don Killuminati: The 7 Day Theory. 
Billboard reports the Pac projects are now owned by Amaru Entertainment and the Tupac estate, while Dre's sole Death Row album is expected to return to him sometime in 2023.
What Death Row albums were included in Snoop's deal? According to the outlet, he now has full control of his 1993 effort Doggystyle, his 1996 project Tha Doggfather, as well as a number of soundtracks, compilations, and records by artists like Daz Dillinger, Lady of Rage, and Kurupt. It's also worth noting that Snoop's albums, including the newly released BODR (Back on Death Row), are some of the best-selling releases under the Death Row banner. In 2021, Doggystyle earned 169,000 units in album consumption activity; The Doggfather generated nearly 8,000 units; and BODR has moved about 10,000 units since its release earlier this month.
According to Billboard's estimates, the entire Death Row catalog generated about $6 million for MNRK in 2021. Financial executives who specialize in music assets say Snoop's Death Row deal is valued at $50 million. 
"It feels good to have ownership of the label I was part of at the beginning of my career and as one of the founding members," Snoop said when announcing the Death Row acquisition. "This is an extremely meaningful moment for me."
Complex has reached out for comment.