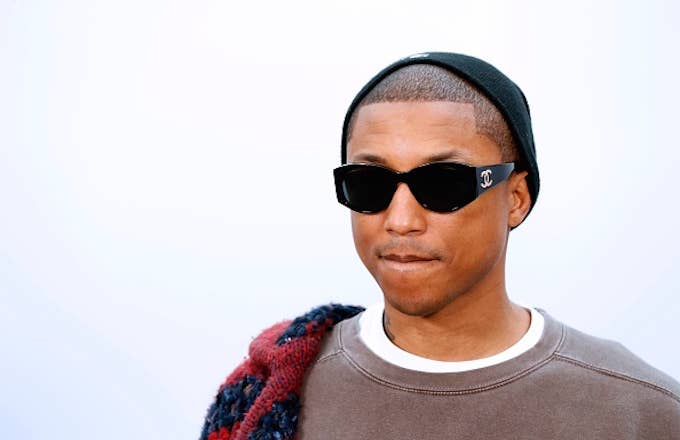 Pharrell: The Musical is headed to the big screen.
According to Page Six, the 43-year-old artist recently inked a deal with Fox to bring his Atlantis project to fruition. Atlantis is reportedly inspired by Pharrell's early life in Virginia Beach, and will take cues from Shakespeare's Romeo and Juliet.
Fox Studios is said to have accepted Pharrell's pitch in light ofLa La Land's impressive commercial and critical success. The "Happy" singer will co-produce the project alongside Gil Netter, who has nabbed Academy Award nominations for his involvement in the films Life of Pi and The Blind Side. Tony award-winning Broadway director Michael Mayer has been tapped to direct, while Martin Hynes (who is currently writing Toy Story 4) is attached to pen the script.
Pharrell seems to be going full force with his movie career. In addition to writing original songs for various films, the multi-hyphenate has also produced the Oscar-nominated Hidden Figures, the 2015 coming-of-age comic drama Dope, and Roxanne Roxanne, a biopic about pioneering Juice Crew rapper Roxanne Shante.
Stay tuned as more information about Atlantis becomes available.